Tuesday Tributes From The Stars Of Chicago Fire Have Fans In Tears
Fans and stars of "Chicago Fire" alike are still reeling from the sudden death of Tuesday, Engine 51's unofficial dalmatian mascot. When Daniel Kyri joined the show as Darren Ritter in Season 7, the sweet dog was introduced as his beloved pet that suffered from separation anxiety. Soon thereafter, Tuesday became just as much a fixture on the show as Kyri. With Tuesday having been on the show as recently as Season 10, Episode 22 ("The Magnificent City of Chicago"), the shock of her death is still sinking in.
Fans are also feeling grateful that the pup got to be part of Season 10 at all, because, after her absence in Season 9 and Chicago banning dogs from fire stations after a deadly dog attack involving a firehouse dog (via Associated Press), viewers feared they wouldn't see Tuesday again. Fortunately, the doggo returned in Season 10 and even appeared in the season finale for the memorable Stellaride wedding.
Tuesday's trainer, Christine Mahaney, announced her passing in a touching Instagram post, writing in part, "As Tuesday's trainer, this may be the most difficult post I ever make. With the Season 10 finale also comes Tuesday's last episode on 'Chicago Fire,'" she wrote. "It breaks my heart to share that Tuesday passed away on Sunday, May 22, due to unforeseen kidney issues." Tributes from "Chicago Fire" stars have also continued to be posted, making the sadness fans are feeling even more tangible.
Chicago Fire stars sent heartfelt messages on social media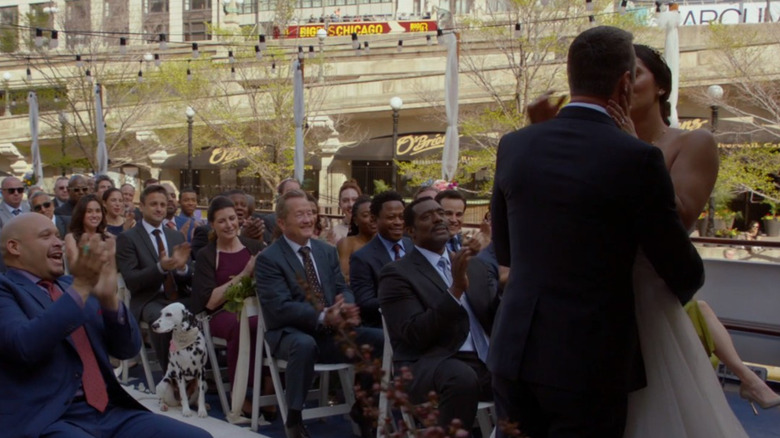 NBC
Stars of "Chicago Fire" have been posting heartfelt messages and emojis expressing their sadness about Tuesday's passing, many sharing memories of happier days with the beloved pupper. Randy Flagler, the actor who plays Harold Capp, tweeted a video of Tuesday on set, along with the words "We love you, Tuesday. ❤️" Joe Minoso, the actor who plays Joe Cruz, posted a simple "😭," and Hanako Greensmith, the actress who plays Violet Mikami, posted a heartfelt message, writing, "And on a final tweet ... I'm so glad that Tuesday got to make an appearance as our wonderful flower girl. May she rest peacefully, that sweet and gorgeous girl. Thank you for loving her as much as we did, sweet viewers."
Perhaps the most touching post of all has been from Daniel Kyri, who — as Tuesday's on-screen owner — got to spend the most time with her on the show. According to People, Kyri posted a photo of himself with Tuesday to his Instagram story, along with a mournful caption. "Heartbroken to learn my little buddy is gone," Kyri wrote. "Sending all my love to her trainer today. I got to spend time with her on set & do all the fun stuff, but you took care of her when the cameras weren't rolling. Love you Tues!"
Tuesday will definitely be missed.