Real Cops Are More Involved In Chicago PD Than You Realized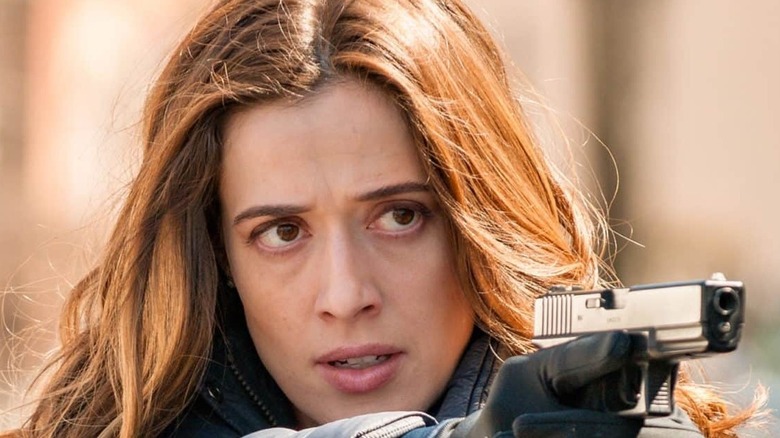 NBC
As part of NBC's "One Chicago" franchise, "Chicago P.D." follows the patrol officers and the Intelligence Unit of the fictional 51st District of Chicago, led by Detective Sergeant Hank Voight (Jason Beghe). A few seasons in, as characters such as Officer Kevin Atwater (LaRoyce Hawkins) and Officer Kim Burgess (Marina Squerciati) move to the Intelligence Unit, the series focuses more on that sector. The series, which was created by Dick Wolf and Matt Olmstead, features an ensemble cast, with other cast members including Jesse Lee Soffer as Detective Jay Halstead, Patrick John Flueger as Officer Adam Ruzek, and Tracy Spiridakos as Detective Hailey Upton, amongst others.
In "Chicago P.D.," the show's police officers track down all types of criminals, from murderers to serial rapists to kidnappers and so on. The show may feature fictional storylines involving fictional cops, but, as it turns out, in order for the cast of "Chicago P.D." to deliver realistic performances, they get some help from real-life officers — here's how.
Real cops act as extras
In 2013, ahead of the premiere of "Chicago P.D." Season 1, NBC 5 reported that the series would be featuring real cops as extras. It was reported that Atmosphere Casting, a Chicago-based casting company that is in charge of finding extras for the procedural drama, was specifically looking for actual police officers to fill the roles of extras. Casting assistant Cassie Gorniewicz explained to NBC 5 that they were using a database of registered officers in the city and their schedules. Gorniewicz added, "It's for background non-speaking roles, but they're paid just like any other extra would be."
Gorniewicz elaborated that the decision came about as an effort to make "Chicago P.D." as realistic as possible, noting that other cop shows have received criticism for being too distant from reality. "We're looking for authenticity, to provide a good representation of what they can bring to the table," Gorniewicz explained. "They'll wear their actual uniforms, so that will be authentic. The duties of a police officer are so specific to their lifestyle and the things they come across every day, and it's that kind of police training experience that we'd rather not fake."
Chicago PD also has a consultant
The effort to make "Chicago P.D." as realistic as possible extends beyond peppering the background with real-life officers, as the series also found a consulting producer and technical advisor in Chicago Police Department retiree Brian Luce, as reported by American Police Beat in 2021.
Showrunner and executive producer Rick Eid has nothing but gratitude for Luce. Eid told American Police Beat, "Brian is amazing. He's a huge reason the show is so successful. He has three very important jobs: he helps the writers with story ideas, he helps the directors choreograph action scenes and he helps actors look, move and talk like real cops." These tasks include Luce sharing some stories from his days on the job and giving detailed notes to the scriptwriters. Eid revealed one example of Luce informing the writers that in Chicago, the bad guys are called "offenders" rather than "perps."
All in all, those involved in the show are dedicated to presenting a hyper-realistic portrayal of what being a cop in Chicago is actually like. "Our goal is to show the audience what it's really like to be police officers in Chicago in 2021, within reason, of course," Eid revealed. "To do that, we need to make the show — and the issues and dilemmas police officers face — feel authentic." The showrunner added that he puts a premium on credibility with "Chicago P.D.," because he considers this the show's currency and one of its key selling points.