The Ending Of The Marvelous Mrs. Maisel Season 2 Explained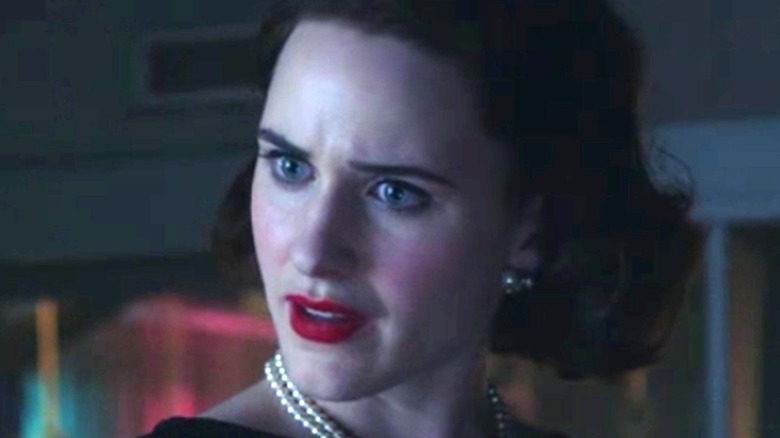 Amazon Studios
Helmed by "Gilmore Girls" co-creator Amy Sherman-Palladino, "The Marvelous Mrs. Maisel" is a charming comedy series that stars Rachel Brosnahan as Miriam "Midge" Maisel. Set in 1958 in New York City, the show begins with Midge deciding to become a stand-up comic after her husband, Joel (Michael Zegen), abandons their comfortable life on the Upper West Side of Manhattan and leaves her for his secretary. With her marriage derailed, Midge makes the best of her circumstances by using her observations about misogyny, relationships, and womanhood as fodder for her act. Featuring an all-star ensemble cast, the series employs clever writing, impeccable costumes, and distinct production design to craft an inviting narrative.
Fans recently got the bittersweet news that Season 5 will be the show's last, so let's take a trip down memory lane. While the ending of Season 1 sees Midge cement her decision to pursue a career in stand-up comedy, the second season follows Midge and Susie (Alex Borstein) as they work towards their goals. Season 2 includes a colorful group of episodes that follow the Weissman family as they travel to a resort in the Catskill Mountains, where Susie follows Midge to help revamp her act after being blacklisted by Sophie Lennon (Jane Lynch). After revealing her comedy aspirations to her parents, Midge and Susie go out on tour, culminating with a job offer that could change their lives. 
The second season finale, titled "All Alone," sets major changes for the characters moving into Season 3 and ends with an emotional cliffhanger.
Suzie and Midge get job offers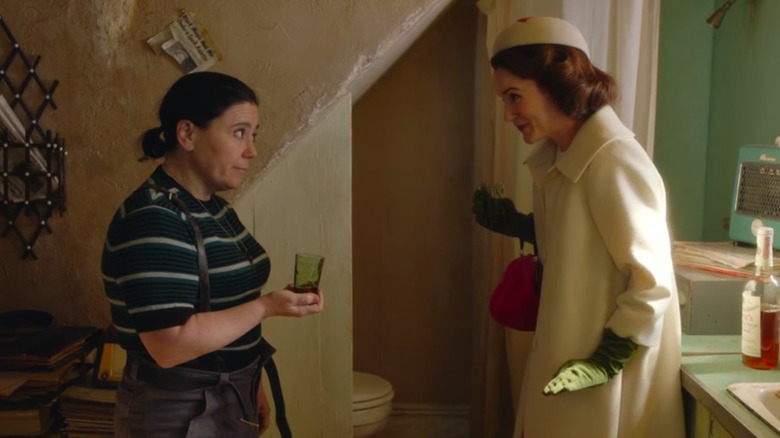 Amazon Studios
Although Midge fully embraced an honest stage persona at the conclusion of Season 1, she's having a hard time booking lucrative venues after dissing Sophie Lennon during her act. Susie is desperate to pay her bills and encourages Midge to book more gigs. Season 2 really demonstrates the different worlds these women come from. While Midge is looking for renewed purpose in life after Joel left, Susie is relying on Midge's talents to find her own success. The pair find touring more difficult than expected, but they're ecstatic when Midge books a television appearance on a fundraising telethon. Sophie Lennon has Midge bumped to the worst spot on the show, which turns out better than expected.
While Midge lights up the stage, Susie confronts Sophie for her behavior. Her passionate defense of Midge resonates with Sophie, who recruits Susie to be her new manager. Even though there's bad blood between them, Susie knows that she'll benefit from having more than one client. It's a big step forward for the character, whose hard work is rarely ever rewarded.
Meanwhile, famous singer Shy Baldwin sees Midge's late night act and offers her a job on his six-month tour across the U.S. and Europe. Midge is absolutely elated and accepts without a second thought. After spending all season taking two steps forward and one step back, Midge and Susie finally have something to celebrate, although Susie remains tight-lipped about her new client.
Abe makes a shocking decision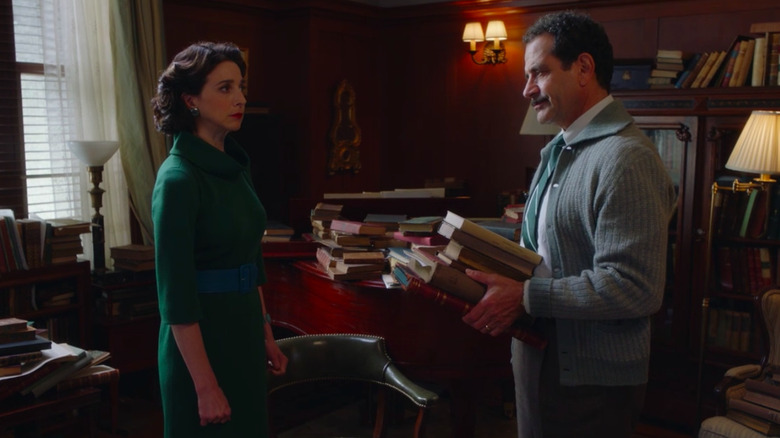 Amazon Studios
Midge's father Abe, played by Tony Shalhoub, is a constant source of comic relief because he's so stuck in his ways. However, his perspective begins to shift in Season 2 after Abe becomes disillusioned with his work at Columbia University and Bell Labs. He's lost his passion for teaching and acts cantankerously towards his coworkers, leading the institution to offer him a paid sabbatical. However, after spending so many years devoted to a profession that no longer makes him happy, Abe realizes that he doesn't want money unless he's earned it. He's been shown to value logic and routine above all else, so his decision to leave his lucrative position is shocking, especially to his wife, Rose (Marin Hinkle). The university owns their apartment, so Abe's decision to quit could upend their entire lives. Despite Rose's concerns, Abe is convinced that he needs to find a new purpose.
After seeing how Midge's devotion to comedy has invigorated her life, it's almost like Abe wants the same for himself. His emotional shift in the last few episodes mirrors Rose's journey at the beginning of the season, which saw her travel to Paris to find herself again. Now it's Abe's turn for a change, but viewers will have to wait until Season 3 to find out how the Weissman family weathers the storm.
Midge and Joel reconnect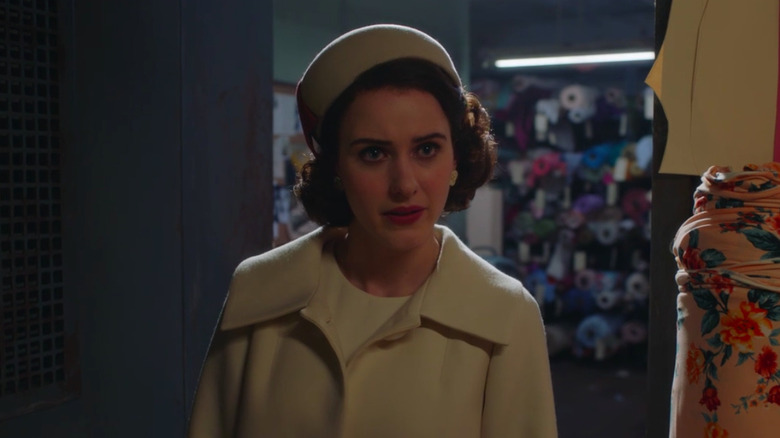 Amazon Studios
The Catskill episodes usher in a new romantic interest for Midge, a successful doctor named Benjamin (played by Zachary Levi). The pair bond over their shared love of the arts and similar values, leading Benjamin to ask Abe for Midge's hand in marriage. Everything seems perfect until Shy Baldwin offers Midge a spot on his tour. Even though her feelings for Benjamin are genuine, Midge realizes that she's too ambitious to settle down again so soon after her separation from Joel.
Viewers will recall that Midge and Joel almost reunited at the end of Season 1, although he was unwilling to accept her burgeoning stand-up career. With new opportunities on the horizon, Midge turns to her ex-husband for comfort. Midge reflects on how much her life has changed before declaring that she wants to spend the night with someone who truly loves her.
Although Midge and Joel have had their differences, they set all their problems aside and fall into each other's arms. At the end of the day, it's clear that these characters still have a lot of affection for each other. Joel spends the majority of Season 2 dating around and working at his father's company, so it's touching to see him give Midge some much needed support. With Midge's relationship with Benjamin up in the air, viewers are left on the edge of their seats when the screen fades to black.