The Walking Dead Producers Explain Timing Of Old Man Rick Twist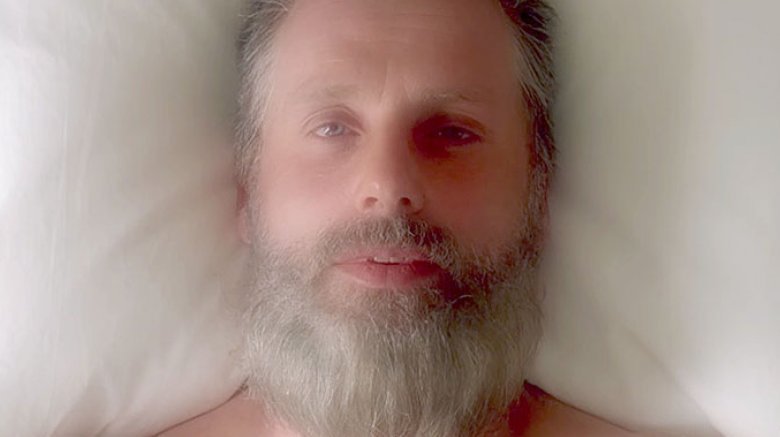 Warning: This post contains potential spoilers for The Walking Dead. 
When fans saw a snap of Rick Grimes (Andrew Lincoln) with white hair, a full beard, and a bedside cane at the end of The Walking Dead season 8 trailer, they were dumbfounded. Even Lincoln himself stated that he was "shocked and kind of excited" by the reveal, indicating the upcoming season of the beloved AMC series will be full of surprises. But once the initial surprise wore off, many were left wondering about the specifics of the Old Man Rick reveal, especially the timing of the twist and if and when additional looks at the older character will appear. 
Speaking with Entertainment Weekly, The Walking Dead executive producer Greg Nicotero revealed that Old Man Rick is "definitely not a one-time thing." Showrunner Scott M. Gimple added that an early shot of older Rick will lead to a disclosure down the line. 
"I will say that we won't know exactly what that's about after the first episode," Gimple hinted. "But we will know it about halfway through the season. We won't quite know what it's about, and then we'll get an answer to that about halfway through. It's something that's going to play out."
Unfortunately, one popular fan theory won't be realized. Gimple shot down the idea that the entire series so far had been a dream Rick was having. "I can say that that is not him waking up from the coma in the hospital. Some people thought that, and it's not that."
By the sounds of it, fans will get their first taste of Old Man Rick in the season eight premiere, with a moment somewhere around the midseason finale offering up full answers. Nicotero's comments to the outlet may offer a clue as to when the mysteries will be resolved. "It's always fun to get a chance to think about where the show is going and where the characters are going," he said. "And that's a really big moment in the comic book when we sort of jump forward and realize what's in store for the future. So to just to be able to give a little bit of a hint to that, I think it's exciting. It shows the audience that we're committed for this fantastic long-term storytelling and that Rick's got his s*** together."
Actor Lincoln previously spoke about the Old Man Rick twist, calling it a "great storytelling device" to use in the new season. "I thought it was very interesting. And also gives us an opportunity to do something else a little ahead of the game, which I think is very, very neat," he said. 
Though Lincoln didn't confirm whether the scene we've seen represents the time-jump from the original Walking Dead comics, he didn't outright deny that it is a glimpse into the future. "I mean, it's a gray Rick. It's an older Rick. So by virtue of the fact that you see that means that it's in the future. It will become somewhat clearer after the October premiere. Then again, it may not be. It maybe still is somewhat opaque. I think that that's possibly all I can say on the matter."
Series creator Robert Kirkman was a bit more explicit about the reveal. In a previous interview, he stated, "Comic book fans know where a scene that looked like that would fall, but it also doesn't seem like we would be getting to that just yet if you were a comic book fan, so there's a mystery to that."
The Walking Dead returns for season eight on October 22. In the meantime, find out what the cast of the show should really look like based on the comics.