Andrew Lincoln Talks About The Walking Dead's Old Man Rick Twist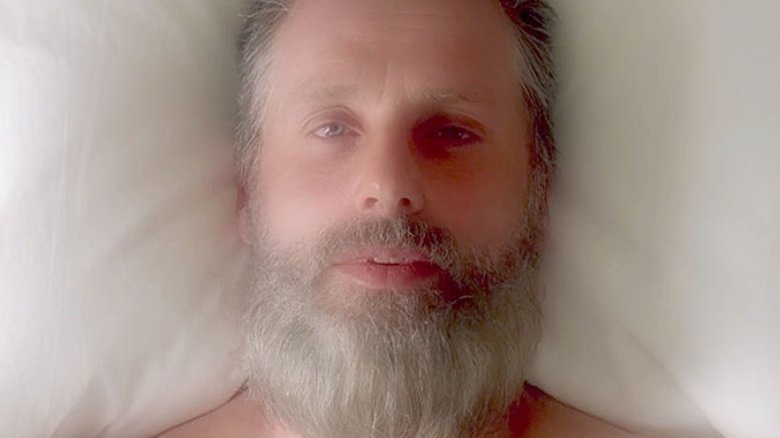 Andrew Lincoln was as surprised as you were when he learned that old man Rick was going to have a part in The Walking Dead's eighth season. Lincoln revealed in a recent interview with Entertainment Weekly that he was "shocked and kind of excited" when he saw the twist.
In the comics, old man Rick is part of a two year time jump in the war with Negan (Jeffrey Dean Morgan), and the cane briefly shown in the season eight San Diego Comic-Con trailer is part of Rick's newly injured leg. While Lincoln wouldn't confirm whether or not the time jump will be a part of season eight, he did praise showrunner Scott M. Gimple for being willing to take risks.
"My instinct was, what a great storytelling device," he said of learning about the twist. "That was my instinct. I thought it was very interesting, and also gives us an opportunity to do something else a little ahead of the game, which I think is very, very neat." Lincoln did confirm that it's an "older Rick," adding, "so by virtue of the fact that you see, that means that it's in the future."
Lincoln said that answers will come in the season eight premiere, although he didn't confirm that viewers will understand everything. "It will become somewhat clearer after the October premiere," he said. "Then again, it may not be. It may still [be] somewhat opaque. I think that that's possibly all I can say on the matter."
The Walking Dead creator Robert Kirkman was a little less vague in a previous interview, saying that he was "pretty sure" people would learn in the first episode what the show had planned for old man Rick. "Comic book fans know where a scene that looked like that would fall, but it also doesn't seem like we would be getting to that just yet if you were a comic book fan, so there's a mystery to that," he said.
The Walking Dead returns for season eight on Oct. 22. For now, see how the show's characters should really look based on the comics.