The Walking Dead Season 8 Premiere Will Explain Old Man Rick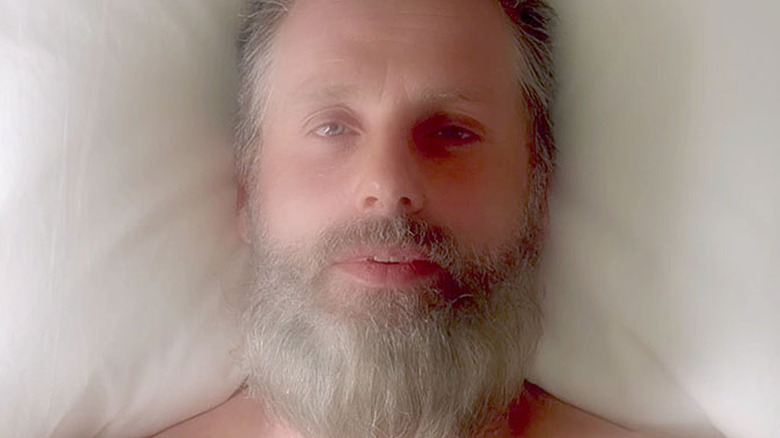 Warning: This post contains spoilers from The Walking Dead comic book series. 
When The Walking Dead creator Robert Kirkman unveiled the series' season eight trailer at this year's San Diego Comic-Con, fans fell into a tizzy when the clip jumped through time to show an much older Rick Grimes (Andrew Lincoln). Understandably, viewers were confused, but thankfully, they won't be for much longer. 
Speaking to reporters at the Television Critics Association's summer press tour, Kirkman confirmed that the mysterious scene featuring elderly Rick will be explained in the upcoming premiere of The Walking Dead. "I'm pretty sure you'll learn in the first episode what that means," he said (via The Hollywood Reporter).
Kirkman also announced that the new season will follow the All-Out War arc from the Walking Dead comics, a storyline that will see Rick and Negan (Jeffrey Dean Morgan) square up against one another. In the comic lore, also created by Kirkman, Rick and his rag-tag team of survivors emerge more powerful than ever following the war with Negan. The arc explores the group's hopes for a brighter (and zombie-free) future. 
A crucial plot point from the All-Out War storyline that appears to confirm the series will include the time jump is that elderly Rick needs a cane to walk, which his comic book counterpart also needs after suffering an injury while fighting against Negan. 
Kirkman said of that key aspect: "You're supposed to be talking about that, and that is an intriguing tidbit that we did throw out there on purpose, and we're hoping that people continue to question how it is that fits into the storyline and what it is. Comic book fans know where a scene that looked like that would fall, but it also doesn't seem like we would be getting to that just yet if you were a comic book fan, so there's a mystery to that."
Additionally, Kirkman stated that the upcoming season, which will contain the series' landmark 100th episode, will be "more fast-paced [and] action-packed... really focusing on momentum." Where the first seven seasons established the characters and set them in place, the eighth marks a time to "break them to a certain extent," according to Kirkman. 
"[The Walking Dead] has been all about an expanding scale for the last two seasons, and that's really hitting its pinnacle this season. We've got all these different factions, all these different locations—the Hilltop, the Sanctuary—and getting all these people together and continuing to expand the scale in a cool way, but really using all these pieces to their fullest," Kirkman said. "We've spent a lot of time setting these characters up, and now we're going to bash them against each other and see what happens... this is another continuation of that; this is a very fresh take on the world of The Walking Dead, and we're going to be breaking a lot of new ground this season." 
While we wait to see all the awesomeness The Walking Dead will deliver when it returns on October 22, discover how the series' characters should really look.