The Loki Easter Egg In The Thor: Love And Thunder Trailer Has MCU Fans Saying The Same Thing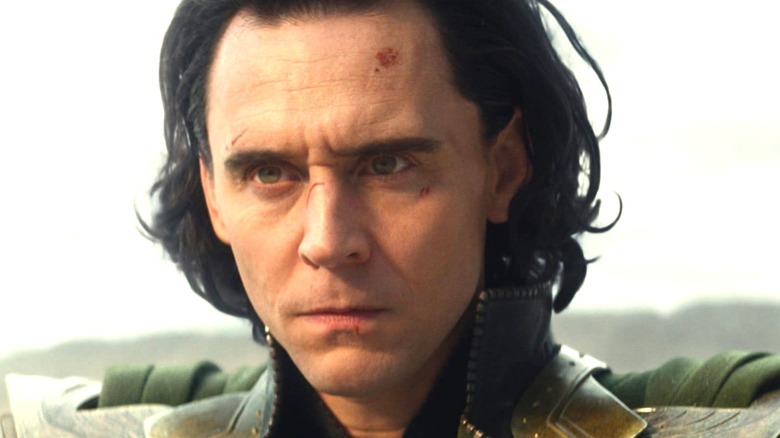 Marvel Studios
"Thor: Love and Thunder" promises to shake up one of Marvel Studios' longest-running film franchises in several surprising and unexpected ways. The highly-anticipated superhero film, which will be the fourth installment in Marvel's ongoing "Thor" franchise, is set to bring Thor (Chris Hemsworth) face to face with The Mighty Thor (Natalie Portman), a superpowered version of his ex-girlfriend, Jane Foster, who will wield a reforged version of his former hammer, Mjolnir, in "Love and Thunder."
Jane's debut as The Mighty Thor understandably served as the final note of the debut teaser for "Thor: Love and Thunder." The second "Thor: Love and Thunder" trailer, however, focuses much more heavily on several of the other new characters and places that the film is set to introduce, including a new MCU god in the form of Zeus (Russell Crowe). The superhero film will also, notably, introduce Gorr the God Butcher (Christian Bale), a powerful comic book villain who seeks to kill every god in the Marvel Cinematic Universe.
Zeus, Gorr, and Jane Foster all promise to serve very different roles in "Thor: Love and Thunder," but they should help to breathe further life into the superhero franchise. However, just because "Thor: Love and Thunder" is introducing a number of new characters doesn't mean it won't also pay homage to some of the Marvel franchise's former players.
Marvel fans love Thor's new back tattoo
In the second trailer for "Thor: Love and Thunder," Russell Crowe's Zeus magically flicks away all of Thor's clothes — forcing the God of Thunder to stand naked in front of a crowd of shocked spectators. The moment is played for laughs, but fans have noticed a surprising Easter egg hidden in the scene. The Easter egg in question is a tattoo on Thor's back, which can be seen just after the God of Thunder's clothes are blown off of him.
The tattoo includes a version of the helmet worn by Thor's adopted brother, Loki (Tom Hiddleston), and the words "RIP Loki" also appear to have been tattooed above the helmet on Thor's back. As Marvel fans will recall, Thor was forced to watch Loki die at the hands of Thanos (Josh Brolin) in the opening of 2018's "Avengers: Infinity War," and he appears to have gotten his new tattoo in order to try and honor his fallen brother's memory.
The Easter egg has predictably been received well by Marvel fans, with @RoseBarnes94 even tweeting, "Thor has Loki's 'Ragnarok' helmet tattooed on his back to remember him by.. Excuse me while I go cry in the corner over the Sunshine Brothers." Elsewhere, @galaxy_mutant tweeted, "So, you are telling me that Thor tattooed 'Rip Loki' and his brother's helmet on his back and I'm suppose[d] to be okay?" Meanwhile, @carolxloki perfectly summed up what makes the tattoo so meaningful, writing, "​​Thor getting Loki's 'Ragnarok' helmet tattoo[ed] on his back is the such a Thor thing. He misses his brother so much."
In other words, it seems safe to say that the "Thor: Love and Thunder" creative team's decision to include this Loki homage has already paid off, and it's not hard to see why.