The Redemption Arc Cobra Kai Fans Want To See For Chozen In Season 5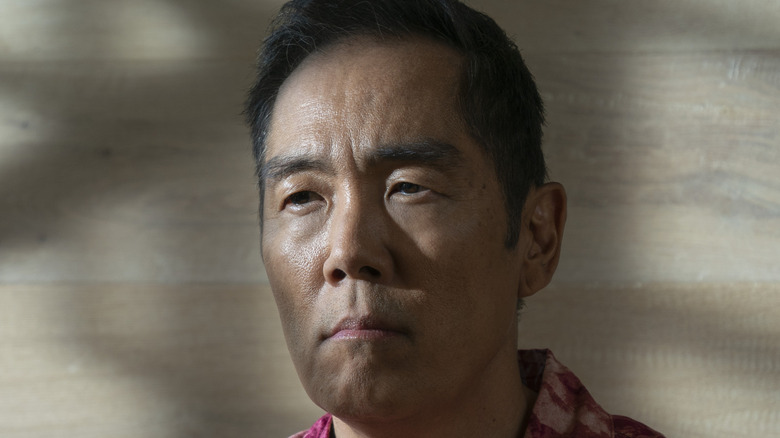 Tina Rowden/Netflix
The hype levels associated with any given season of Netflix's "Cobra Kai" routinely reach heights equal to any roundhouse kick. However, after a Season 4 closer that finds multiple senseis battling for the crown of karate school supremacy (which is a totally legit thing), the series managed to up the ante one last time by re-introducing yet another major challenger from the past of Daniel LaRusso (Ralph Macchio). 
After finally looking to have rebuilt a semi-stable bridge with Johnny Lawrence (William Zabka), it would Daniel will set out to fortify another, the latest foe-turned-friend being Chozen (Yuji Okumoto), his rival from "The Karate Kid Part II." In the onslaught of gobsmacking moments in the finale of Season 4, an almost Marvel-cameo-worthy scene reveals both Daniel and Chozen standing over Mr. Miyagi's grave, united in bringing honor back to Daniel's late sensei.
With such a mission in mind, questions were raised about just how strong these two can work together and the personal journeys they'll be set to go on individually. Now, not to besmirch the LaRusso name too much, but Chozen will undoubtedly have a rockier road to go on, given that he only recently laid to rest the tension between himself and LaRusso. So what could redemption look like for this former victim of an embarrassing nose grab? A well-thought-out theory from one "Cobra Kai" fan thinks it could lie in the young blood of the LaRusso family.
Chozen could be the teacher to put Anthony LaRusso back on track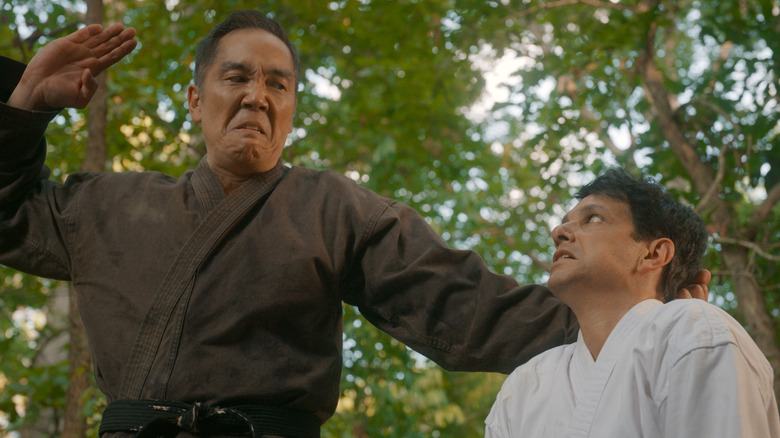 Courtesy of Netflix
During their meeting in Season 3, Chozen would seem to have learned the error of his ways, even revealing forgotten techniques to Daniel. Given that the age-old beef has finally been squashed, one fan has suggested that another person that could really benefit from learning a similar route would be Daniel's son, Anthony (Griffin Santopietro). On the r/CobraKai subreddit, dedicated fan u/Federation2000 threw down a theory for the ages. This user wrote, "I think the best possible redemption arc for Chozen — better than giving Daniel the Miyagi secrets in season 3 and better than helping him with Terry Silver (Thomas Ian Griffith) — is if Chozen trained and corrected Daniel's son, Anthony." 
The suggestion was met with a positive reaction, with several other fans chiming in as to why the pair would be such a great fit. u/Iressivor backed the plan saying, "Assuming that Chozen's training methods don't involve chores, I think this is a plausible scenario." Another user quickly highlighted the benefits of this teacher/pupil dynamic. "Chozen really is the perfect candidate to be Anthony's version of Mr. Miyagi," u/Phee wrote. "He can bridge that gap that Anthony feels between himself and the rest of his family, so he can finally feel a connection to the family legacy." 
Of course, while fans might have their expectations about what Chozen will get up to, one of the few people that has a genuine say in the matter is the man himself, and, apparently, he's been pleased with the results so far.
Yuji Okumoto guarantees Chozen will bring the best kind of danger to Cobra Kai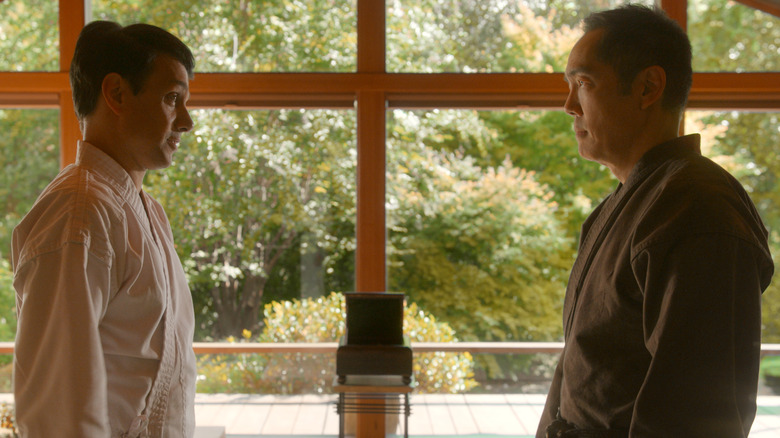 Courtesy of Netflix
During an appearance at "Cobra Kai: Live and Badass,' an event that brought the cast and crew together to talk about the show's future, Yuji Okumoto talked about what it was like to join the series after so much time away from the character. "We had discussions about the character, which direction he should go," Okumoto explained (via Cheat Sheet). "So I gave them ["Cobra Kai" creators Jon Hurwitz, Josh Heald, and Hayden Schlossberg] my suggestions and they ran with it. My God, they came back with a script and it was so wonderful because it brought not only a sense of humor to the character, but they kept the sense of danger which I really appreciated."
"Cobra Kai" fans first got a taste of the danger Chozen can deliver in Season 5 in a teaser trailer. In one clip, Cobra Kai Sensei Terry Silver warns the two devoted Miyagi trainers that they were playing with fire, leading Chozen to have the mic-dropping response of, "And I am gasoline." Seeing this inevitable friction already beginning to spark in the preview guarantees another great showdown, with Okumoto's new, rough-around-the edges challenger potentially turning the tide for Miyagi-Do once more.
You can see how he handles things when Chozen returns with LaRusso, Lawrence, and the rest of the cast soon enough. "Cobra Kai" Season 5 will air on Netflix on September 9.