The Biggest Unanswered Questions From Cobra Kai Season 4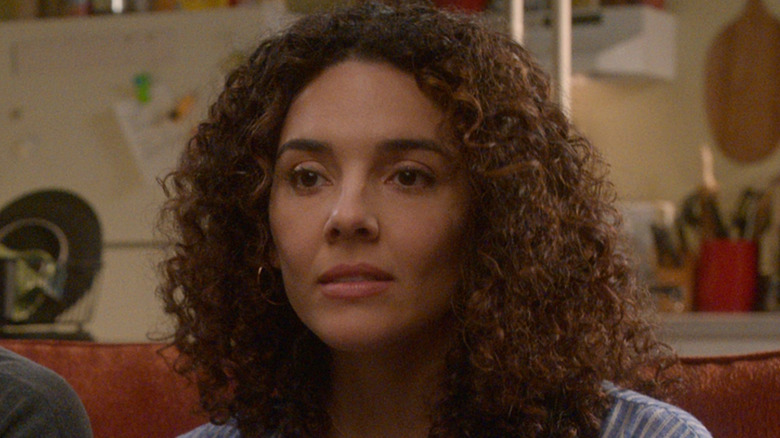 Netflix
Spoilers ahead for "Cobra Kai" Season 4
"Cobra Kai" is a show that regularly leaves audiences with a giant cliffhanger at the end of every season. The inaugural season of the series ends with the momentous return of John Kreese (Martin Kove), the second teases the return of Ali Mills (Elisabeth Shue), and the third ends with an unlikely alliance between Johnny Lawrence (William Zabka) and Daniel LaRusso (Ralph Macchio). 
While the Season 4 finale doesn't introduce any new characters or radically shift the dynamics of every dojo, it does introduce quite a few surprising twists that are sure to make for entertaining stories in the upcoming fifth season. Some of these story threads, such as John Kreese's arrest or Johnny and Daniel's rematch, are only recent developments, but others, like the contents of a scroll hidden in Daniel's dojo, could be destined to take "Cobra Kai" all the way back to the origins of Miyagi-Do Karate and beyond.
With those massive implications in mind, let's take a closer look at the biggest unanswered questions from "Cobra Kai" Season 4.
Who is Miguel's dad?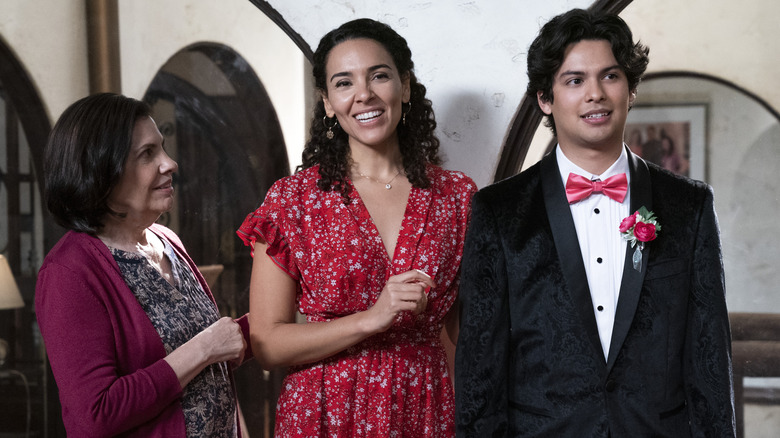 Curtis Bonds Baker/Netflix
Fathers and sons are famously touchy subject matter throughout "The Karate Kid" franchise and on "Cobra Kai." Daniel is raised by his mother, Lucille (Randee Heller). Johnny's biological father abandons him at a young age, leading to a difficult relationship with his mother and stepfather (memorably portrayed in "Cobra Kai" by the late Ed Asner). However, the father-son issues certainly don't end with this generation of fighters.
The question of the identity of Miguel Diaz's (Xolo Maridueña) father has been lurking in the background since the very first season. Few solid details about Miguel's dad are known, except that he was involved in the cartel to such a dangerous degree that Carmen (Vanessa Rubio) left Ecuador with Miguel in order to get away from him. (Notably, Miguel's grandmother calls Carmen's ex-husband a "s***head.") While plenty of people have theorized about an "Empire Strikes Back"-style twist in which Terry Silver (Thomas Ian Griffith) is revealed to be Miguel's father (via Reddit), this scenario has always seemed unlikely. Given Silver's role in Season 4, we feel confident in labeling this fan theory completely bunk.
In the final moments of the Season 4 finale, Miguel boards a bus towards Mexico City in search of his father, who he insists he must know in order to better understand himself. Sadly, the few details viewers have about Miguel's dad suggest that he may come to regret the decision to seek him out.
What will happen to Kreese? And who will replace him?
Netflix
We all knew the introduction of Terry Silver this season could only mean bad things for our heroes on "Cobra Kai." However, the Season 4 finale sees an unlikely partnership between Silver and Stingray (Paul Walter Hauser) result in the arrest of none other than Silver's former Army buddy and co-sensei, John Kreese. As Kreese is taken away in cuffs, Silver says, "Don't worry about a thing. I'm sure I can dig up a friend or two to help out with Cobra Kai while you deal with your legal problems." 
We have to wonder: Who could Silver be referring to, and have we seen them before? There are a handful of characters from the original "Karate Kid" trilogy who have yet to appear on "Cobra Kai." Perhaps this is how Mike Barnes (Sean Kanan), a villain from "The Karate Kid Part III," makes his triumphant return?
Furthermore, while "Cobra Kai" has most often presented Kreese as the purest definition of evil, it has also shown that he acts the way that he does for a reason. From the tragedy in Vietnam to heartache at home both before and after the war, Kreese's life hasn't been easy; the Cobra Kai dojo is his home. His work with the group gives him an opportunity to positively (and, to be fair, negatively) impact the lives of many violence-prone children in the San Fernando Valley. Given this show's history of villains slowly becoming allies, it seems possible that Johnny and Daniel might eventually be willing to turn to Kreese for help and perhaps support him, too.
How is Chozen going to help Daniel?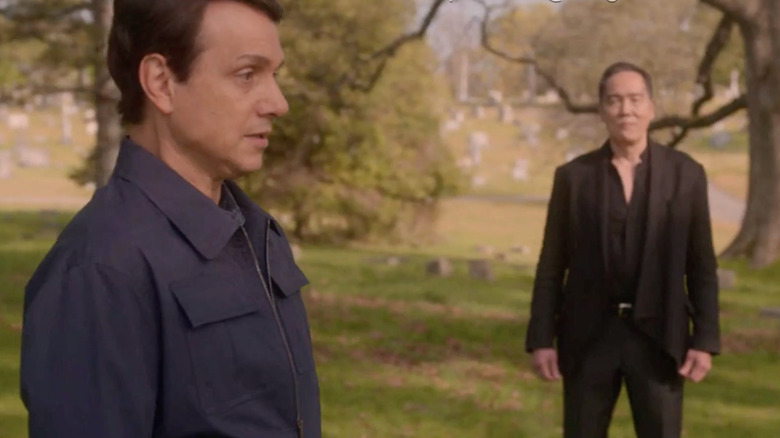 Netflix
In the closing moments of the Season 4 finale, Daniel appears before the tombstone of Mr. Miyagi (Pat Morita), just as he has done countless times before. He pleads before the late karate master's grave and asks for help to defeat Cobra Kai. However, Daniel is not so desperate as to actually ask the dead for assistance. Instead, he is speaking to someone else who has accompanied him to pay his respects to Mr. Miyagi: Chozen Toguchi (Yuji Okumoto), his former enemy from "The Karate Kid Part II."
Chozen previously appeared during Daniel's short visit to Okinawa in Season 3. Daniel is initially trepidatious about reuniting with Chozen, as a result of their previous encounters. In "The Karate Kid Part II," Chozen and Daniel's disagreements mount into a fight to death, something which Daniel defuses by grabbing Chozen's nose and making a "honk" sound. However, by the end of their reunion in "Cobra Kai," the two former enemies have become allies and acknowledge that they are, in essence, "karate cousins" as a result of their respective sensei's shared sensei. 
Chozen's appearance in the Season 4 finale is important. Not only is it indicative of how Daniel plans to defeat Cobra Kai in Season 5, but his arrival marks the character's first on-screen trip to the United States, signifying that he, too, recognizes the dire situation in which Miyagi-Do finds itself. While it is unclear exactly how Daniel plans for Chozen to help his team, it might have something to do with the various Miyagi-Do artifacts inherited by Chozen after his sensei's death.
What is on the scroll that Anthony opens?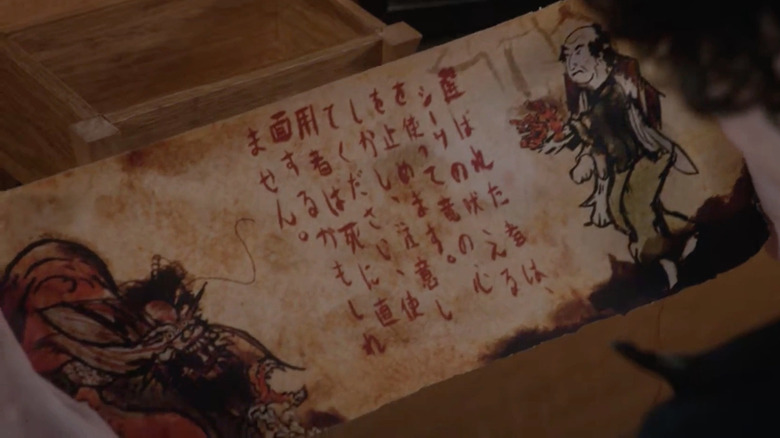 Netflix
In Season 4, Episode 7, titled "Minefields," Daniel is surprised to find his youngest child, Anthony (Griffin Santopietro), looking over various artifacts in the dojo. While Samantha LaRusso (Mary Mouser) has always taken an active role in Miyagi-Do Karate, Anthony has been more prone to sit around the house and play video games offscreen. When Anthony asks his father about a fragile scroll he finds in a box underneath Mr. Miyagi's portrait, Daniel replies, "That's a technique that I hope none of us will ever need to use." Though this scroll looks similar to the one that Daniel finds in Okinawa during Season 3, the markings on this page are most definitely different.
It's possible this scroll is the same one Chozen gifted to Daniel in Season 3, Episode 5, "Miyagi-Do." But it's also possible he received a different scroll at another time. Daniel doesn't go into detail about what the scroll teaches, but his words to Anthony imply the move is drastic, and he has never used it before. It seems likely that the scroll contains Miyagi-Do secrets that Daniel would only deploy if absolutely necessary.
Given Mr. Miyagi's prediction that Anthony would someday be the one to protect the LaRusso family, it seems almost certain that we will revisit this scroll next season. This technique could come in handy against Terry Silver or other threats that appear in Season 5 and beyond.
Who wins the rematch: Daniel or Johnny?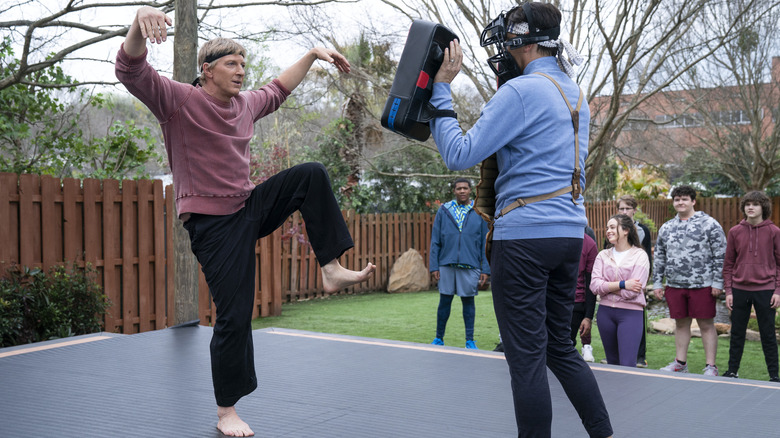 Curtis Bonds Baker/Netflix
Few characters of the so-called "Miyagi-verse" have fought each other as many times as Johnny and Daniel. Of course, the two characters' most famous fight occurs at the All Valley Karate Tournament in 1984's "The Karate Kid," but they have also been involved in a multitude of altercations since that pivotal moment in both of their lives. However, none of their fights in the ensuing years have seemed quite as momentous as their rematch in "Cobra Kai" Season 4, Episode 5, titled "Match Point."
After Johnny and Daniel discover that Terry Silver is back in the game, they regroup at a bar to talk over their respective approaches to coaching. However, instead of developing a plan to fight Kreese and Silver, the two create a plan to fight each other. They part with an agreement to meet at the Miyagi-Do dojo for a fight that will decide who takes over the rest of training. Surrounded by their students, Johnny and Daniel engage in an epic battle which is refereed by Miguel and Samantha. 
Johnny gets the first point, but Daniel quickly follows this up with a point of his own. Minutes later, the two are tied, and with only one point to go for the win, they once again find themselves in sudden death. Daniel kicks Johnny in the face at nearly the exact same time as Johnny punches Daniel in his face. The resulting action ends with both senseis on the ground, unsure of what just happened. The instant replay, provided courtesy of Chris (Khalil Everage), is also inconclusive. 
Don't expect a definitive answer to this question soon. "Cobra Kai" is most definitely leaving this one open to interpretation.