What Time Will Stranger Things 4 Volume 1 Be On Netflix?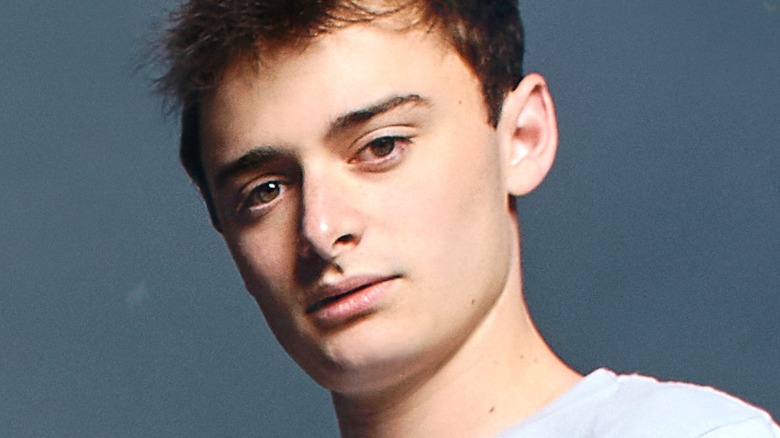 Cyril Masson / Netflix
The Upside Down is once again attempting to break into the regular world, and the only people who can prevent it from happening are the same ones who did it the three previous times ... along with the later additions to the sprawling cast of characters, of course, and presumably a few new faces. Yes, "Stranger Things 4" and its weird release schedule are almost here, and Netflix's shiniest hit show is clearly planning to bring every single available piece of 1980s nostalgia to the table.
The show has a brand new villain in Vecna, who draws inspiration from iconic horror monsters. Judging by the small details in the trailer, there's plenty more in store, up to and including horror legend Robert Englund. As such, it's no wonder if fans of the show are eagerly waiting for the first volume of "Stranger Things 4" to drop. Let's see when, exactly, that will happen. 
Stranger Things fans will have a sleepless night on May 27
Depending on the corner of the world you live in, "Stranger Things 4" Vol. 1 will arrive at either the perfect moment or a horrifyingly inconvenient hour, so schedule your viewing accordingly ... and consider steering clear of social media to avoid spoilers. 
As befits the clear horror angle of "Stranger Things 4," the seven episodes of the season's Volume 1 will drop precisely at midnight on Friday, May 27 ... but only for those living in the Pacific Time zone (via CNet). If you're in Eastern Time, the wait is going to be a few hours longer, as you can expect the new episodes to arrive at 3 a.m. ET. 
Meanwhile, night owls in Alaska have a slightly better viewing situation, since they get the new episodes on Thursday, May 26 at 11 p.m. AKDT. However the ominous grandfather clock of "Stranger Things 4" brings the greatest gift of time to Hawaii, since the state can enjoy new episodes of "Stranger Things" on Thursday, May 26 at 9 p.m. HST.
The same times will apply to "Stranger Things 4" Vol. 2 when it arrives on July 1 (or June 30, if you're in Alaska or Hawaii), so plan ahead!