Does Steve Carell Ever Watch The Office?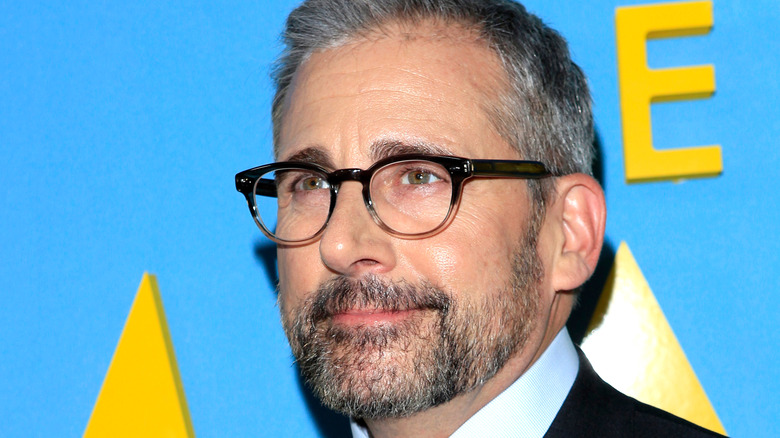 Kathy Hutchins/Shutterstock
As the world hunkered down in quarantine throughout 2020, many people turned to Netflix and other streaming services for comfort and entertainment. Not surprisingly, Nielsen revealed that "The Office" was the most viewed show among all of the platforms, garnering 57.13 billion minutes of watch time that year (via The Hollywood Reporter).
In a 2022 "Live with Kelly and Ryan" interview, Jenna Fischer, the actress who portrays receptionist Pam Beesly, expressed her excitement that the series, which wrapped up in 2013, is being introduced to the next generation. "It's blown up with streaming," she said. "All new audiences are finding it and kids are now watching it with their parents when the parents used to watch it live. It's amazing."
Of course, some of those 57.13 billion views came from Fischer and her former co-star Angela Kinsey. In October 2019, the friends launched their "Office Ladies" podcast, which tasks them with rewatching and chatting about every episode. Fischer and Martin might be reliving all of their favorite "The Office" moments, but does Steve Carell, who helmed the Scranton branch of Dunder Mifflin for seven seasons, ever do the same?
Steve Carell never watches The Office
For the majority of "The Office," Steve Carell is a key component of the show as Michael Scott, the regional manager of Dunder Mifflin's office in Scranton, Pennsylvania. Michael might be silly and inappropriate at times, but he's also the heart of the company and cares deeply about his staff. In fact, many fans feel that Season 7, Episode 23 ("Goodbye, Michael Part 2"), when Michael leaves for Colorado to be with Holly Flax (Amy Ryan), is the saddest of the entire series.
However, there's someone who won't be binging "The Office" anytime soon. Carell revealed on "The Late Show with Stephen Colbert" that he doesn't watch any of his own TV shows or movies. Carell said, "Sometimes the cast [of 'The Office'] would get together, and we'd watch it together, and that was really fun, but no, I tend not to do that..." It's not uncommon for major actors, including everyone from Johnny Depp to Macaulay Culkin, to avoid watching even their biggest projects. Whether they're still growing in the industry or already atop the pinnacle of their success, many actors report that watching themselves onscreen can be an uncomfortable experience (via Insider). 
Carell might fall into this group, but it certainly doesn't diminish his love of "The Office." During a 2020 interview on the Some Good News podcast, Carell even told fellow "The Office" alum John Krasinski, who plays Jim Halpert, "Some of my most fond memories, personally or professionally, are entwined and connected with that show ... If this is what we're all remembered for, which will probably be the case, what a great thing to be remembered for."