The Real Reason Macaulay Culkin Can't Stand Watching Home Alone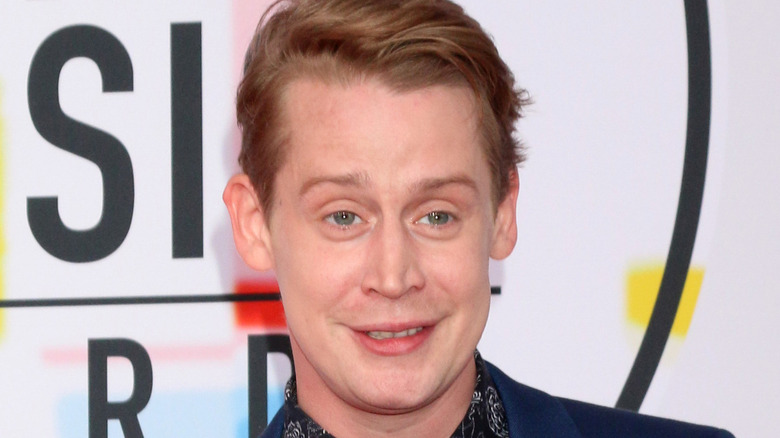 Kathy Hutchins/Shutterstock
When the holidays roll around, TV viewers can expect a few movies to air several dozen times throughout December. Favorites include the 2003 Will Ferrell comedy "Elf" and 1983's "A Christmas Story," which often gets its own 24-hour marathon on TBS and TNT. However, one seasonal film can be seen all year long, thanks to the adorable hijinks of one little boy and two not-so-smart thieves.
"Home Alone," released in 1990 and followed by the 1992 sequel "Home Alone 2: Lost in New York," centers on Kevin McCallister (Macaulay Culkin), whose massive family accidentally leaves him behind when they head to France for a vacation. Though he loves the solitude, chaos ensues when the McCallister residence is targeted by the "Wet Bandits," Harry Lime (Joe Pesci) and Marv Murchins (Daniel Stern).
Culkin, age 41, was 10 years old when he filmed the first "Home Alone." This role — and his famous screaming face — catapulted him into fame. Following his stint as scrappy Kevin McCallister, he went on to star in a number of hits, including 1994's "Richie Rich" and, more recently, "American Horror Story" (via IMDb). But despite "Home Alone" putting his name on the Hollywood map, Culkin and his fiancée, "The Suite Life of Zack & Cody" actress Brenda Song, won't be including it in a movie night any time soon.
He focuses on behind-the-scenes memories too much
"Home Alone" may be a staple on Freeform's annual 25 Days of Christmas tradition, but one person probably isn't tuning in. During a rare interview with Ellen DeGeneres in 2018, Culkin, a self-described "groundhog" when it comes to being in the spotlight nowadays, said it's impossible for him to watch the film from an audience's perspective.
"When I'm watching it, I'm remembering that day on set, you know, how I was hiding my Pepsi behind the couch or something like that," he shared. "I can't watch it the same way that other people can." Even when called upon to offer commentary for the 15th anniversary of "Home Alone," Culkin shied away from revisiting his top credit. He said, "I realized I hadn't seen it in 15 years, whereas [director] Chris Columbus, he watched it the night before like a responsible human being. It's just kind of background radiation at Christmastime."
Not only does Culkin not enjoy viewing "Home Alone," he cringes when fans ask him to recreate his famous hands-on-cheeks screaming face. "No. I've already been there, done that. I'm 37 now, okay, mom?" he said with a laugh. At least he can recall those instances with a smile, even if he doesn't feel far enough removed from his on-set experience to enjoy the film the same way its fans do.