SNL Fans Can't Get Enough Of This Kate McKinnon Skit From Her Final Episode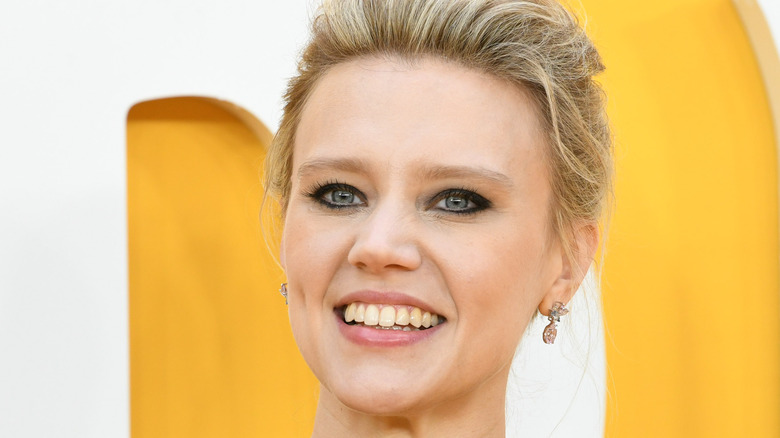 Featureflash Photo Agency/Shutterstock
Ever since "Saturday Night Live" made its debut in 1975, the sketch comedy show has been stacked with legendary comedians and musical guests throughout each season. Comic royalty, including Chris Farley, Bill Hader, and John Belushi, have all been a part of this long-running live show. 
In 2012, "SNL" added yet another talented personality to the group when Kate McKinnon started appearing as a regular on the show (via IMDb). McKinnon's daring and over-the-top characters in multiple skits each week quickly made her an iconic cast member of the show, and her gift for performing consistently brought full-bellied laughter to many viewers.
During her time with "Saturday Night Live," McKinnon balanced multiple other jobs, including appearing in movies like 2016 "Ghostbusters" and 2018 "The Spy Who Dumped Me." As viewers have recently learned of the impending departures of other long-time "SNL" personalities like Pete Davidson, Kyle Mooney, and Aidy Bryant (via New York Times), the news of McKinnon's departure has also been a hot topic for discussion. 
Alas, as with many cast members before her, McKinnon is ready to move on from her chapter with "SNL," and her last intro sketch has fans of the show feeling all sorts of emotional.
Kate McKinnon's goodbye made viewers emotional
In Kate McKinnon's final intro sketch on "Saturday Night Live," an old and beloved bit is brought back in order to create the perfect goodbye. The "Close Encounters" sketches feature McKinnon as Ms. Rafferty, an alien abductee with an outlandish personality and a story to tell. The sketch is well-known for being the one that caused Ryan Gosling to break character during a 2015 episode of the live show (via Saturday Night Live). 
After another elaborate explanation of her close encounter, the bit ends with McKinnon leaving Earth forever to live among the aliens. In the doorway of the alien spaceship, complete with little grey men, McKinnon waves and says, "Well, Earth, I love ya. Thanks for letting me stay awhile." Only a few hours after its initial airing on NBC, the skit became available for streaming on YouTube, quickly earning more than 1 million views (via Saturday Night Live). 
Fans who watched this episode were immediately active on social media to express their sorrows about McKinnon's departure from the show. "They don't come any more talented than Kate; she'll certainly be missed on the show," @Kando84 wrote on Twitter. Other fans shared this opinion, and it's clear that though McKinnon won't be an active part of "Saturday Night Live," her fans aren't going anywhere. @JemPhotoIndi posted, "Kate McKinnon, you are comedic genius and were an immense asset to the 'SNL' cast. Can't wait to follow your career on to what is next."