Things You Might Not Know About Kate McKinnon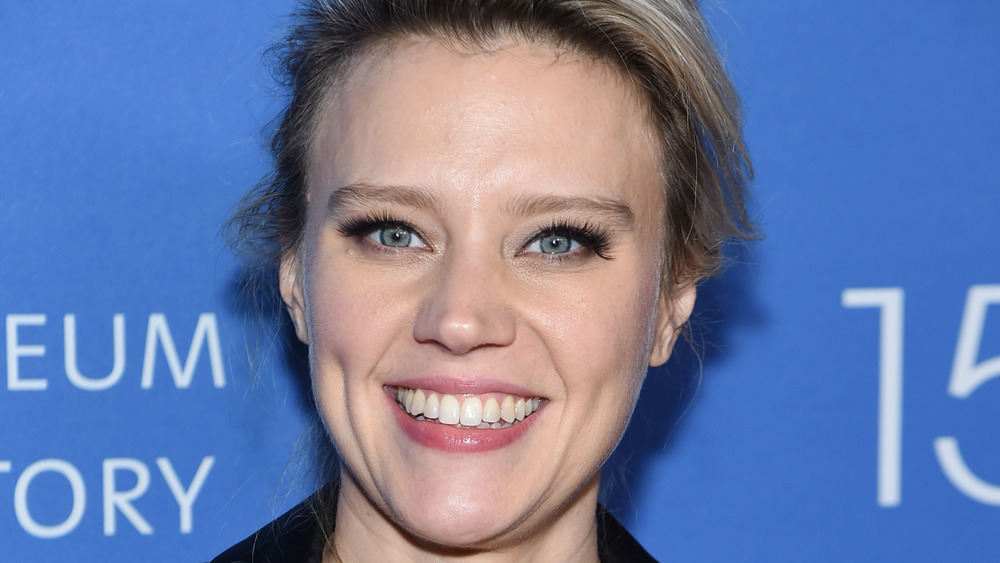 Jamie Mccarthy/Getty Images
If you've watched Saturday Night Live over the past few years, there's no way you've missed standout performer Kate McKinnon. McKinnon has become one of the show's most popular players over the course of her long-running tenure on the show. Born and raised in Long Island — not far from her future Manhattan workplace — McKinnon attended the prestigious Columbia University, graduating in 2006 with a theater degree. She was ready to take the comedy world by storm.
From her impressions of political figures like Hillary Clinton and Rudy Giuliani to pop culture stalwarts like Justin Bieber and Ellen DeGeneres to her incredible roster of original characters like alien abductee Colleen Rafferty and elderly actress Debette Goldry, McKinnon is the most valuable player on Saturday Night Live by a long shot. But even if you're a huge fan of McKinnon's work, either on the silver screen or on Saturday Night Live, there are probably a few things you haven't yet learned about this comedy dynamo. These are the little known facts, details, and experiences of SNL superstar Kate McKinnon.
Kate McKinnon has collaborated artistically with her sister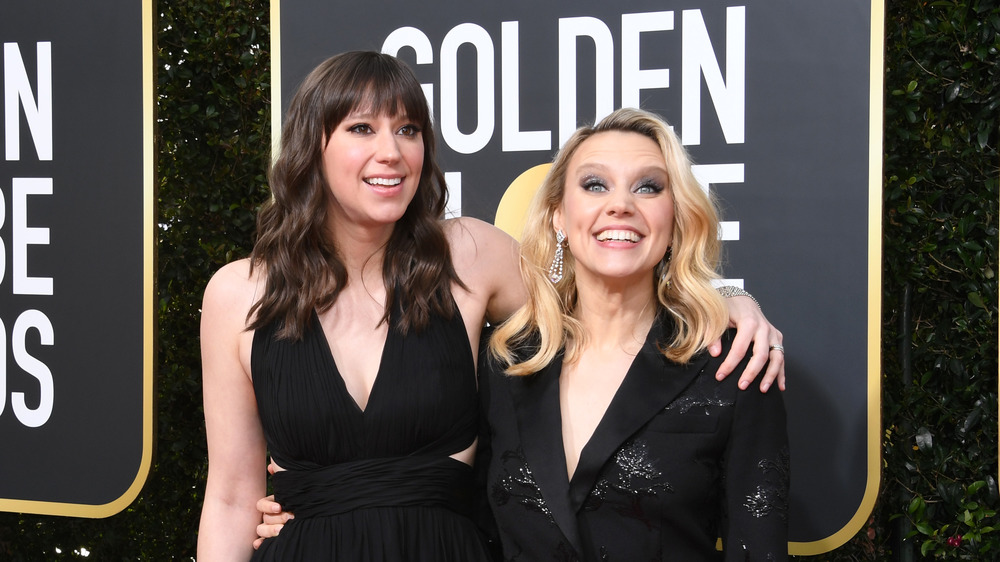 Jon Kopaloff/Getty Images
As it turns out, Kate McKinnon isn't the only talented member of her family. After making a name for herself on SNL, McKinnon teamed up with her sister, comedian Emily Lynne, to create the Audible audio series Heads Will Roll. Heads Will Roll tells a 10-episode story focused on McKinnon's Queen Mortuana of the Night Realm, a corrupt ruler, and Lynne's Jojo, Mortuana's raven sidekick. Together, they must protect themselves against a peasant rebellion and search for a magical object that could solve all of their problems.
In an interview with Entertainment Weekly, McKinnon and Lynne opened up about what they wanted to accomplish with Heads Will Roll. After spending their childhoods together quoting The Producers, their expectations for themselves were high. "We wanted it to be as funny as possible," McKinnon said. "We get to do all these voices that we wanted to do, that we had not been able to do in any of our previous work. We also wanted it to be grounded in this sisterhood, the story of my life, this relationship that is everything to me. I think Emily feels the same." Lynne immediately concurred.
Foreign accents come naturally to Kate McKinnon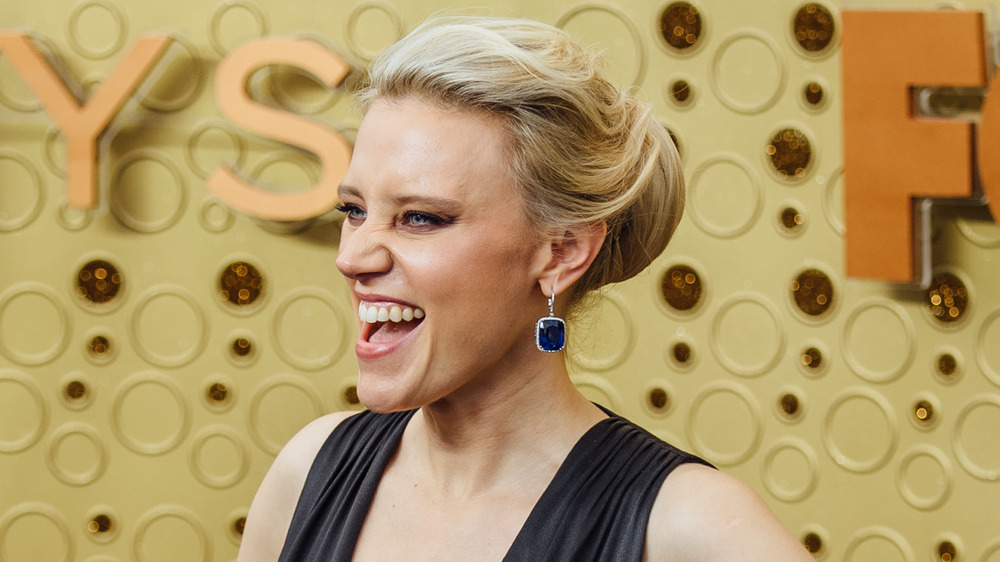 Emma Mcintyre/Getty Images
Anyone who's seen McKinnon on Saturday Night Live knows that the actress has a serious knack for accents. Apparently, McKinnon has had this talent since she was a young girl. As McKinnon told Rolling Stone, she was named the "queen of reading week" in the fifth grade. She felt such a position would benefit from a British accent: "It occurred to me that might add to the characterization of the queen." 
In fact, McKinnon says she can trace all of her accents — and her love for comedy — back to that very first impression. "I think the genesis of my entire life, probably, was the smiles I elicited doing this British accent," McKinnon recalled. "I've been chasing that dragon ever since." Clearly, this juvenile performance helped her future career in many different ways — chief among them the fact that McKinnon has portrayed a very different monarch, Queen Elizabeth II, multiple times on Saturday Night Live.
Kate McKinnon is a woman of many talents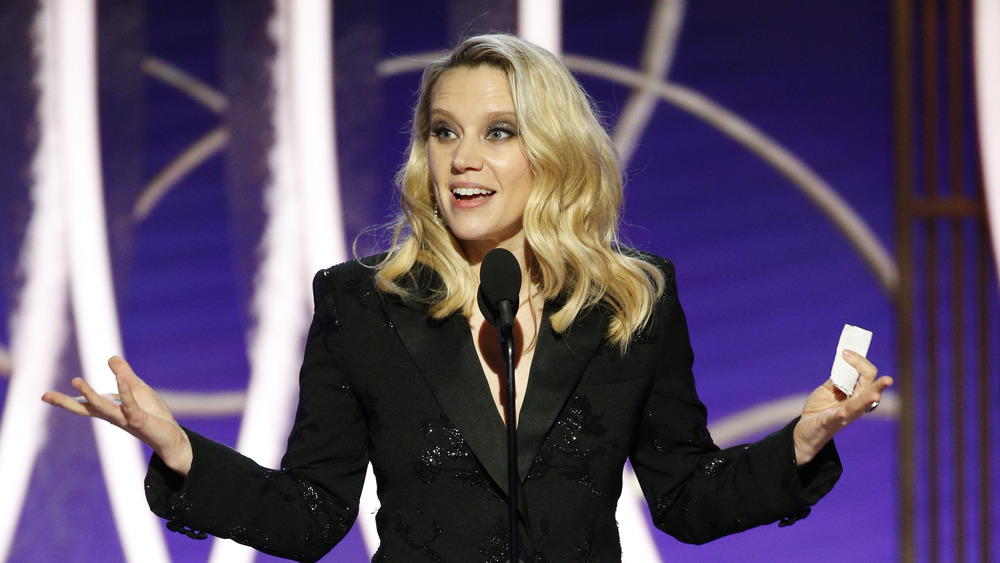 Paul Drinkwater/Getty Images
When you watch Kate McKinnon on Saturday Night Live, it's not hard to feel blown away by her talent, whether she's pulling off a pratfall with ease, adopting a foreign accent at the drop of a hat, or making her fellow co-stars and guest hosts break character simply because they can't help but laugh at her performance. In one particular sketch series about alien abductions, McKinnon has made an outright habit out of making cast members and guest hosts laugh, which always has some pretty delightful results.
However, you might not know that Kate McKinnon is also seriously musically talented. And we're not talking about just one instrument here: McKinnon plays the piano, guitar, and the cello. Of course, SNL fans know about her piano skills already, after her famous performance of Leonard Cohen's "Hallelujah" as Hillary Clinton. But playing both guitar and cello on top of that is truly just the icing on the multi-talented cake.
Kate McKinnon worked in sketch comedy before Saturday Night Live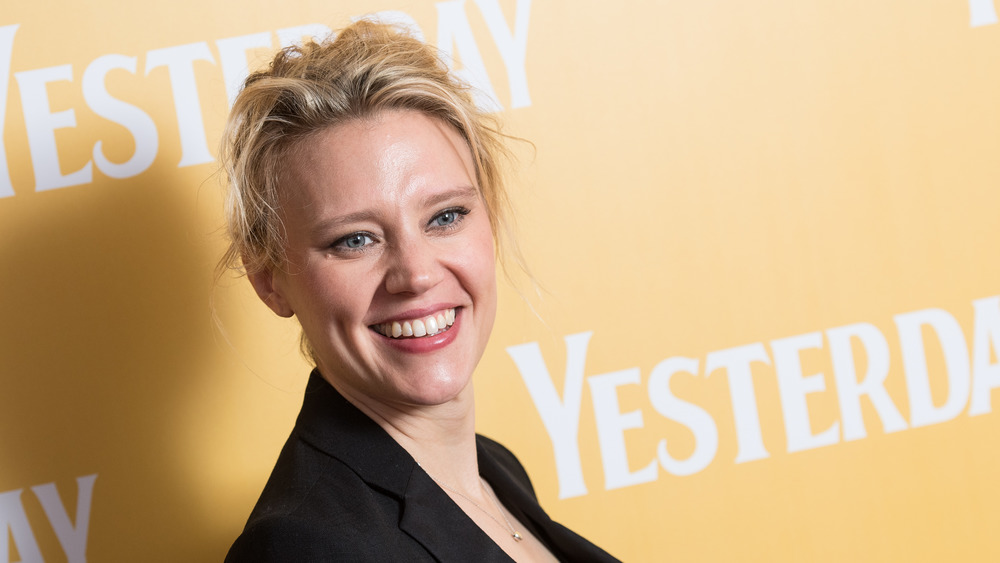 Jeff Spicer/Getty Images
If Kate McKinnon already seemed like a seasoned pro before her 2012 debut on Saturday Night Live, there's one big reason why: She had already appeared on a sketch series. For three seasons from 2007 to 2010, McKinnon was one of the comedy players on The Big Gay Sketch Show, which aired on Logo TV and was produced by fellow LGBTQ+ comedian Rosie O'Donnell.
McKinnon booked The Big Gay Sketch Show during her final year at Columbia University, and, as she later admitted, it gave her a false sense of confidence. "I thought, 'Well, this will be easy,'" McKinnon told Rolling Stone years later. "'I can just be a comedian.' And then, after the 25th audition I didn't get, I thought, 'Oh, no, this is not going to be easy.'" However, it didn't take that long — after performing with the famous Upright Citizens Brigade in New York, McKinnon submitted a tape to Saturday Night Live, and the rest is history.
Kate McKinnon became the first openly gay cast member on Saturday Night Live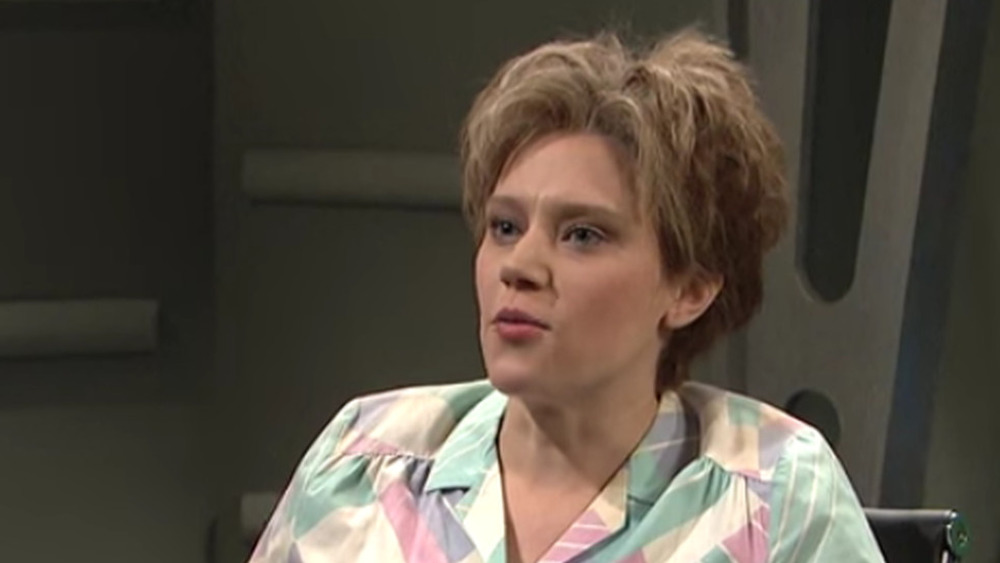 When Kate McKinnon became part of the regular Saturday Night Live cast, she became the first openly gay female cast member in the show's history (Denny Dillon and Danitra Vance having not been publicly out during their stints on SNL). McKinnon's sexuality is certainly no secret, but she doesn't open up about her struggles all that often. However, during a speech at the 2020 Golden Globes, where she presented the Carol Burnett Award to Ellen DeGeneres, she revealed that DeGeneres' rise to fame was a huge inspiration.
"In 1997, when Ellen's sitcom was in the height of its popularity, I was in my mother's basement lifting weights in front of the mirror and thinking, 'Am I gay?'" McKinnon said candidly. "And I was, and I still am. But that's a very scary thing to suddenly know about yourself. It's sort of like doing 23andMe, and discovering that you have alien DNA. And the only thing that made it less scary was seeing Ellen on TV ... And if I hadn't seen her on TV, I would have thought, 'I could never be on TV. They don't let LGBT people on TV.' And more than that, I would have gone on thinking that I was an alien and that I maybe didn't even have a right to be here. So thank you, Ellen, for giving me a shot."
Kate McKinnon has won several Emmys for her work on Saturday Night Live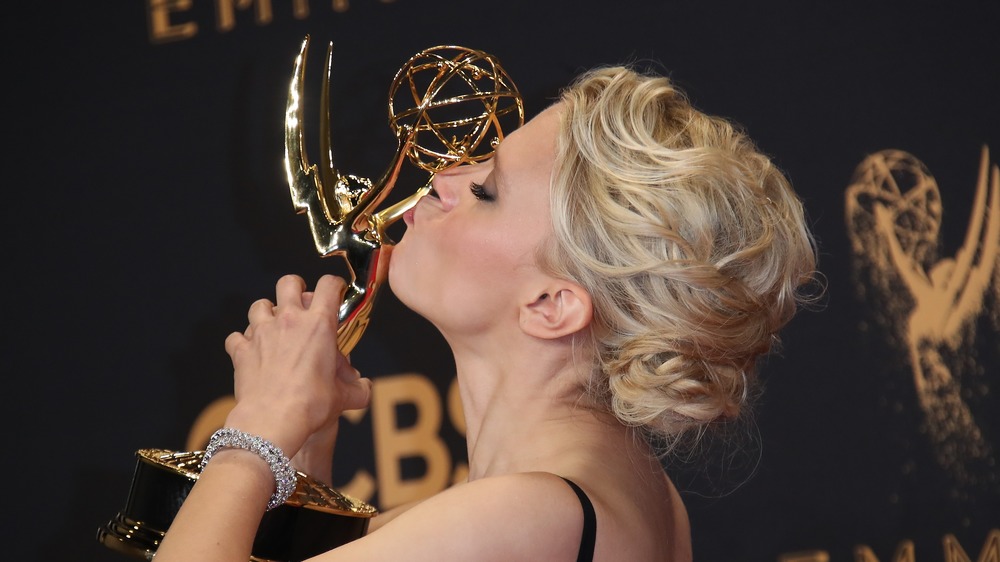 Dan Macmedan/Getty Images
There's no question that Kate McKinnon has shown off her considerable talent throughout her time on Saturday Night Live, so it should come as no surprise that she has been richly rewarded for her work — and multiple times at that.
McKinnon earned her first Emmy Award nominations for SNL in 2014, when she was not only nominated for Outstanding Supporting Actress in a Comedy Series, but for Outstanding Original Music and Lyrics for her work on the song "Home for the Holiday (Twin Bed)." After that, from 2014 to 2020, McKinnon was nominated in the Outstanding Supporting Actress category every single year. In 2016, a year that saw her bring her A-game as Hillary Clinton, she won her first Emmy and became the first SNL actor to win a performance award since Dana Carvey in 1993. Astoundingly, in 2017, she won for a second time, earning her second Emmy for her varied and hilarious work on the show.
Saturday Night Live has been a longtime home to Kate McKinnon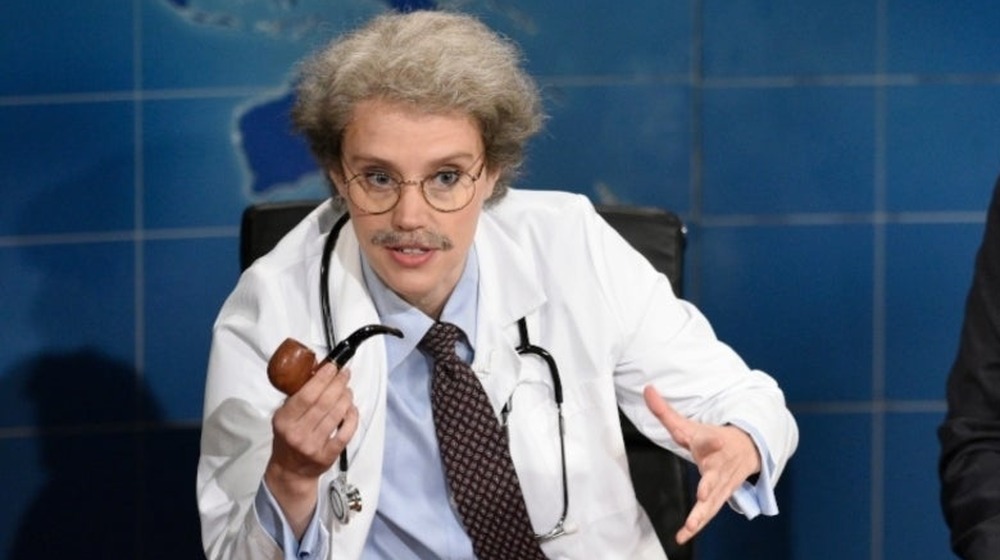 Not only has Kate McKinnon made millions of fans and earned two Emmys for her work on Saturday Night Live,  she also hit an important milestone when the 46th season of the series premiered in the fall of 2020. As she embarked on her ninth season, McKinnon surpassed previous players Amy Poehler and Vanessa Bayer — who both spent seven years on SNL — to become the longest-running female cast member on the show.
Indeed, McKinnon has been on SNL for quite a while, and she doesn't appear to be adverse to extending her already impressive stint on the iconic comedy series. After her contract technically expired in 2019, she renewed it for two years in a row. Though she hasn't been on the series quite as long as Kenan Thompson, current cast member and holder of the all-time record for longest SNL stint, McKinnon has definitely stuck it out for the long haul.
There's one thing Kate McKinnon hates doing on screen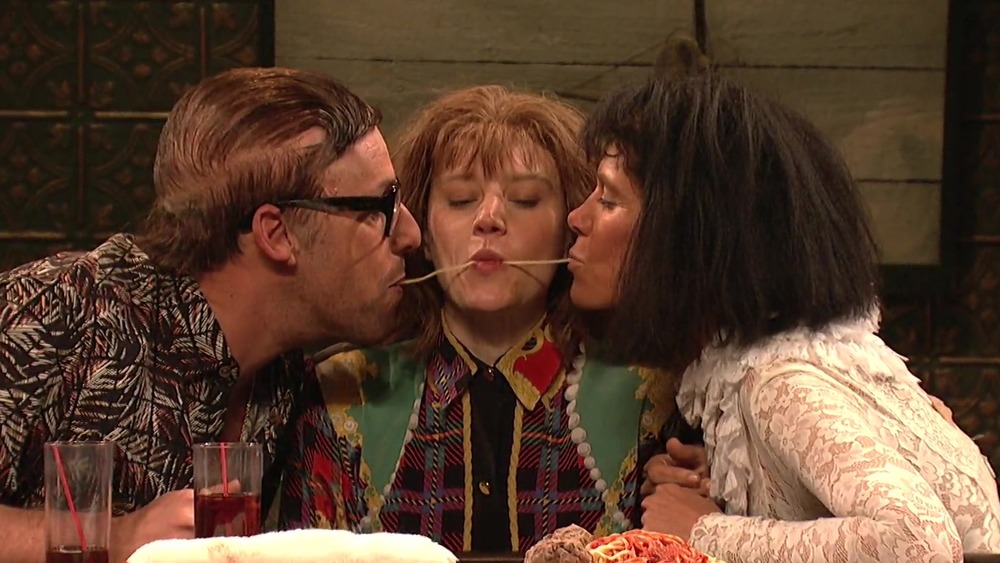 Throughout her extensive career on Saturday Night Live, Kate McKinnon has done some truly weird stuff on screen. But there's one thing that she really hates doing for the camera: kissing. As was reported by The Huffington Post, McKinnon finds on-screen lip locks unpleasant, though she will do it if necessary: She revealed this pet peeve while discussing a sketch in which she and comedian Louis C.K. aggressively make out.
However, there's a caveat to McKinnon's aversion to on-screen kissing — she'll do basically anything else, especially in the name of comedy. "If you asked me to seriously kiss someone on a screen, I would be very uncomfortable," the actress said. "But I will lick any part of your face. So what was just supposed to be a little gross [referring to her scene with C.K.] turned into a dance of mouths and of hair and of teeth." The sketch in question is part of the "Last Call" series, in which McKinnon regularly outdoes herself with ever more terrible smooches. But since they can be as absurd as possible, she's in the clear.
Kate McKinnon is absolutely obsessed with her cat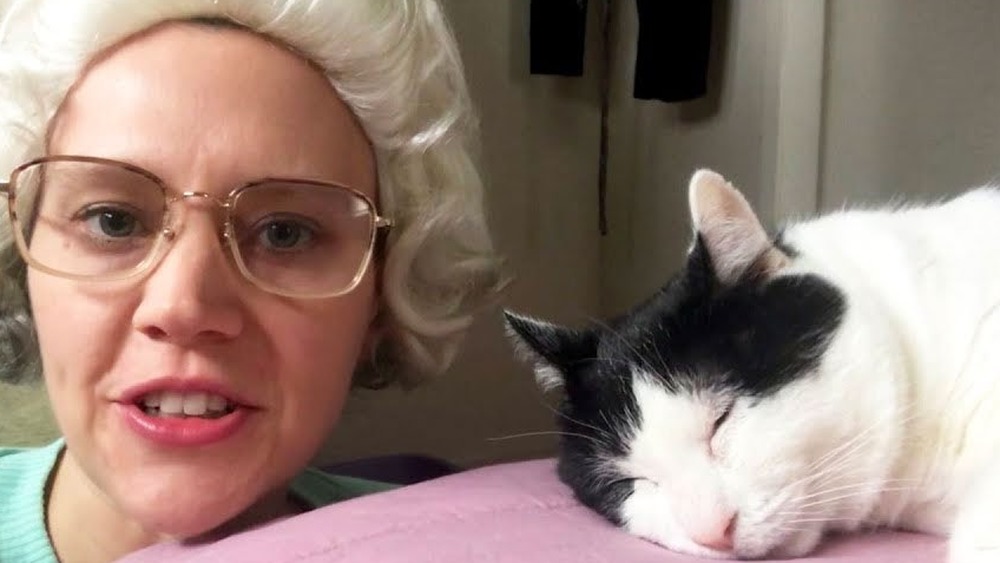 McKinnon has appeared in a ton of cat-related sketches during her tenure on SNL, including a recurring sketch for a cat shelter called "Whiskers R We" that finds the funniest possible ways to describe cats that are up for adoption. This is no coincidence: As it turns out, McKinnon is very devoted to her real-life cat, Nino, which has clearly inspired some of these sketches.
In 2016, fans laughed as McKinnon gushed over Nino, calling the 17-pound cat both her "son" and her "cat husband." During the 2020 COVID-19 pandemic, when SNL asked its stars to film sketches at home, Nino finally got in on the action. In a special at-home version of "Whiskers R We," Nino, clearly an incredibly versatile actor, appeared as several different adoptable cats, all of whom have completely different descriptions. Nino hasn't yet been named a full cast member on SNL just yet, but it's clear that he has the chops to join his human mother on the show.
You won't find Kate McKinnon on social media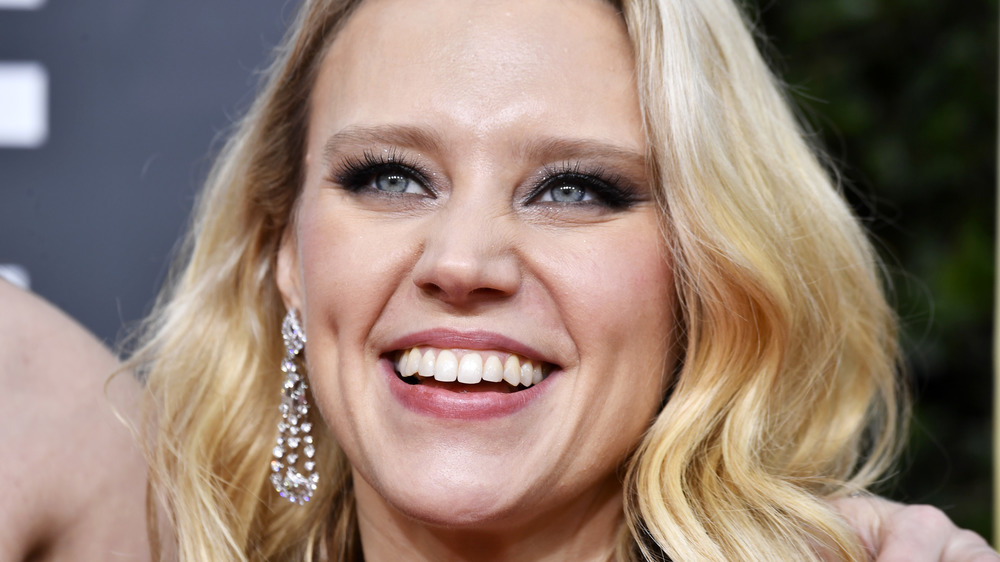 Frazer Harrison/Getty Images
Some celebrities are all over social media, sharing every little facet of their lives for their fans and giving people a glimpse into what it's really like to be famous. However, others are more private, and McKinnon is one of those people.
In a 2015 roundtable with The Hollywood Reporter alongside fellow actresses Amy Schumer, Gina Rodriguez, Lena Dunham, Ellie Kemper, and Tracee Ellis Ross, McKinnon was asked about her "presence" on social media. "Uh, I send emails," McKinnon responded slowly. "I send text messages to about five people. And other than that it's absolute zero." When asked if that was on purpose, McKinnon said, "Yes. I'm very frightened of saying anything ... I scare myself. So I just don't want to put anything out there that would misrepresent my real feelings. Or mostly, actually, if I had Instagram, it would mostly just be pictures of my son, who is a cat." If you see any accounts claiming to be the real McKinnon floating around (and the account isn't just a shrine to Nino) then you'll definitely know it's not the real deal.
Kate McKinnon's Saturday Night Live audition is a blur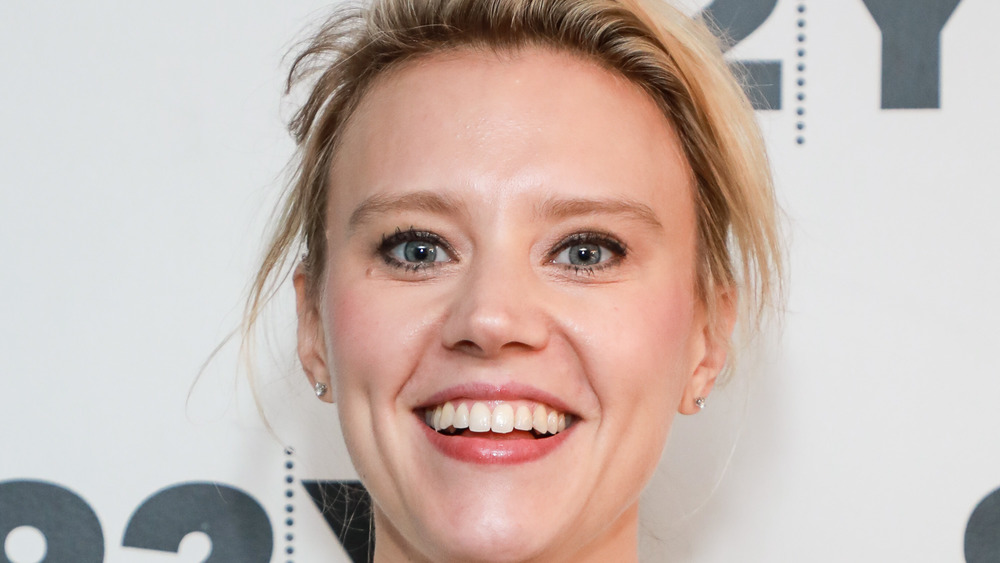 Jason Mendez/Getty Images
Saturday Night Live auditions are famously stressful — head honcho Lorne Michaels prefers that the audience remain quiet — but according to Kate McKinnon, she barely remembers hers at all. In a feature for Interview where fellow actors got to ask the actress random questions, Bill Hader asked whether she heard him laughing during her audition (which ultimately led to Hader being asked to leave the room). Apparently, McKinnon doesn't remember that — or anything else, for that matter.
"If you want to do sketch comedy, the SNL audition is the moment that your entire existence has been building toward, and it lasts five minutes," McKinnon said. "Everything you've ever done is just building toward those five minutes, so the stakes are the highest they could possibly be. But the answer is no, because I formed no memories during those five minutes. My mind had left and was off watching Catfish while my body just performed the movements that I practiced. I was not in the room. I don't remember sounds or shapes, so I have no idea. It was like a tribunal of people in the dark. I heard titters, but I had no idea who was in the room."
You might be surprised by Kate McKinnon's dream film role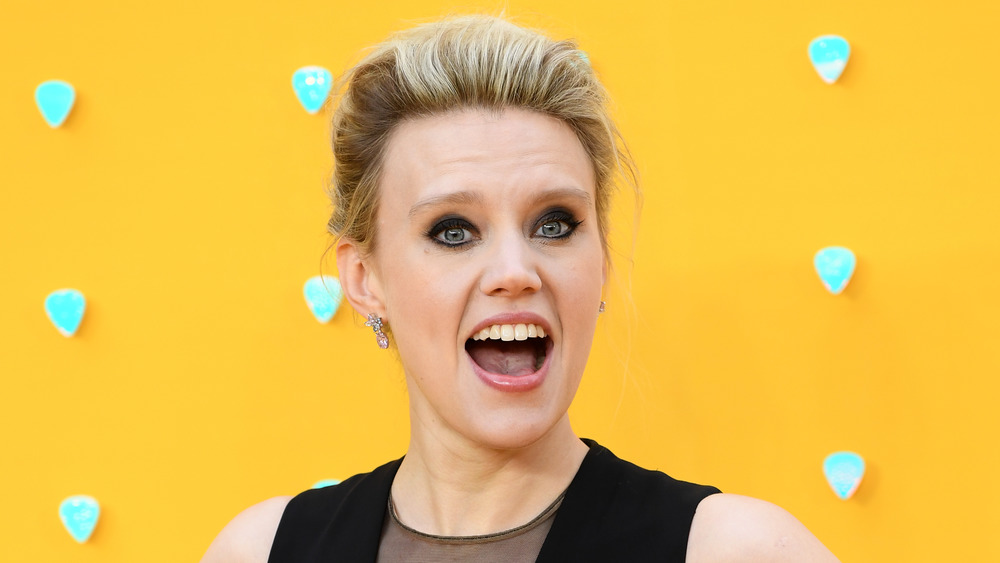 Gareth Cattermole/Getty Images
From the 2016 Ghostbusters reboot to Jay Roach's 2019 drama Bombshell to comedies like 2017's Rough Night and 2018's The Spy Who Dumped Me, McKinnon has built up a respectable silver screen resume, despite her demanding SNL schedule. However, there's one role she'd love to play above all others, which she revealed in Interview.
When Academy Award nominee and McKinnon's Bombshell co-star Margot Robbie asked, "If you could go back and play any character from any film in history, who would it be and why?," McKinnon had an answer at the ready: "It would be Willy Wonka, because I once tried to rock a purple velveteen blazer at school, but you can't get away with that without a top hat and without owning a chocolate factory where children get murdered." Made famous by performers like Gene Wilder and Johnny Depp, Willy Wonka is indeed one of the most enigmatic, strange, and hilarious characters in cinematic history — and there's no question that McKinnon would handle the role with ease.