Stranger Things 4 Release Schedule Is Even Weirder Than The Upside Down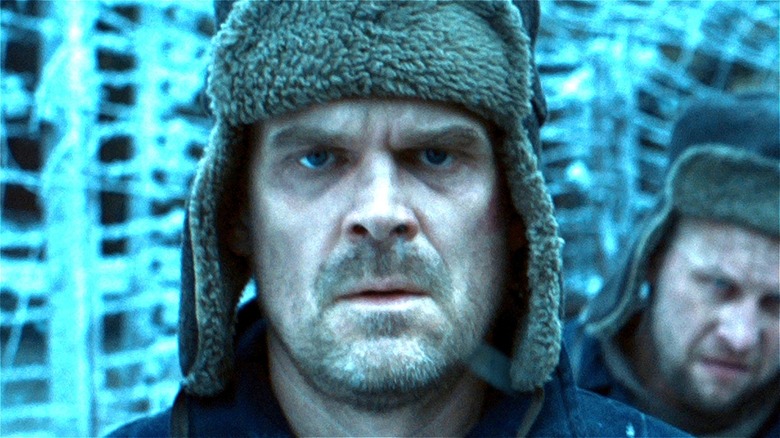 Netflix
Season 4 of "Stranger Things" promises to be the series' biggest yet. While many of the specifics of its plot are under wraps, numbers alone indicate that the upcoming batch of episodes will constitute a supersized season. The budget for Season 4, for instance, averages out to a whopping $30 million per episode.
"Stranger Things" Season 4 is so big, in fact, that Netflix decided not to release the whole season at once as is customary for the streaming service, but separate it into two halves — or Volumes, as they're called in official materials. Furthermore, most episodes will now run for a full hour or thereabouts rather than 45 minutes as was the case in the past, and Episodes 7 and 9 specifically will rival feature films in length. All of this to say, the next outing of "Stranger Things" will take risks and explore new territory unprecedented both in past seasons of the show and seemingly by Netflix at large.
With Volume 1's premiere imminent, sources with knowledge of Netflix's plans for the series revealed one more surprising idiosyncrasy of "Stranger Things" Season 4's release schedule.
Stranger Things 4's two volumes will be vastly different lengths
While those paying attention to previews and other pre-release materials for "Stranger Things" Season 4 are already well aware it will air not all at once but in two discrete Volumes, a report published by TVLine recently revealed the length of each Volume. As it turns out, Volume 1 will constitute Episodes 1 through 7, while Volume 2 will merely consist of Episodes 8 and 9.
Although this amounts to two wildly imbalanced halves, this release strategy seems to, at the very least, serve to position both movie-length episodes as mid-season and season finales respectively.
"The more we were writing, the more we realized we need more time in order for these reveals to land, in order for these storylines to work," Matt Duffer told The Wrap, explaining Season 4's expanded scope. "Partway through we knew we needed to ask Netflix for nine episodes instead of eight and as we started shooting we realized, Oh these are mega-long episodes." He then went on to reveal that Episode 9 will be more than two hours in length.
Netflix subscribers will be able to watch the first seven of these nine lengthy episodes when Volume 1 of "Stranger Things" Season 4 drops on July 1.