The Real Reason The Stranger Things 4 Finale Will Be Super-Sized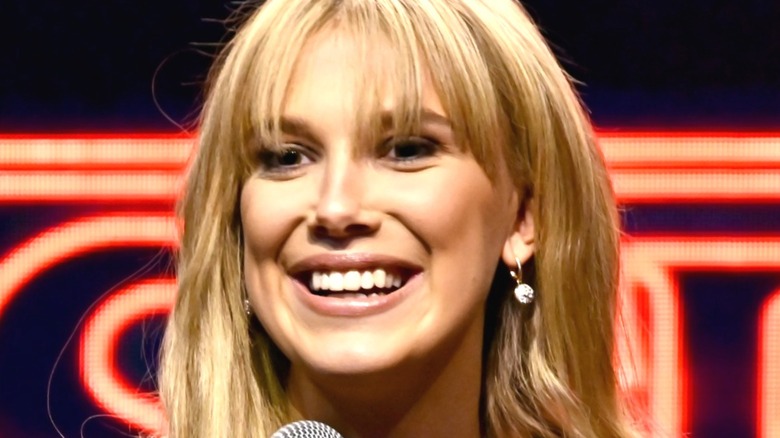 Astrid Stawiarz/Getty
The first half of "Stranger Things" Season 4 is just weeks away from its premiere, and when it arrives it will bring an end to the more than three year-long wait since the last season. If there's any consolation, at least this season of "Stranger Things" will be much bigger than the last.
Previously, it had been reported that not only would "Stranger Things" Season 4 would consist of nine episodes instead of the usual eight, but each episode would also be longer than normal, increasing from around 45 minutes to an hour, with episodes seven and nine clocking in at nearly feature-length (via The Wrap). It's so much more "Stranger Things" that Netflix decided to split Season 4 into two parts. Part 1 will air on May 27, 2022 and Part 2 will drop on July 1.
There's a reason why this season of "Stranger Things" will be so much bigger than the last, and creators the Duffer Brothers recently explained why.
Stranger Things Season 4 covers a lot of ground, and needs to set up Season 5
Matt and Ross Duffer spoke with The Wrap shortly before the premiere of "Stranger Things" Season 4, Part 1.
During their interview, they explained the need for so much more screen time. "Stranger Things 4" sees Will (Noah Schnapp), Eleven (Millie Bobby Brown) and Jonathan (Charlie Heaton) transplanted away from Hawkins to an idyllic California suburb. Almost everyone else remains in Indiana, defending Hawkins from the Upside Down and all of the sundry horrors that come with it — the terrifying new D&D-inspired villain, Vecna. Farthest flung is former Hawkins Sheriff Jim Hopper (David Harbour), who is incarcerated in Russia.
As Matt Duffer put it, "It must be quadruple the plot we had in Season 3."
Not only will "Stranger Things" Season 4 have to cover all three stories, it also has to set up Season 5, which will be the show's last. "This season we knew that Season 5 was going to be our last, we had to start revealing a lot," Matt Duffer explains–although he didn't specify what those reveals might be.
All in all, it adds up to a mega-sized Season 4.