Why Guy Dexter From Downton Abbey: A New Era Looks So Familiar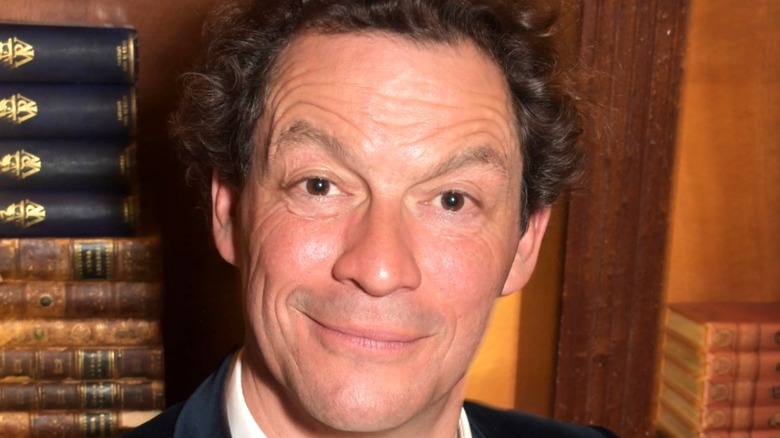 David M. Benett/Getty
With every passing year, it becomes increasingly hilarious that "Downton Abbey" originally campaigned for — and won — awards as a miniseries (via IMDb). After six incredibly successful seasons on ITV, the upstairs-downstairs British costume drama from Julian Fellowes had grown beloved and culturally ubiquitous enough to prompt a spin-off theatrical feature — and sure enough, 2019's "Downton Abbey" movie became one of the biggest runaway box office hits in the adult-drama realm in years, grossing nearly $200 million internationally from an estimated budget of $13 million (via Box Office Mojo).
Now, this mammoth franchise continues its very-much-not-miniseries-like trajectory with "Downton Abbey: A New Era," a sequel to the 2019 film. And, much like the first theatrical "Downton" outing, "A New Era" goes beyond merely checking in on the familiar Crawleys and their staff, and ups the ante by introducing a host of new faces. One of those faces belongs to Guy Dexter, a silent film leading man who drops by the Crawleys' estate to shoot a picture titled "The Gambler" alongside his co-star Myrna Dalgleish (Laura Haddock). If you think you may have recognized Guy from somewhere, you might want to know that the actor who plays him is also a prolific film and TV star. Here are a few of his other roles.
Dominic West starred as Jimmy McNulty on The Wire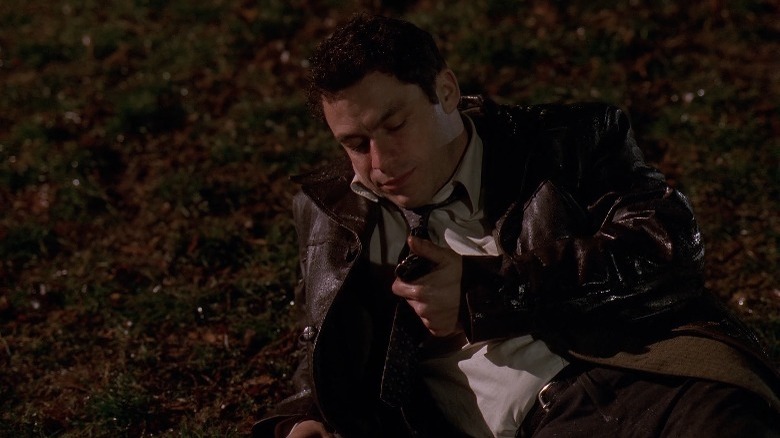 HBO
"The Wire" is still, for all intents and purposes, the go-to answer when we get to talking about the great artistic achievements in the annals of TV drama. With its sprawling, hyper-detailed, endlessly perceptive chronicle of Baltimore institutions and the people in them across five brilliant seasons, the David Simon-manned HBO series made history in the medium and helped catapult the careers of many different actors. And, although it could scarcely be said to have a single main character, "The Wire" did have one cast member who came closest to the structural definition of one: Dominic West as Jimmy McNulty.
Appearing on nearly all of the series' 60 total episodes, West played a character who ultimately served as a focal center in the show's maddeningly complex narrative tapestry, with his talents and impulses as a smart, yet arrogant and personally troubled police detective helping to drive many of the storylines. The role became definitional for West, bringing critical acclaim and the attention of the show's small, yet fiercely devoted pack of contemporaneous fans. These fans became more familiar with an English stage actor whose most visible roles in Hollywood had been a small one in 2002's "Chicago" and a slightly meatier part as Steel Dragon founder and guitarist Kirk Cuddy in the 2001 Mark Wahlberg film "Rock Star." From then on, West became much more of a household name on both sides of the pond.
He was one of the protagonists of the short-lived BBC drama The Hour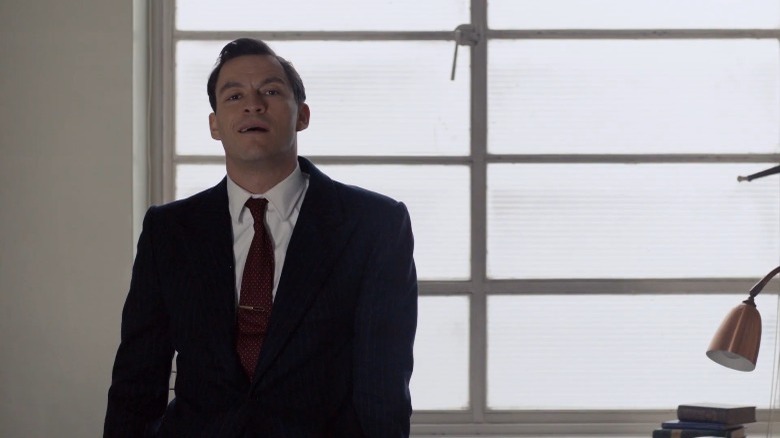 BBC Two
Three years after the conclusion of "The Wire" in 2008, Dominic West landed another central role on a high-profile TV production, this time in his native England. Alongside Ben Whishaw and Romola Garai, he was one of the leads of BBC's "The Hour," which only ran for two seasons but managed to rack up acclaim and awards in that time.
Often compared to "Mad Men," this journalism-themed period drama looked at the behind-the-scenes trials of the team putting together a new current-affairs show on BBC during the 1950s. West played Hector Madden, a handsome newcomer who used his family connections and charm to land a position as the host and face of the program, spurring tensions between himself and the rest of the staff, including reporter Freddie Lyon (Whishaw). Despite how different the role was from McNulty, West slipped comfortably into it and once again managed to earn sterling reviews, which ultimately led to several award nominations for best actor in a miniseries, including at the Critics' Choice TV Awards and the Golden Globes (via IMDb).
He played gay rights activist Jonathan Blake in Pride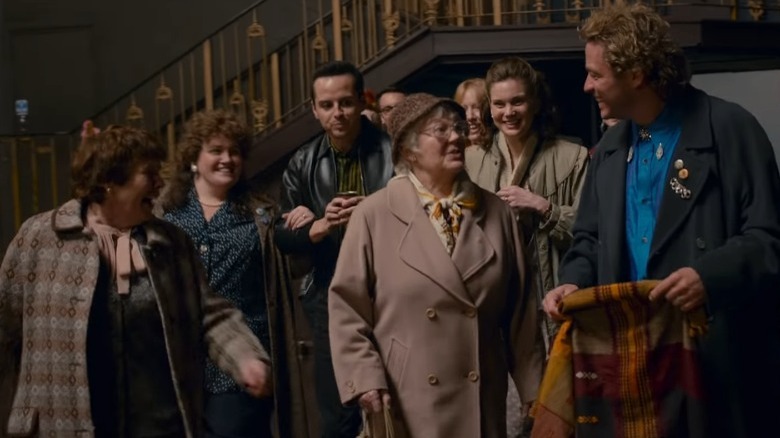 20th Century Fox/CBS Films Distribution
Shows like "Heartstopper" are thankfully all the rage now, but it wasn't that long ago that warm, fuzzy, and solidly mainstream-friendly popular dramas about the lives and struggles of the LGBTQ community were considered a no-go by both the film and television industries. One of the films that began to turn the tide was 2014's "Pride," which focused on the real-life story of a group of lesbian and gay London activists helping out the 1984 British miners' strike and establishing an unlikely bond of mutual support.
Despite its accessibility and feel-good rhythms, the Matthew Warchus-directed film is also a powerful political statement, which deftly explores the hardships faced by queer folks and miners in 1980s England, and the ways in which their struggles — with police, with public opinion, with Thatcherism — both differed and dovetailed into solidarity. After all, this was a time in which queer folks still faced active legal persecution across the U.K. (via Pink News), with gay men as the targets of particular social and political stigma. In that sense, two of the film's most important characters are Jonathan Blake and Gethin Roberts, respectively played by Dominic West and "Fleabag'"s Andrew Scott. A seasoned, deeply loving couple, they play a major part in showing the small town of Onllwyn that gay men are people like everybody else, with the liveliness and optimism of Blake — a real-life legend in British LGBT activism (via OX Magazine) — proving particularly key in that tearing down of walls.
He went back to U.S. prestige TV with The Affair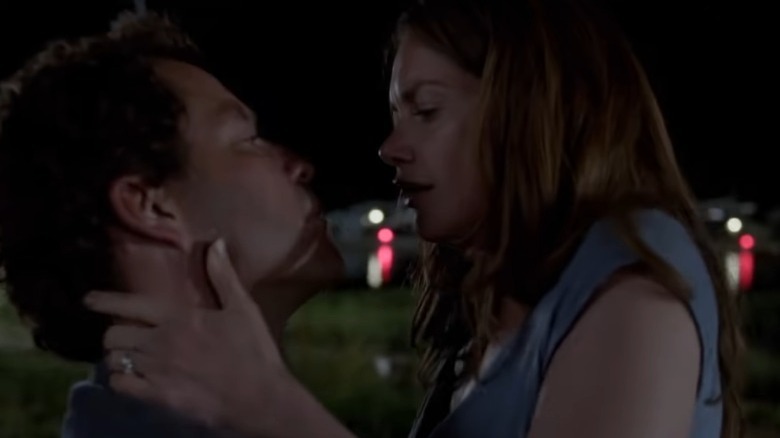 Showtime
Another long-running American series that Dominic West is known for having starred in is "The Affair," the inventive and much-discussed Showtime mystery drama about the ramifications and repercussions of an extramarital affair as seen through the distinct perspectives of its two participants, Noah Solloway (West) and Alison Bailey (Ruth Wilson).
The concept of "The Affair" immediately hooked viewers and piqued the interest of critics: In each episode, the first half would depict Noah's point of view over a certain set of events, and then the second half would go back and show the same rough timeline as recounted by Alison. As such, West had the challenge of playing both a convincing image of how Noah conceived of himself and an accurate representation of his presence in Alison's mind, in which he didn't always come off looking great. Eventually, "The Affair" ballooned beyond the scope of the titular affair and into a much larger and more complex story, also including other POVs like those of their respective spouses, Helen (Maura Tierney) and Cole (Joshua Jackson). But, much like McNulty on "The Wire," West's Noah remained central through and through until the end of the series on Season 5. Once again, the role earned significant awards attention, including a Satellite Award win for best actor – television series drama (via IMDb).
He played the husband of an unconventional Keira Knightley heroine in Colette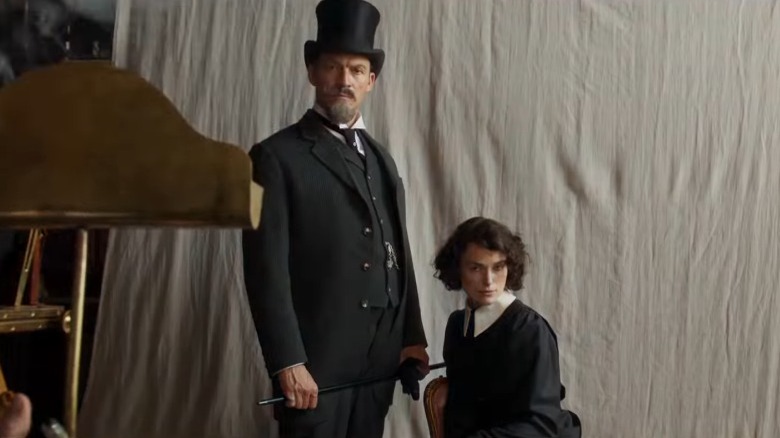 Bleecker Street Media/30WEST
A lot of Dominic West characters have been partly or largely defined by their complicated love and family lives, but none more so, perhaps, than the co-lead of the 2018 Wash Westmoreland film "Colette."
Like many, many films, "Colette" is a period drama starring the ever-radiant Keira Knightley. But don't let that fool you into thinking this film is in any way typical: The subject, real-life French author Sidonie-Gabrielle Colette, was a fearless trailblazer whose ahead-of-her-time attitudes toward sex, marriage, and female artistic enterprise both scandalized and galvanized early-20th-century French society. Openly and proudly bisexual, she was one of the great masters of sapphic literature in recent history. And one of her fascinating life's most fascinating aspects was her open marriage to Henry "Willy" Gauthier-Villars (West), a fellow author and critic who encouraged Colette's affairs with women and even helped her find inspiration in them for her famous "Claudine" novels — which were then published under his name.
The film explores Willy's role in Colette's life as, by turns, mentor, life partner, competitor, exploiter, and astonished witness, in an unusually complex portrayal given extra oomph by West's shrewd and charismatic, yet appropriately slimy performance.