Ewan McGregor Revealed His Favorite Star Wars Movie And It Makes A Ton Of Sense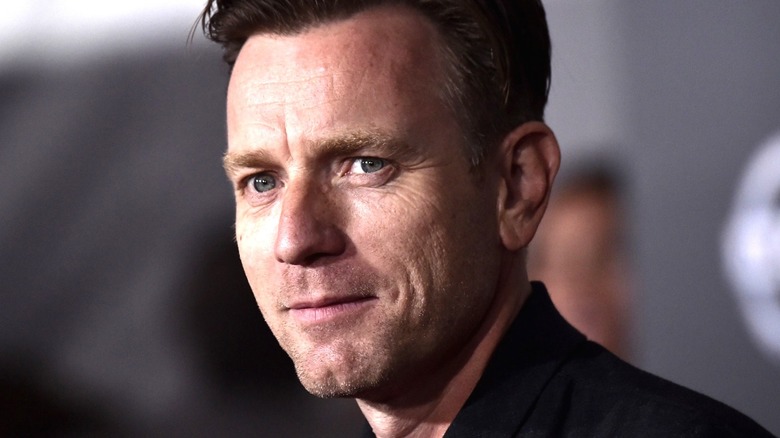 Frazer Harrison/Getty
The popularity of "Star Wars" has endured multiple generations. The franchise, the brainchild of indie director George Lucas, first kicked off in 1977 with "A New Hope," which many, including the director, believed would be a flop (via Insider). As fate would have it, the scrappy science fiction picture would go on to gross over $700 million worldwide (via Box Office Mojo) and kickstart a multi-billion dollar franchise that is still loved to this day.
Seeing as the franchise started in the late '70s and has received a dozen theatrical entries and innumerable television shows, it's expected that each respective generation has its own favorites for a variety of reasons. Obi-Wan Kenobi actor Ewan McGregor has relayed numerous times that the maligned prequels trilogy holds considerable weight for the generation that grew up watching "The Phantom Menace" and its two direct sequels (via Entertainment Weekly).
Beyond loving what you grew up watching, some adore the original "Star Wars" films for their inventiveness and timeless storytelling, while others prefer the prequels for the spectacle and choreographed action sequences. It's always interesting to find out what someone's favorite "Star Wars" film and era is, as it can say a lot about their personality.
During a press event for "Obi-Wan Kenobi," a limited series that details the Jedi master's happenings between "Revenge of the Sith" and "A New Hope," McGregor revealed his favorite "Star Wars" movie and it's exactly what you would expect.
Ewan McGregor's favorite Star Wars entry is A New Hope
20th Century Fox
Nothing beats the classics! During a Lucasfilm press event that Looper attended, Ewan McGregor revealed that his favorite "Star Wars" movie is "A New Hope," the revolutionary film that kicked off the billion-dollar machine. "My favorite is 'A New Hope,' just cause it's the one that changed my life I suppose, in many ways as a kid watching that movie," he explained. "When I hear the word 'Star Wars,' I always think of C-3PO and R2-D2 going through the desert, the sand, that's the first image."
It's no surprise that McGregor's favorite "Star Wars" entry is the one that introduced Obi-Wan Kenobi, who was played by Alec Guinness in the original trilogy. After all, "A New Hope," set up the Jedi master's arc and relationship with the Skywalker clan, which in turn informed McGregor's performance in the prequels. While "A New Hope" may have crafted the "Star Wars" mold, it's not the most well-received film in the franchise. That distinction goes to "The Empire Strikes Back," which sports a whopping 94% on Rotten Tomatoes, while the original "Star Wars" holds 93%.
As for "Obi-Wan Kenobi" director Deborah Chow? Her favorite entry is, surprisingly, "Rogue One," the first theatrical "Star Wars" film not linked directly to the Skywalker family. However, it did feature a cameo from Darth Vader, Kenobi's apprentice-turned-enemy.
Darth Vader and Kenobi will face off once again, as they did in "A New Hope," when "Obi-Wan Kenobi" hits Disney+ later this month.