The DC Characters The Boys Fans Want To See Karl Urban Play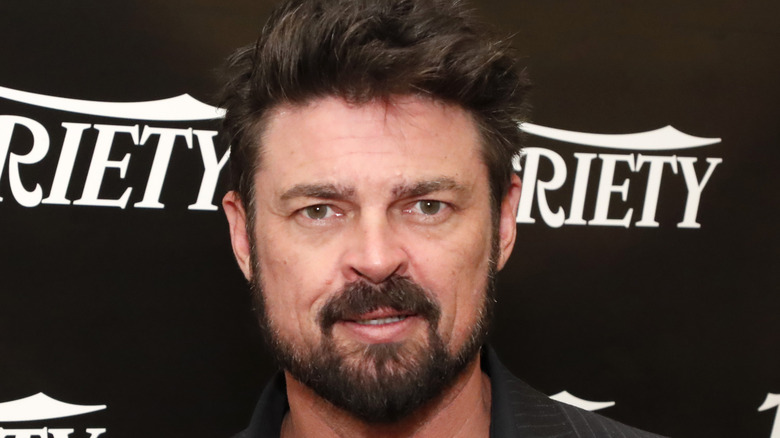 Astrid Stawiarz/Getty Images
Season 3 of Amazon's "The Boys" is about to release its three-episode premiere on June 3, and fans are ready. The final trailer gives us insight as to what's going on with Homelander (Antony Starr) and Starlight (Erin Moriarty) now that they seem to be running the Seven together: It appears as though Hughie (Jack Quaid) might be working closely with the FBI and Grace Mallory (Laila Robins), and the rest of the team, including Billy Butcher (Karl Urban), Mother's Milk (Laz Alonso), Frenchie (Tomer Capone), and Kimiko (Karen Fukuhara), are trying to protect those closest to them while figuring out the best way to take down Vought and the Seven. Butcher is seen taking quite the drastic step to fight the "Supes" from what fans are able to see from the latest trailer — an injection that will give him superpowers for 24 hours.
As we know, Butcher is the leader of the Boys and has prior military experience, not to mention quite the brutal attitude and an unending desire to destroy the Seven, specifically Homelander for his involvement with Butcher's wife, Becca (Shantel VanSanten). It's Butcher's hell-bent motivation and expert assassin-like skills that have helped him kill Supes and avoid being killed by them on multiple occasions. In many ways, Butcher is sort of a Supe himself, just without the enhanced powers.
Some fans of "The Boys" are so happy with Urban's performance as Butcher that they've begun discussing other popular comic book characters the actor could play, including two specific ones from DC Comics. Here's what we know.
The Boys fans want Karl Urban to play Batman or Deathstroke
In a discussion thread on Reddit, fans of "The Boys" began debating what other heroes or villains from the Marvel and DC Comics universes Karl Urban would play well. Although the suggestions were many, multiple fans voiced their opinions that Urban would be a great Batman. Redditor u/Rockydo noted that Urban could certainly play the Caped Crusader well but may struggle with the billionaire playboy alter ego that is part of Bruce Wayne's cover. A since-deleted user agreed that he would do well as Batman, with u/Fieshface noting that they'd pay good money to see Urban don the cowl and trash-talk Robert Pattinson, who recently debuted as the character, on-screen.
Other fans believe that Urban would excel more as Slade Wilson, aka Deathstroke. Redditor u/Sixclynder voiced that the actor would be great as the supervillain, while u/charlieholdsworth explained that before they knew anything about "The Boys," they figured that Urban was playing "a sort of Deathstroke character."
It certainly seems more likely that Urban could play Deathstroke in a future DC project now that Warner Bros. Discovery is rumored to be shaking up its slate (via Variety). On the other hand, Batman is already about to be played by three different actors in the span of just over a year (via The New York Times) — making a fourth actor playing the character less probable. We'll keep you posted.