The Walking Dead Showrunner Says Negan War Ends In Season 8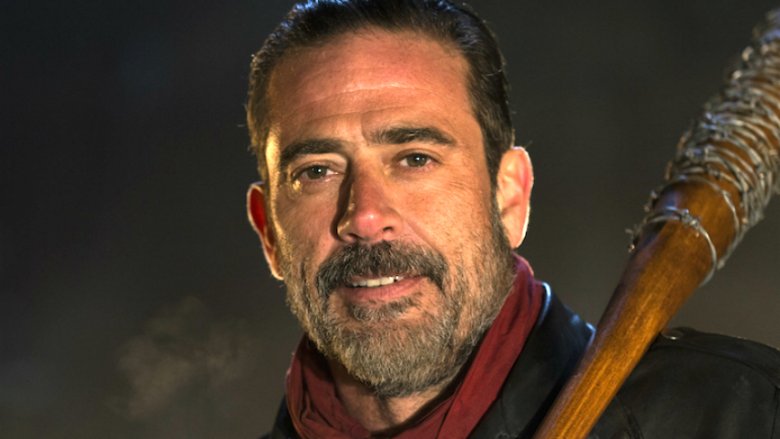 AMC
"All Out War" has finally come to The Walking Dead, but don't expect it to drag on too long.
Showrunner Scott M. Gimple told Entertainment Weekly that the long-awaited comic book storyline will come to an end sometime during the upcoming season. "The war will absolutely be resolved by the end of season 8," Gimple said. "Absolutely."
That might come as something as a surprise to fans, who have watched the buildup to this stretch out over a season-and-a-half. The villainous Negan (Jeffrey Dean Morgan) first strolled into the picture in the season 6 finale, leading to the infamous cliffhanger that brought the gruesome deaths of both Abraham (Michael Cudlitz) and Glenn (Steven Yeun). Negan is the leader of the Saviors, and he's served as an extremely heavy big bad ever since.
Much of the seventh season revolved around the survivors eventually uniting to take the Saviors out, and new art for season 8 confirms that the war has come.
In Robert Kirkman's comics, the "All Out War" storyline takes place throughout 12 issues, but the AMC version has traditionally established its own timeline for how the action plays out. However, the end of the war does pose an interesting question: does this mean that the footage of Rick (Andrew Lincoln) as an old man will mark a time jump for the entire show? Or is it possible it's just a brief flash-forward? Kirkman, an executive producer on the show, said we'll probably find out in the season 8 premiere.
But don't get too comfortable. The end of one reign of terror only opens the door for another, and it likely won't be long before the next group of villains, the Whisperers, make their appearance, potentially in season 8. Gimple said, "I'm going to give you a full no-comment on that."
The Walking Dead returns to AMC on Oct. 22. Meanwhile, check out the untold truth of the show.