The Office Episode Directed By Bryan Cranston That Turned Into A Nightmare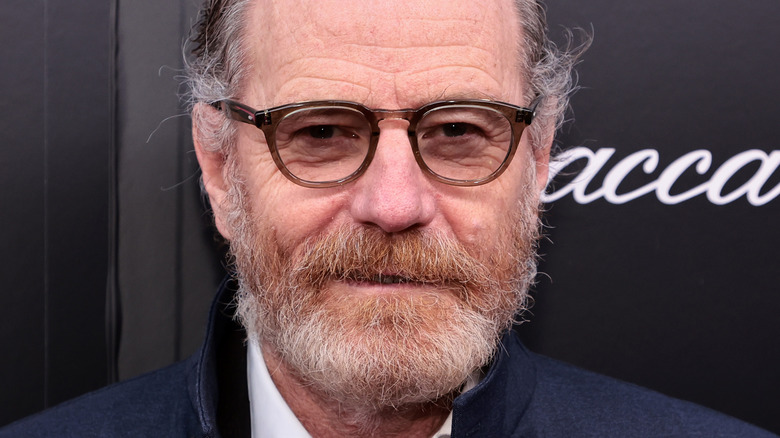 Jamie Mccarthy/Getty Images
In the pantheon of iconic small screen programs, the American version of "The Office" from developer Greg Daniels has earned a special place for itself. Running from 2005 to 2013 and scoring nine seasons, the series has yet to disappear from the pop culture scene. Especially since the age of streaming began, longtime fans, in addition to newcomers, have had the entire show at their fingertips to watch whenever they'd like. Not to mention, the advent of social media has made conversations between "Office" die-hards from across the globe more abundant than ever.
Now nine years removed from its finale, fans of "The Office" still continue to discover and spread behind-the-scenes facts and anecdotes that most people had no awareness of. For instance, did you know that Michael Scott's (Steve Carell) rendition of Shawn Mullin's "Lullaby" cost the production $45,000? Or that one episode ultimately sent a cast member to the hospital with a scary injury? How about the fact that Bryan Cranston of "Breaking Bad" and "Malcolm in the Middle" fame once sat in the director's chair for an entire episode from the final season?
In fact, not only did Cranston notably serve as the director of an "Office" installment, but the episode in question quickly devolved into a total nightmare. Here's what went down.
Work Bus presented more than a few on-set hazards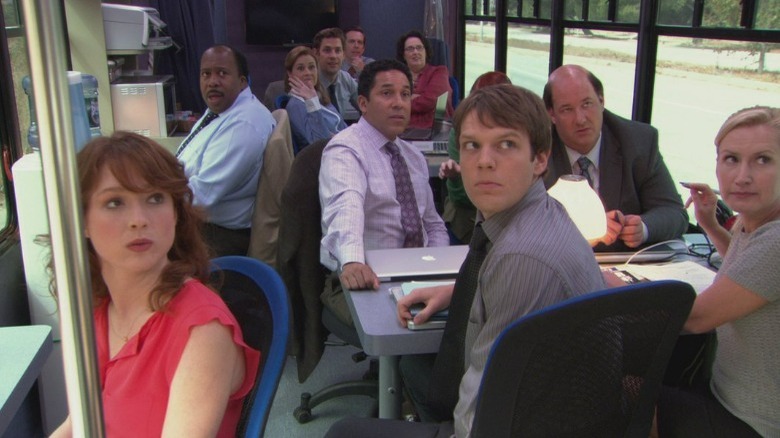 NBC
Bryan Cranston took the helm for the fourth episode of Season 9, titled "Work Bus," which saw Jim Halpert (John Krasinski) convince Dwight Schrute (Rainn Wilson) that their typical office space is unsafe. Therefore, the latter gets ahold of a bus and converts it into an office, complete with tables, chairs, a water cooler, and more. Naturally, it doesn't take long for things to go awry. While this may sound like a potentially funny basis for an "Office" episode, shooting it presented some terrifying challenges, earning it the apt nickname "Death Bus" (via NME).
According to "Office" mainstays Jenna Fischer and Angela Kinsey in their new book, "The Office BFFs: Tales Of The Office From Two Best Friends Who Were There," the first issue was the heat. The air conditioning units were too loud, so the crew had no choice but to turn them off despite the sweltering conditions. To make things worse, when they hooked up a portable AC, the intake hose sat right next to the exhaust pipe of the bus, which could've poisoned everyone inside. Additionally, none of the furniture was attached to the bus, so when the stunt driver swerved for a scene, total chaos ensued.
Thankfully, everyone survived the filming of "Work Bus" and it doesn't appear as though anyone on the "Office" cast list holds any resentment toward Bryan Cranston. Still, none of that erases just how scary the experience must've been for all involved.