Amazon's Reacher Season 2 Is Jumping Way Ahead In The Book Series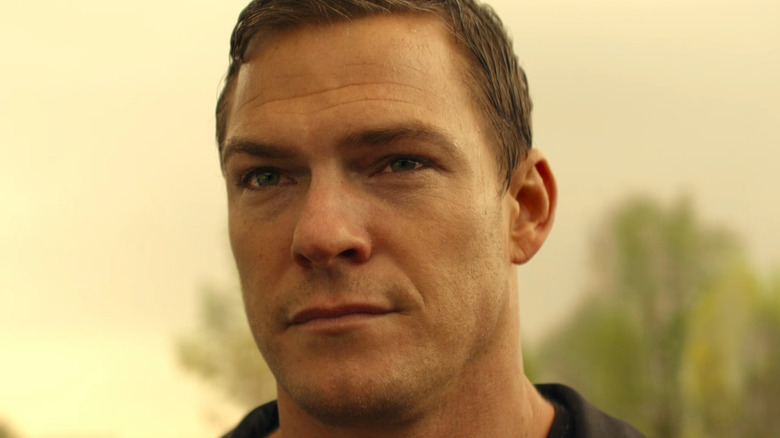 Prime Video
Prime Video's "Reacher" has gained a loyal following after its brief time on the streaming service. Season 1 of the program focused on the titular character, Jack Reacher (Alan Ritchson). Reacher is a former U.S. Army officer and current drifter accused of the murder of Pete Jobling after he wanders into Margrave, Georgia. Finding himself in the prison system, he becomes involved in the case of Paul Hubble (Marc Bendavid), a banker who falsely confesses to a murder after he is caught up in a counterfeiting ring. After protecting Hubble in prison from an assassination attempt by a crooked guard, Reacher is sprung from jail. He learns his older brother,  Secret Service agent Joe Reacher (Christopher Russell), has been murdered and is lying in the county morgue. Reacher simultaneously investigates Joe's murder while looking for Hubble and trying to get along with Oscar Finlay (Malcolm Goodwin) and Roscoe Conklin (Willa Fitzgerald), two police officers who have been assigned to assist Reacher in his investigation.
Season 1 ends with Reacher solving both crimes, laying his brother to rest, and sticking out his thumb to hitchhike to the next town, opening up the next season to fresh possibilities — and presumably requiring the casting of an entirely new supporting cast. Fans wondering where journeyman Reacher ends up next season might be shocked by a recently-posted revelation from one of the program's stars about which Lee Child Jack Reacher book Season 2 will draw its Season 2 storylines.
Season 2 will jump deeper into the book series' continuity
Thanks to a Twitter announcement from Alan Ritchson on Wednesday, May 18, "Reacher" fans learned that Season 2 of the Prime Video series will adapt from "Bad Luck and Trouble," the 11th book in author Lee Child's "Jack Reacher" series. Since Season 1 of the show covered the series' first book, "Killing Floor," in a single go without incorporating other elements from elsewhere in the book series, this is a big departure from the show's sense of continuity. As such, this move may force the show to indulge in some flashbacks or backtracking to properly explain who Reacher would be at this point and time in his life.
A lot of character development occurs between the second and 11th book, even though the stories are told in a non-linear fashion. According to the site Book Series in Order, Jack Reacher travels quite a lot between the third book, "Tripwire," to "Bad Luck and Trouble." He spends time in locales such as Florida, North Carolina, New York City, and Texas. Along the way, he confronts family ghosts, works with the DEA (in an unofficial capacity, naturally), investigates a mass shooting, and helps an old friend of Joe's. And that's not including the short stories that take place during Reacher's youth.
In "Bad Luck and Trouble," Reacher reconnects with an old member of his Army unit. She tells him a fellow unit member has been murdered and asks for his help tracking down the serial killer who threatens the lives of the remaining team members. This requires Reacher to reunite with his team to suss the killer out. Reading that synopsis, it seems possible that the show's producers wanted to delve deeper into the character's military history.
Reacher's producers struggled to figure out which book to adapt next
As we previously reported, the powers that be on "Reacher" expressed (previous to Wednesday's announcement) some ambivalence about which book would be the next to be adapted for the program. "It's tough. There are 26 [Jack Reacher] books, and then there are short-story anthologies ... And there's so much thought that has to go into our decision. Do we want it to be similar to Season 1 because Season 1 was successful? Do we want to go a little different? There's so much that Lee gives us to choose from," showrunner Nick Santora to TV Line in February 2022. 
Alan Ritchson, meanwhile, had previously told Men's Health that he was hoping the show with directly adapt "Die Trying," the second book in the series. "I would just keep going in order," he said, admitting that he thought each book improved on the last and that he read the tomes in order even though they tend to bounce back and forth in time to different parts of Reacher's life.
Author Lee Childs, of course, serves as an executive producer on the series, which gives him the ability to help steer such creative decisions. As such, his position likely means he had a say in whether "Reacher" would skip ahead a few years and pick up the continuity with "Bad Luck and Trouble." Fans will have to wait a while to find out how the show chooses to adapt 11th book for the small screen.