Downton Abbey's Kevin Doyle Discusses A New Era, Character Development, The Witcher, And More - Exclusive Interview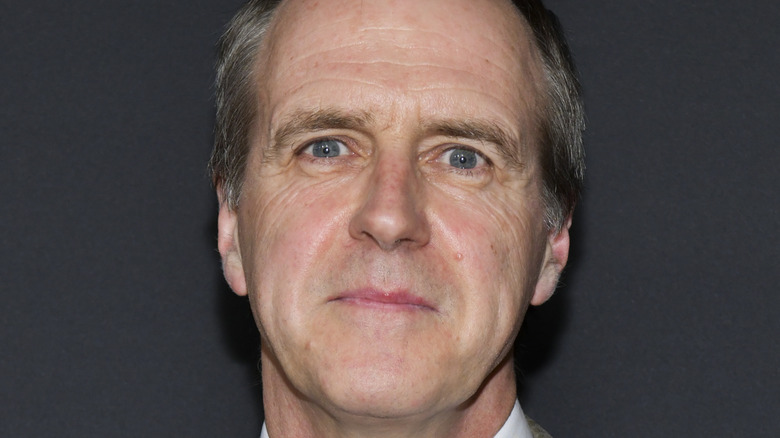 Rodin Eckenroth/Getty Images
While television shows like "The Gilded Age" and "The Crown" have taken a firm hold on viewers throughout the course of their development, the historical drama genre wouldn't have the gravitas, nor the impact, without "Downton Abbey." The original series hooked fans instantaneously and ran for five wonderful years, spanning from 2010 until 2015, and gave viewers complex, charismatic and enduring characters. From Maggie Smith's Violet Crawley, to Hugh Bonneville's Robert Crawley and the staff of the abbey that gave just as rich and colorful plot lines, "Downton Abbey" solidified its status among viewers and critics alike as a true ensemble production. 
Perhaps one of the most standout characters that held onto heartstring was that of Mr. Molesley, brought to life by actor Kevin Doyle. Molesley's transformation amid the show was fraught with ups and downs, and his slow-burning love for Phyllis Baxter brought eager viewers back time and time again.
Fans were delighted when the beloved show transformed into a full length feature film of the same title, released in 2019. To the joy of many, "Downton Abbey" is returning to the theaters once again on May 20, this time in the form of "Downton Abbey: A New Era." Ahead of the film's premiere, we sat down with Doyle to discuss his return to the beloved Molesley, his character's future and development, Doyle's large foray into the acting world, and more.
Kevin Doyle had just 72 hours to read the script of A New Era
Suhaimi Abdullah/Getty Images
I'd love to start initially by saying how much I loved the film. I got the chance to see it and I loved it.
Did you see it in the movie theater?
I did.
Surrounded by other people?
Yes, with other members of the press.
Isn't it lovely?
It was so nice.
I was saying to other interviewers there's such a lovely change ... Because people were so used to seeing "Downton Abbey" in their living rooms, on their TVs and maybe with one or two other people in the room as well. Experiencing it amongst hundreds of other people is an extraordinary thing, actually, and you get the idea of how big that "Downton Abbey" community is.
It was so well received with the people around us as well, which brings a certain camaraderie to the experience. In this film in particular, we really get to see Mr. Molesley shine in a new way. Before we jump into the details of it all, [what was] your initial reaction to the script, watching him come into his own in this really profound way?
I was delighted. I hadn't been given any indication as to what was going to happen. We all got sent the script via email and we had 72 hours to read it and then it was going to disappear into the ether. We all very quickly started reading through it. I was delighted, first of all, to be in it, and secondly, to be part of a fantastic cast. I was a little disappointed that I didn't get to go to the south of France.
I was hoping, "Please take Mr. Molesley, please." His obligations to the school children probably prevented him from doing that, but I was delighted at the idea of them making a movie within a movie and for him to be part of that and to get wrapped up in all of that. We had a film historian with us, from day one, really. She provided us with some really useful stuff. For instance, she showed us ... Because I don't know whether you're aware, but the storyline of the film was inspired by the story of a very early Alfred Hitchcock film.
Oh, fantastic. I now see how that was intertwined into the film.
Originally, they started filming it as a silent movie, and a bit like what happens in this movie, it became apparent that silent movies, there was no audience for them anymore. Everybody was flocking to the cinema around the corner that was showing talkies. While we were rehearsing, she showed us a scene which they shot as a silent movie, and then showed us the talkie version of it. That was fascinating, and that's what we begin to explore in "Downton Abbey: A New Era."
Did Kevin Doyle ever predict Mr. Molesley's colorful development?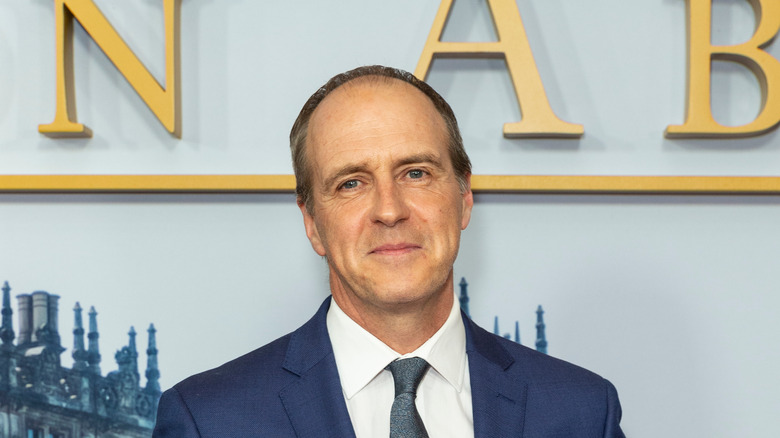 lev radin/Shutterstock
As you said, we have these dueling storylines carried out, the villa and the cast in the south of France. ... the movie within the movie. Your character, you've been around. You know a little bit of everything about the abbey, all the comings and goings. With this particular new chapter for this character, in what ways did you feel both prepared and then also unprepared to launch him into this new era, for a lack of better words?
As I said, when I open the script, I'm both unprepared for everything and prepared for anything. His enthusiasm for things is a constant surprise to me. In the previous movie, his enthusiasm for the notion of a royal visit took me by surprise. I hadn't realized he was quite the royalist as he turned out to be. In this movie, I wasn't expecting him to be such a movie fan.
Right. I wasn't expecting that either.
He's got a bit of spare cash now that he's got a decent job as a school teacher. He can probably take Ms. [Phyllis] Baxter out to the cinema occasionally, buy her some popcorn and a hot dog.
I was delighted. I can speak for the press that I was in attendance with. We were delighted when he was given the all clear to start writing for the film. I was particularly chuffed when he was offered full-time employment — to watch him grow from butler to footman to school teacher, to now film writer. Could you have ever expected that for your character?
No, of course not. There was a great line that [writer Julian Fellowes] gave me about [Season 3] of the TV show, when he complained, he said, "I'm having my career backwards," because he started off in a relatively high status job as a butler. He introduces Matthew and Mrs. Crawley to the idea of having servants, which Matthew was clearly uncomfortable with, but he introduced them to that sort of lifestyle. That was his role.
I don't know whether you're aware of this, but personally I wasn't expecting ... I'd been led to believe that the character of Mr. Molesley would be around for maybe two or three episodes, at most. They didn't have any plans to explore that character any further. That was the case for one or two other characters as well in the early TV show.
First of all, I was grateful that they kept employing me and then grateful for the way that the character was explored by Julian. I thought he did a fantastic job. It's been an absolute gift, actually, this part, of exploring this beautiful man, a really beautiful man. He has a big heart. I really enjoyed experiencing his ups and downs through the last few years.
Taking [Mr. Molesley] from television to film, that's such a unique acting experience as well, that not many people get to explore.
No, in Britain, it's unprecedented really, that a TV show would make the transition to the big screen. I was a little nervous about how successful that transition would be, because I wasn't sure whether people would be ready to move from their living rooms, watching a show, then to the big screen, but clearly there was an appetite for it. I was really pleased with that.
Kevin Doyle reflects on the one moment that Mr. Molesley's life was changed forever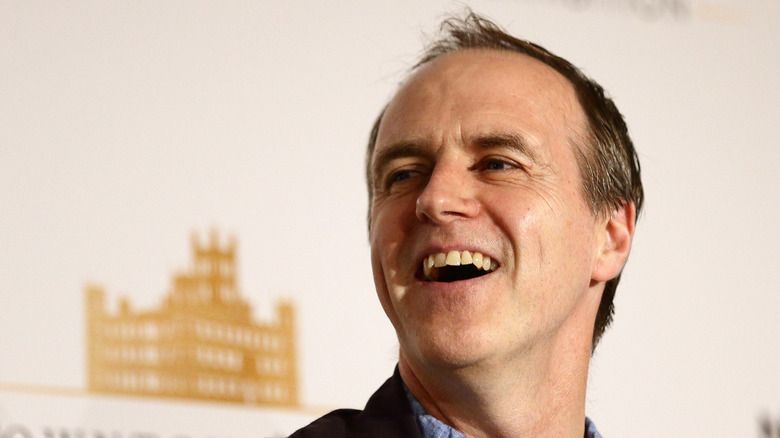 Suhaimi Abdullah/Getty Images
Without spoiling too much, a main component of your storyline in the film wraps up with ... I don't want to spoil anything.
Don't spoil it.
[Can you] take a moment to reflect on Mr. Molesley's relationship?
What I can say is that when we were filming that scene in particular, the director Simon Curtis came up to me and had a quiet word. He said, "You do realize that in terms of screen time, Mr. Molesley's life changes completely in about five minutes, completely." One event leads directly onto his ability for another event to take place.
What was that storyline with Phyllis like for you to explore? Reflect on that and the ways in which it's progressed over time. It really was wrapped up in such a heartfelt moment.
Yeah, it was very interesting because if I occasionally dipped into social media and saw what people have to say about those two characters, it's been, "Oh, why don't they get together? Why don't they get together?" What I really appreciated about that relationship was how slow it was. I've used the term before — it's a glacial progress, really slow, very tentative steps forward. It's because, I get the impression in talking to [actor Raquel Cassidy] about it, that they've both been hurt. In the past, they've both either been hurt, or they're very careful quiet characters. Any progress that they do make is very slow, but when progress is made, it's all the more rewarding.
What does Kevin Doyle want viewers to take away from A New Era?
Rob Kim/Getty Images
[Could you also] touch on what you're hoping audiences will take away from this viewing experience, not only seeing it in the theater, but what you're hoping they might reflect on when they leave?
I hope they feel ... It's been a terrible few years for everybody. Nobody could have anticipated these last few years and the impact it's had everywhere and that sense of separateness in everybody's lives, everybody having to live in their houses or live in their bedrooms. I hope they can begin to feel that they're confident enough to go out into the world again. Apart from enjoying a lovely two-hour movie, I think there are more important things than that. I think it's about just feeling confident, mixing socially again, being confident to spend time in a restaurant or a movie theater again, and then go back again and reclaim their lives. That's absolutely, vitally important.
Kevin Doyle discusses his time on The Witcher and Law & Order: UK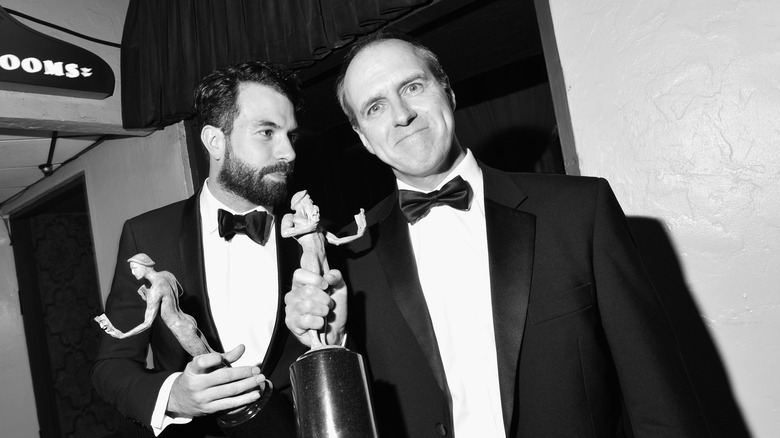 Charley Gallay/Getty Images
I would love to touch very briefly on some of the other roles that you've gotten to explore within the last couple of years; from "The Witcher" to "Doc Martin," you've [also] been in "Law & Order: UK," [can] you reflect on the breadth of your acting career?
I've been doing it for 40 years now. The great thing about acting is that you get to step into other people's shoes. I would hate to have a career where I played the same part forever.
Your "Law & Order" character was particularly brutal.
I played a lot of very dark characters, but that's great to explore. For instance, when I finished shooting the TV series of "Downton Abbey," I went straight into something else called "Happy Valley," which is again, a very dark place, and as you mentioned in "The Witcher," to play an elf! I thought my elven days were behind me. It was lovely to go in and do something like that for a while, but as I said, that's the lovely thing about acting, you get to step into other people's shoes for a while. It's a gorgeous thing.
If anything, as well, it gives viewers and audiences such an appreciation for your craft as well, seeing you in so many different facets.
The training was worthwhile.
What [do] you perhaps have on the horizon work-wise, if you can share anything?
If all things go to plan, I'm doing a play in Toronto next. That's all I know about at the moment.
Going back into the live scene again, that must be so exciting.
It will be lovely.
Focus Features will release "Downton Abbey: A New Era" in theaters on May 20, 2022.
This interview has been edited for clarity.