The Gilded Age Star You Likely Missed In These Episodes Of Blue Bloods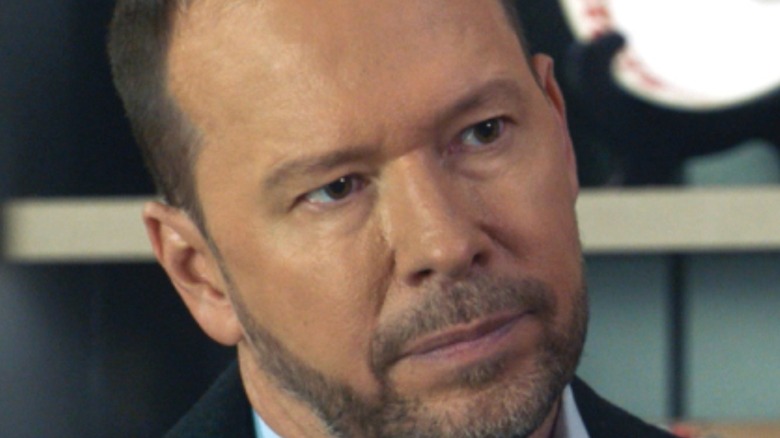 CBS
With Downton Abbey off the small screen and headed to the big one with a new installment on the way, there is a need for a captivating period piece to replace the heavy hitter on the small screen. Audiences received HBO Max's attempt to do just that with the release of 2021's "The Gilded Age."
The series follows Marian Brook (Louisa Jacobson), a penniless woman who moves from Doylestown, Pennsylvania, to New York when she discovers her estranged father only left her thirty dollars in his will. She moves in with her aunts Agnes van Rhijn (Christine Baranski) and Ada Brook (Cynthia Nixon), two socialites living across the street from the newly rich George Russell (Morgan Spector) and his wife, Bertha (Carrie Coon). Marian brings along Peggy Scott (Denee Benton) after a chance meeting and kind gestures lead the latter to work for Agnes.
Along with the heavy hitters, Baranski and Nixon, are a few other names you may know, like Taissa Farmiga ("American Horror Story" and "The Nun") and Debra Monk ("NYPD Blue" and "The Devil's Advocate"). There is also one face that eagle-eyed fans of the CBS police procedural "Blue Bloods" may have recognized throughout Season 1 of "The Gilded Age."
Kelli O'Hara appeared twice as Lisa Farragaut
Kelli O'Hara made a name for herself on stage. Per her official website, her Broadway credentials include roles in "The King and I," "Kiss Me, Kate," and "The Bridges of Madison County." She won a Tony for Best Actress in a Musical for the first and garnered numerous nominations for all of her work. 
She doesn't only shine on stage, however. On the screen, she appeared in "13 Reasons Why," "The Good Fight," and "Sex & the City 2." She also appeared in two episodes of "Blue Bloods." In the Season 2 premiere, "Mercy," O'Hara appears as Lisa Farragaut, a childhood friend of Erin Reagan (Bridgette Moynahan). In the episode, her husband is killed in an alleyway with another woman. Because of his connection to the mayor, everyone involved seemed to want to hide the fact that he was having an affair.
10 years later, O'Hara reappeared again as Farragut, now a political campaign advisor, in Season 12, Episode 8, "Reality Check." She shows up at the perfect time to help Erin decide whether or not she should run for District Attorney. While she appeared as just another victim's wife in "Mercy," her reappearance in "Reality Check" gave the character more depth than other guest appearances. Maybe the time between the appearances is due to O'Hara's massive stage success and busy schedule, but with Erin being one of the more divisive characters, the notion of giving her people to connect with outside of work to connect with could prove vital. Maybe by Season 22, Farragaut could become a more regular presence? Time will tell.