How The Characters From Netflix's The Witcher Should Really Look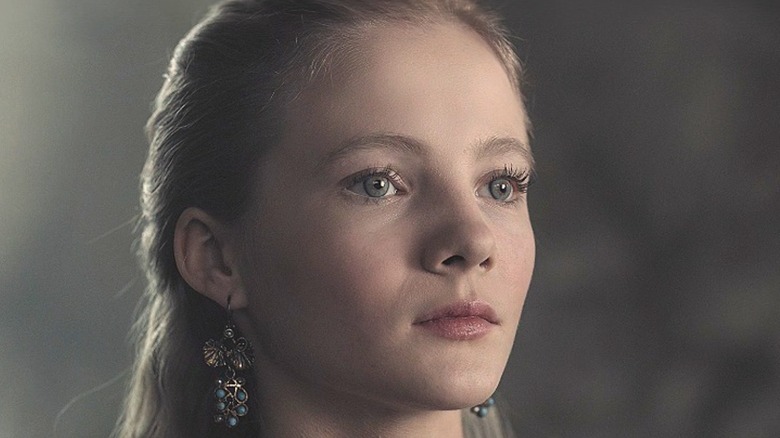 Netflix
The Netflix series "The Witcher" tells a story of heroes and monsters in a fantastical universe where magic is real and danger lurks around every corner. The show's protagonist, Geralt of Rivia, is a mutated monster hunter who kills for money — yet his stoic exterior hides a noble heart and a strong sense of morality. Also prominently featured are Yennefer of Vengerberg, a powerful sorceress who makes her own path rather than follow the rules of magical society, and Princess Ciri of Cintra, a young girl whose life is forever changed when an enemy kingdom destroys her home.    
Long before Netflix adapted the popular stories of author Andrej Sapkowski, Polish game studio CD Projekt Red created a video game based on the universe. The first game, "The Witcher," was released in 2007 to critical acclaim, and it was followed by a sequel, "The Witcher 2: Assassins of Kings," in 2011. The series concluded with "The Witcher 3: Wild Hunt" in 2015, which proved to be a huge success for the studio, winning several game of the year awards. 
With the popularity of "The Witcher" video games, many gamers were also excited by the news of "The Witcher" TV series. However, portraying these fan-favorite characters using real actors is very different than doing so with computer animation, so some differences were inevitable. While we leave you to decide which design is superior, here is a side-by-side comparison of the main characters of "The Witcher" TV series and their video game counterparts.   
Geralt of Rivia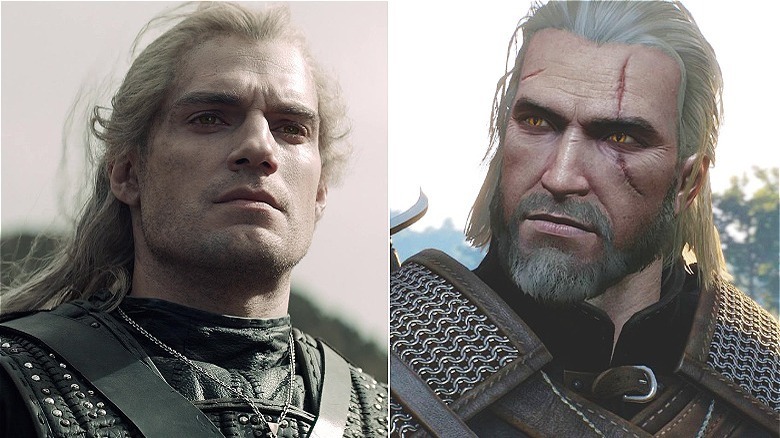 Netflix & CD Projekt Red
Most fans know that DCEU's Superman, Henry Cavill, plays the titular role of "The Witcher." However, not everyone knows that Cavill is also a "Witcher" superfan. It was his passion for the franchise that finally convinced showrunner Lauren Schmidt Hissrich to cast Cavill as Geralt of Rivia. Though some fans may have been made skeptical by the news at first, once Cavill first appeared on the screen, there was no question in anyone's mind that he was perfect for the role. It certainly helped that Geralt's look took a lot of inspiration from CD Projekt Red's popular video game series.
Donning a long white wig and yellow contact lenses, Cavill's look is actually quite similar to Geralt from the game franchise. Cavill even gave the character his own rendition of Geralt's gruff, gravelly voice, as inspired by the game's voice actor, Doug Cockle. There are a few clear differences, however. For instance, Geralt in the games has a distinctive scar over his left eye. The video game Geralt also appears to be at least a decade older than Cavill. Of course, witchers age slower than normal humans, so we can forgive the actor for his younger looks. 
Whether fans prefer Cavill's Geralt or CD Projekt Red's is a matter of debate, but it is clear that "The Witcher" show took at least some of Cavill's look from the game franchise.
Princess Ciri of Cintra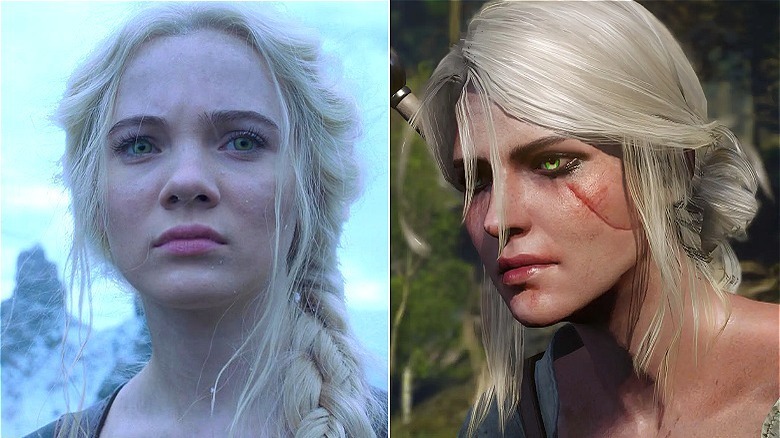 Netflix & CD Projekt Red
Princess Cirilla Fiona Elen Riannon — or Ciri for short — is an integral character in "The Witcher." She is not only Geralt's ward, but she is also a child of the Elder Blood, which gives her unfathomable powers. As fans witnessed in Season 2 of "The Witcher," Ciri is only just beginning to discover her full potential, and she has a long way to go before getting her magical abilities under control. Ciri is played by Freya Allan in the Netflix series, and her look tries to closely copy the character's description in the Witcher novels by Andrej Sapkowski. In the books, Ciri's hair is described as "ashen" colored, and she has noticeably green eyes.
As "The Witcher" game franchise takes place after the events of the Sapkowski books, Ciri's character doesn't make an appearance in the video games until "The Witcher 3: Wild Hunt." At this point in the timeline, Ciri is about eighteen years old – several years older than Allan's portrayal of Ciri in the show. The character in "The Witcher 3" maintains Ciri's white-blonde hair and distinct green eyes, though she also has a long scar on her cheek and wears heavy eye makeup. Fans of the books will know that the scar has a story behind it –- one that fans of the show will have to wait on.
Yennefer of Vengerberg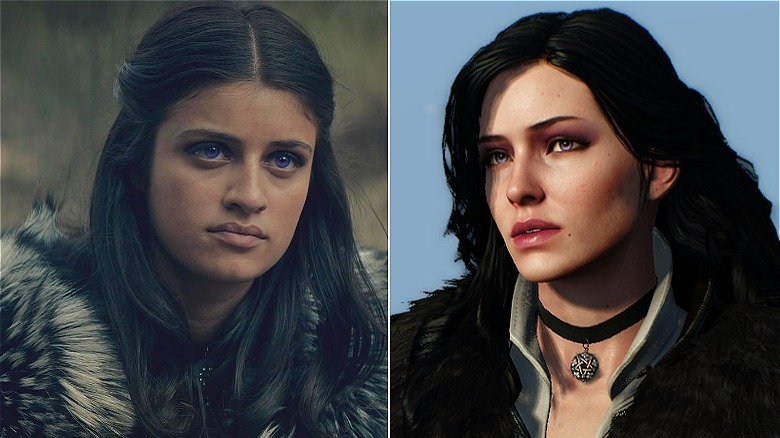 Netflix & CD Projekt Red
There are few who are more formidable in "The Witcher" world than Yennefer of Vengerberg. A young woman who comes from nothing, her determination and strength make her one of the most powerful and dangerous mages on the Continent. Yennefer is played by Anya Chalotra on the show, and like Yennefer of the books, Chalotra has long black hair. She wears contact lenses to match the sorceress's violet eyes -– a trait that marks her elven heritage. We often see Yen wearing black and white clothing, the character's preferred color scheme in the novels.
In "The Witcher" video games, Yennefer (voiced by Denise Gough) is first introduced in "The Witcher 3: Wild Hunt." In that game's story, Geralt hasn't seen Yennefer in several years, since he regains his memory after a long bout of amnesia. The game version of Yennefer is a closer match to the character in the books -– her hair is still black, but it falls over her shoulders in a mass of dark curls. She also has violet-colored eyes and wears her trademark black and white attire. 
The video game Yennefer appears to be some years older than Chalotra, yet like Geralt, age doesn't mean much when you are practically immortal. Whatever fans think Yennefer should look like, no one can argue that Yennefer of Vengerberg is a force to be reckoned with in any medium.
Jaskier, aka Dandelion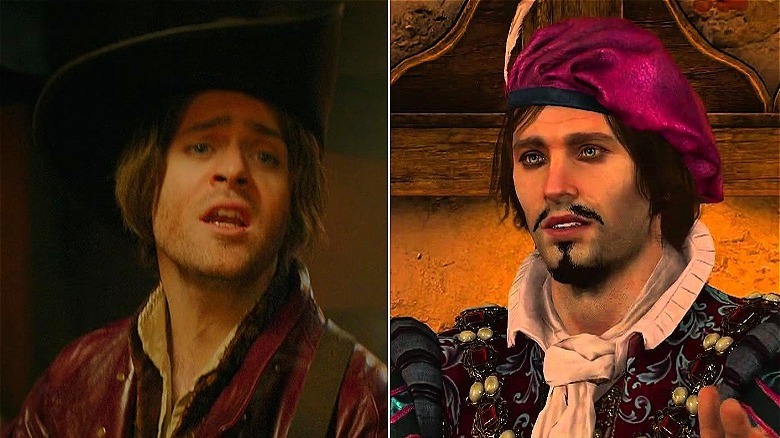 Netflix & CD Projekt Red
An undeniable fan favorite, Jaskier is Geralt's loyal friend and sidekick on the Netflix TV series. Not only does he provide comic relief, but he gives audiences a catchy earworm with "Toss a Coin to Your Witcher" in Season 1, followed by his emotional ballad "Burn, Butcher, Burn" in Season 2, which recalls epic breakup songs like Alanis Morissette's "You Outta Know."
Played by Joey Batey, Jaskier's appearance changes slightly between Seasons 1 and 2 of "The Witcher." In Season 1, Batey keeps his dark brown hair cut short, and his clothes vary in color and style. When we see Jaskier in Season 2, he now sports a long magenta-colored coat, and his hair is a bit longer. He also wears a stylish leather cap when he performs in the Season 2 episode "Redanian Intelligence."
Jaskier is called Dandelion in the English language versions of "The Witcher" books and video games. Dandelion (voiced by John Schwab in "The Witcher 3: Wild Hunt) appears in all three games, and his looks often change. However, most gamers are familiar with Dandelion's look in "The Witcher 3: Wild Hunt," where he wears a colorful jerkin with a matching pink hat and feather. He also has dark brown hair, as well as a mustache and goatee.
In a photo that surfaced on Reddit (via The Gamer), it was revealed that the costume designer for "The Witcher" TV series once designed a hat for Batey that was similar to the one seen in "The Witcher 3" game. From the look of it, it was probably safer not to use it in the final cut.
Triss Merigold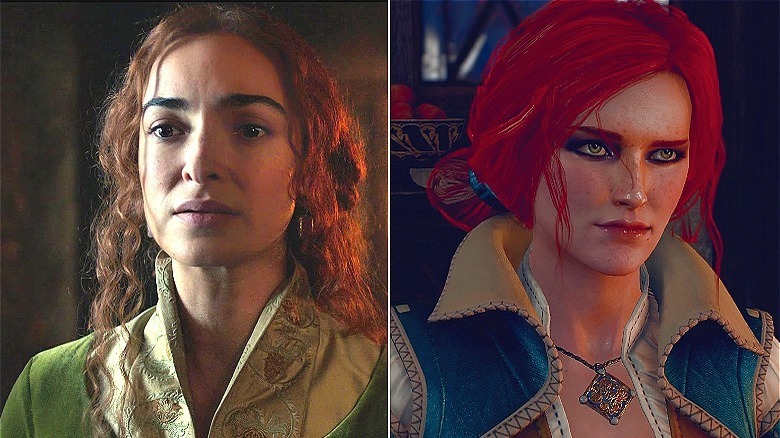 Netflix & CD Projekt Red
Sorceress Triss Merigold (Anna Shaffer) is a friend to both Yennefer and Geralt in "The Witcher." Like Yennefer, Triss was taught how to use magic at the tower of Aretuza, and she later became an advisor to King Foltest of Temeria. 
In Season 1 of "The Witcher," Triss has shoulder-length, curly brown hair. This is actually more accurate to the character of Triss in the novels, who is described as having "chestnut" colored hair. However, Triss in the video games (voiced by Jaimi Barbakoff) is a very striking redhead. This might be the reason why when we see Triss again in "The Witcher" Season 2 her hair has been tinted red.
Triss Merigold plays a big part in "The Witcher" video game series and is a primary romance option for Geralt. While Geralt makes it clear that he only sees Triss as a friend in Season 2 of "The Witcher" show, he and Triss are very intimate in "The Witcher 2: Assassins of Kings" video game. Triss is also featured in "The Witcher 3: Wild Hunt," and Geralt is forced to choose between her and his long-lost love, Yennefer. Though Triss may be competition for Geralt's affections in the games, in the Netflix series Geralt only has eyes for Yen. 
Vesemir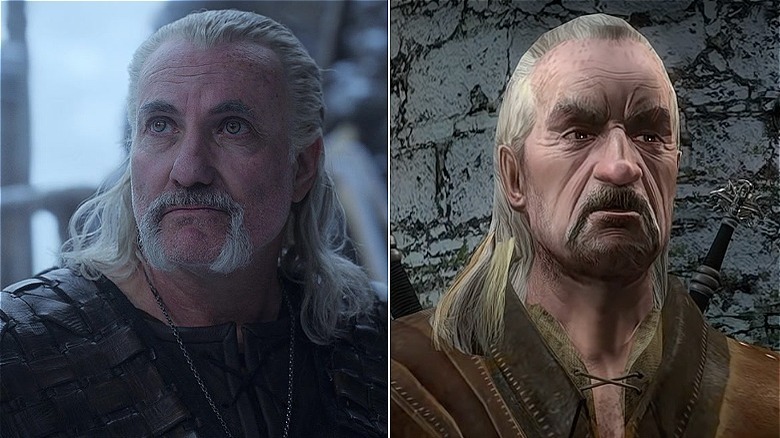 Netflix & CD Projekt Red
In Season 2 of "The Witcher," Geralt travels with Ciri to Kaer Morhen, the home of the witchers. It was here that the show introduces fans to Vesemir, the patriarch of the group. Vesemir leads the last of the remaining witchers and is a father figure to Geralt. He is charged with protecting what remains of Kaer Morhen and looking after the younger witchers. Sadly, their numbers are dwindling, and they currently have no way to bring more into the fold –- which is a big concern for Vesemir.
Vesemir in the show is played by Kim Bodnia, and it's uncanny just how much he looks like Vesemir in the original "The Witcher" game, where he is voiced by William Roberts. Both have long white hair and a walrus mustache, although the Vesemir of the game has a much more stern expression. The video game version of Vesemir also has small, piercing eyes that often look disapproving, while Bodnia's Vesemir has eyes that are much more open and kind. The two characters also appear to be about the same age.
In "The Witcher 3: Wild Hunt," Vesemir's design was changed drastically. His complexion is different, and his facial features are softened, making him look more like a kindly older man. Sadly, actor Milogost Reczek – who voiced the character in the Polish language version of the game — died recently of cancer, as reported by Game Rant. 
Eskel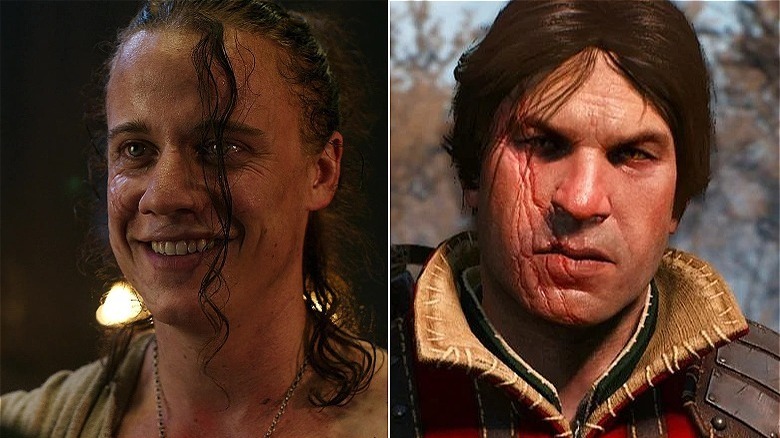 Netflix & CD Projekt Red
The treatment of the character Eskel has been a source of controversy for "The Witcher" fans. Eskel is one of Geralt's witcher brothers at Kaer Morhen, and they train together as boys. As played by actor Basil Eidenbenz on the Netflix show, Eskel has long curly hair, a slim figure, and a scar on the right side of his face. Although Eskel in "The Witcher" games also has distinctive facial scarring, this is perhaps the only trait he shares with his TV show counterpart. In "The Witcher" and "The Witcher 3: Wild Hunt," Eskel (voiced by Tom Clarke Hill) has short dark hair and a stocky, muscular build. His scars are also more prominent in the game version, as they cover his eye, cheek, mouth, and chin.
The differences between Eskel in the show and Eskel in the games go far beyond their physical appearances. In the Season 2 episode "Kaer Morhen," Eskel's character is attacked by a leshy. He undergoes a transformation that turns him into a monster, and Geralt is forced to kill him. The death of the character caused an uproar with fans, but perhaps the biggest objection to the Netflix version of Eskel was the changes to his personality. In the games and the books, Eskel is quiet, kind, and loyal -– a far cry from the partying, aggressive, and hostile witcher we meet in the show. 
Although "The Witcher" showrunner Hissrich has given her reasons as to why Eskel was sacrificed, that hasn't stopped fans from mourning the character's loss. At least gamers still have their version of Eskel, which no one can take away from them.   
Lambert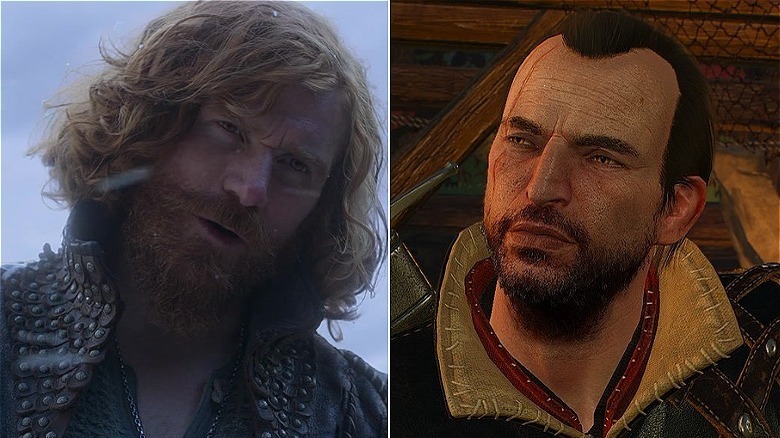 Netflix & CD Projekt Red
Lambert, Lambert, what a guy. Like Eskel, Lambert was raised by Vesemir alongside Geralt at Kaer Morhen. In the second episode of "The Witcher" Season 2, he is introduced as a fun-loving storyteller and a fierce protector. He later encourages Ciri to push her limits while training by introducing her to a challenging obstacle course. Although he comes off as a bit harsh with Ciri at first, it's clear he has her best interests at heart.
Paul Bullion plays Lambert in the Netflix series, and his appearance is quite different from the character in "The Witcher" games. In the show, Lambert has long, curly red hair and a full beard. Lambert in the game franchise (voiced by Christian Contreras in "The Witcher 3: Wild Hunt") has short dark brown hair, a trim beard, and a scar that runs from his hairline and down his cheek.
Lambert's personality in the games is also quite different from how he is portrayed in the TV show. He appears in both "The Witcher" and "The Witcher 3: Wild Hunt," although most prominently in the latter. Lambert's character in the games is much grimmer and has a sarcastic streak. There is a scene in the third game when Lambert makes it clear that he resents ever being made a witcher at all, which may have something to do with his moody disposition. Nevertheless, Lambert is a fan favorite amongst gamers, so hopefully Bullion's representation will live up to their standards. 
Sigismund Dijkstra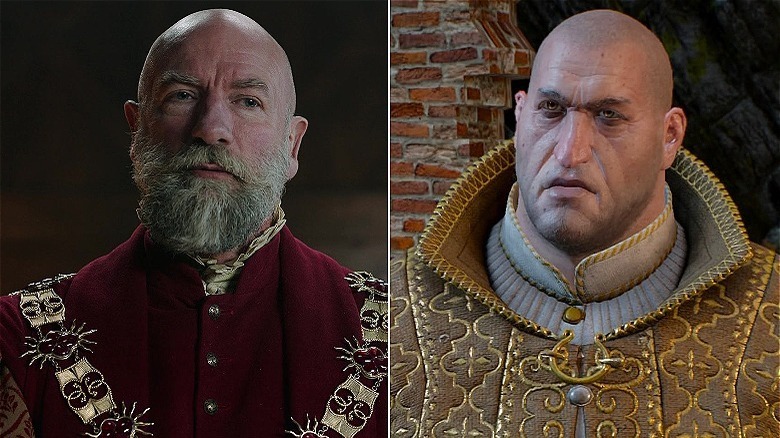 Netflix & CD Projekt Red
In "The Witcher" Season 2 episode "Redanian Intelligence," the series introduces fans to an intriguing new character. Sigismund Dijkstra is the head of Redania's spy network and an advisor to King Vizimir (Ed Birch). His job is to keep tabs on the elves and Nilfgaardians, who have formed an alliance against the Northern Kingdoms. He is played by Graham McTavish, who has a bald head, a full gray beard, and a muscular frame.
Dijkstra also appeared in "The Witcher 3: Wild Hunt." He is one of four crime syndicate leaders in the city of Novigrad and helps Geralt in his search for Ciri — though the two are anything but friends. Dijkstra may serve as an ally to Geralt on occasion, but it's clear that the two have a shared history that makes them suspicious of each other. In the video game, Djikstra (voiced by Richard Hawley) is bald, clean-shaven, and has a large build.
McTavish shares some of the same physical traits as the game version of Dijkstra, yet there are clear differences in how he portrays the character. In "The Witcher" TV show, Dijkstra is underhanded and sly, while the version of the character in the game tends to rely on brute force to get things done.
Philippa Eilhart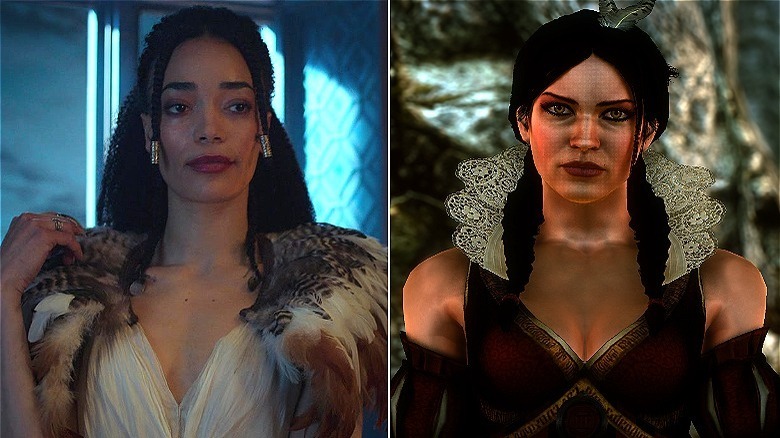 Netflix & CD Projekt Red
Though she only appears for a moment in the Season 2 finale of "The Witcher," the sorceress Philippa Eilhart makes quite an impression in that short time. Using the magical ability to shapeshift, Philippa spends most of her time in the form of an owl, going back and forth to relay messages between Dijkstra and his elven spy contact, Dara (Wilson Radjou-Pujalte). In the books, Philippa is the leader of the Lodge of Sorceresses, an influential group that has big plans for Ciri. Actor Cassie Clare plays Philippa on the Netflix show. She has long black hair, a statuesque figure, and wears an elegant gown decorated with feathers along the collar and shoulders.
The character of Philippa (voiced by Pandora Colin) also appears in two of the Witcher video games: "The Witcher 2: Assassins of Kings" and "The Witcher 3: Wild Hunt." Her appearance is quite different from the character on the TV series, though the Netflix version of Philippa does borrow a few traits from the game character's look. The game version of Philippa has long black hair that is styled into two braids, and she wears long feathers in her hair. Fans of "The Witcher" series may notice that actor Clare wears two small braids at the front of her hair, which (along with the feathers on her dress) is perhaps a tribute to the game version of Philippa.
Emhyr var Emreis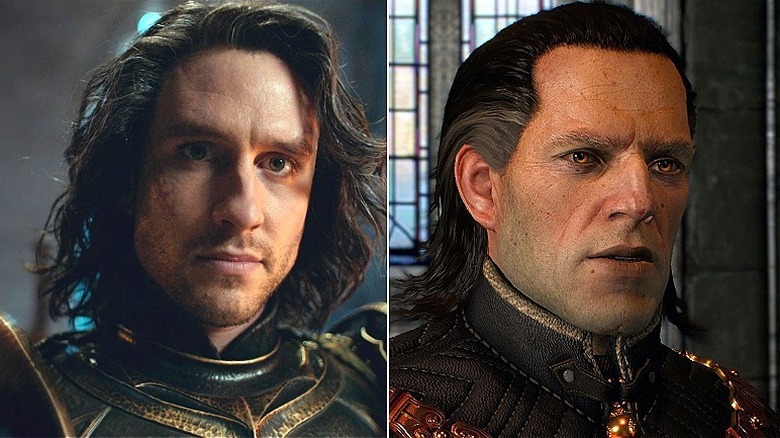 Netflix & CD Projekt Red
The finale of "The Witcher" Season 2 ends with a huge twist that leaves fans reeling -– the true identity of the King of Nilfgaard, Emhyr var Emreis. As it turns out, Emhyr is none other than Duny, the young man who was helped by Geralt in the Season 1 episode "Of Banquets, Bastards, and Burials." Fans will remember that Duny is placed under a curse that turns him into a porcupine man-beast, and he crashes Queen Calanthe's (Jodhi May) party to claim the hand of Princess Pavetta (Gaia Mondadori). When he is attacked by the queen's soldiers, Geralt steps in to defend him. The curse is broken when Pavetta uses true love's kiss to turn Duny back to his human self. 
Duny is the father of Ciri, yet what happened to him between his curse being broken and becoming the King of Nilfgaard is still a mystery. On the Netflix show, Emhyr is played by Bart Edwards, and his appearance is not all that different from Emhyr in "The Witcher" games. Both characters have long dark hair, though Edwards' hairstyle is wavy and wild, while Emhyr (voiced by Charles Dance) in "The Witcher 3: Wild Hunt" wears his hair slicked back and straight. The game version of Emhyr is also much older than the character on the show, mainly because the game's events take place many years after the story in "The Witcher" books. Now that Emhyr's identity has been disclosed, fans can bet that he will have a big part to play in the future of "The Witcher" Netflix series.