Why You Don't See Adam Levine On The Voice Anymore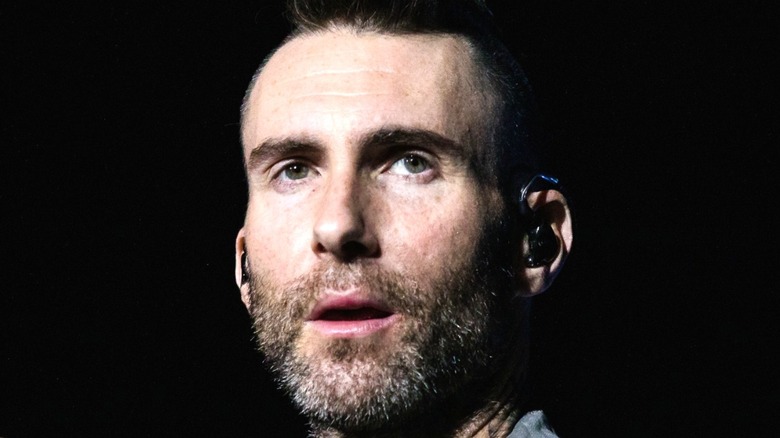 Mauricio Santana/Getty Images
Adam Levine is a man of many talents, having dipped a toe in almost all creative pools. The frontman for Maroon 5 has topped the Billboard charts and even had a brief stint on "American Horror Story." But he is perhaps most recognizable in pop culture for lending his talents to the reality show "The Voice." First starting his tenure on the show in 2011, Levine served as a coach for aspiring musicians in the entertainment industry, a world that he is quite familiar with (via IMDb). Coaching alongside the likes of John Legend and Christina Aguilera, the musical veteran lasted almost a decade on the show until his surprising departure in 2019.
This decision seemed like a shock to many, including Legend, who opened up on the topic in an interview with Entertainment Tonight. "Yeah, we're sad to see him go. We are very sad, and he's been a part of the show since the beginning, 16 seasons," he said. "He's been so important to the show even existing, so we're all going to miss him." "The Voice" made an official announcement on Twitter, stating that Levine left of his own volition but not elaborating further. This adds even more mystery to the reason why Levine left in the first place.
Levine's departure allowed him to spend more time with his family
"The Voice" has a history of coaches coming and going, but Adam Levine was a classic. A coach since Season 1, the musician could always be depended on to fill a seat in the red chair. But 16 seasons is a long time to commit to anything, and Levine had bigger things on the horizon. After his departure, the pop star opened up about the decision on "The Ellen DeGeneres Show." He admitted that working on the reality show was a lot of hard work and being able to devote time to his family was the right move.
"I was constantly working for so many years. Very lucky, very fortunate, very blessed and all that," said Levine. "Just to be able to stop in this moment to spend time with my new young family and just have the greatest time ever. Now I'm just, like, a stay-at-home dad. I just stay home and do very little." And currently, there seems to be no ill will in regard to Levine's relationship with "The Voice," so much so that he even made a reappearance on the show in Season 20. Though he did not return in his former capacity as a coach, he appeared in the season finale to perform "Beautiful Mistakes," featuring Megan Thee Stallion. And for fans of the antagonistic dynamic between Levine and Blake Shelton, they were not disappointed. The two frenemies returned to form in one humorous run-in at the show.