Better Call Saul's Giancarlo Esposito Explains His Approach To Directing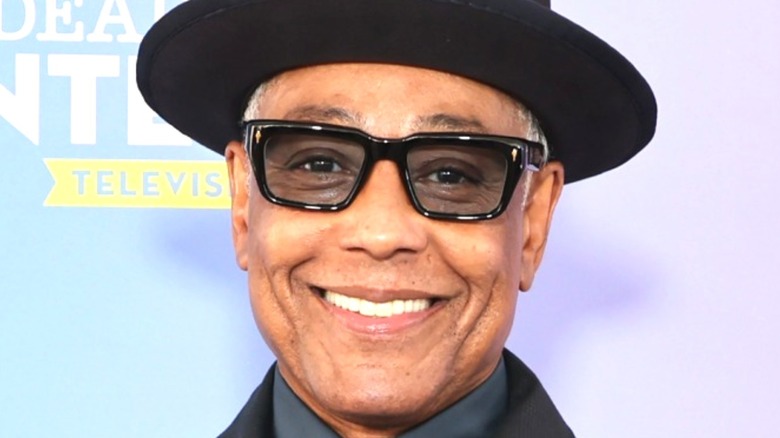 Amy Sussman/Getty
Giancarlo Esposito has always been near the core of the "Better Call Saul" and "Breaking Bad" universe in his role as fried chicken magnate and methamphetamine kingpin Gus Fring, and in "Better Call Saul" Season 6, Episode 6, "Axe and Grind," he joined Rhea Seehorn as the second "Better Call Saul" actor to direct an episode (via Los Angeles Times). It was just Esposito's third turn in the director's chair and his first on television.
"Axe and Grind" begins with a flashback to a young Kim Wexler (Seehorn) being caught shoplifting, which influenced her approach to defense law. Later, viewers see Lalo Salamanca (Tony Dalton) locate and confront Casper (Stefan Kapicic), one of the members of the team of workers who built Fring's underground lab, at his home in the German countryside. The episode ends with a pivotal moment for Kim, who opts to pass on a once-in-a-lifetime professional opportunity to help Jimmy McGill (Bob Odenkirk) resurrect their seemingly doomed plot to discredit Howard Hamlin (Patrick Fabian).
Esposito told the Los Angeles Times that he had wanted to direct an episode of "Breaking Bad" a decade ago. "But it never happened," he lamented. "I asked once and never asked again." He related to reporter Kai Grady how he was finally offered a chance to direct an episode of "Better Call Saul" and how he combined his own perspective with his character's to craft something powerful and memorable.
Esposito used his experience playing Gustavo Fring to guide his choices as a director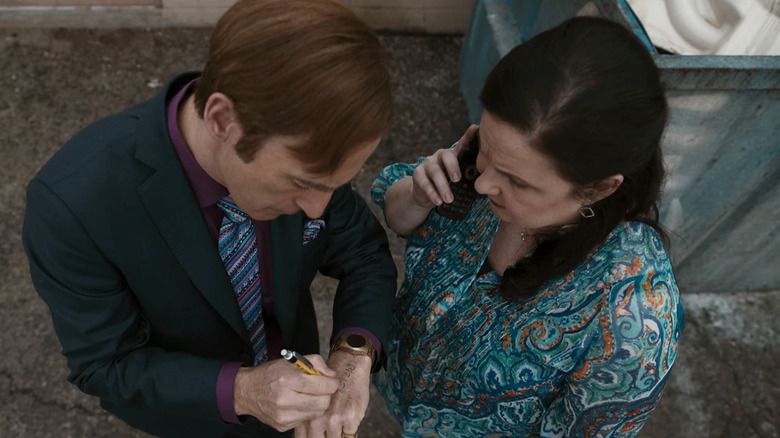 AMC
Giancarlo Esposito contrasted his job as an actor with his one-off turn directing "Better Call Saul." "To direct well is to direct in a way that allows the audience to see themselves within the story, create tension, create distance and create closeness," he said. "All of that in a visual way, not just speaking."
Esposito pointed out that Gus' tics and mannerisms had become such a big part of his character because of an observation made by "Breaking Bad" director Johan Renck and that he tried to carry that lesson forward in directing "Axe and Grind." "I wanted to be cognizant that that could happen in my episode with an actor if I observed them properly," he said. "I saw [Rhea Seehorn and Bob Odenkirk] do things that I wanted to capture with the camera because they were indicative of what the character was doing."
The episode's most dramatic scene comes when Lalo is stalking Casper through his darkened barn, with viewers on edge waiting either for Lalo to strike or his prey to jump from the shadows. Esposito exploited Tony Dalton's ability to carry Lalo's evil in such a smooth and graceful package, saying it gave him "the opportunity to create that juxtaposition of energy and then to get inside and feel Hitchcockian, feel partly Sam Peckinpah, feel as if something's about to happen but we don't know what."