The SNL Skit That Fans Agree Showcases Selena Gomez's Best Comedy Skills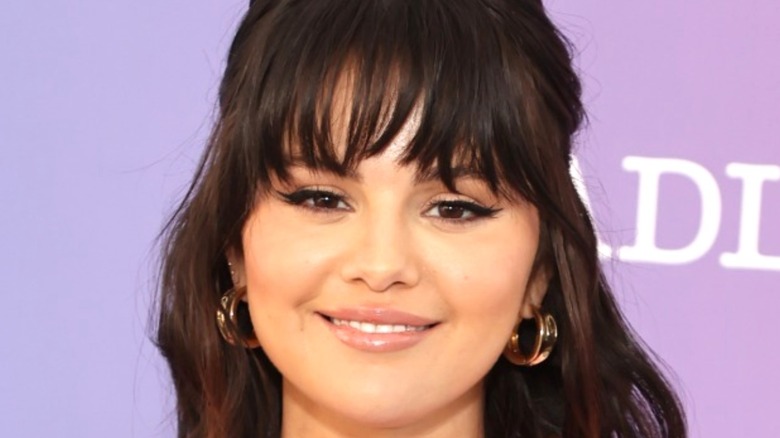 Amy Sussman/Getty Images
Selena Gomez's appearance on "Saturday Night Live" on May 14 won her plaudits from critical outfits like Vulture, which called the actress an "absolute pro" and praised the show's writers for tailoring the program to her strengths. But what did her fans think? Apparently, they loved her appearance on the show. On the SNL in Review Experience Twitter, the majority of 3,722 fans polled for their opinion of the episode gave it an A.
The episode definitely gives her a chance to stretch her wings, letting her portray everything from a Bratz Doll to an ill-prepared understudy trying — and failing — to affect an Irish accent in a tragic play. Among the 10 sketches Gomez was included in, fans have zeroed in on one skit in particular as their favorite of the whole bunch.  They think that Gomez's comedy chops were on full display during its runtime. Which "SNL" sketch really caught on with the actress' fanbase?
Fans loved Old Enough! Long Term Boyfriends
The "Saturday Night Live" parody of the Netflix hit "Old Enough!," which airs as "My First Errand" on Nippon Television in its home country, really hit the mark with viewers. While the Japanese series focuses on adorable young children participating in their very first solo errand under the watchful eyes of their guardians and the show's producers, the "SNL" version of the show focuses on long-term boyfriends — adult men — trying to pick up items for their girlfriends at a store.
In the sketch, Gomez portrays Kelsey, and Mikey Day plays her boyfriend, Matt. They've been dating for three years and Kelsey thinks it's time for Matt to go on an errand by himself. His trip to Sephora and the supermarket turns out imperfectly, and Kelsey realizes she needs to break up with him.
While the sketch focuses largely on Day's hapless Matt, a lot of the audience reserved its praise for Gomez's work. Fans commenting on NBC's upload of the sketch hosted on SNL's official YouTube page felt that Gomez's comic timing definitely set the sketch apart from the others on the show.  "Loved this. I would actually watch this show. Selena's acting is on point!" wrote SelGogreen. "Selena Gomez really is an amazing actor, she can do ANYTHING," commented Swoop. The sketch has passed a million views on YouTube as of press time.
Vulture agreed with the actress' fanbase, spotlighting the sketch as one of the night's best in their recap of the episode and declaring, "Selena and Mikey both crushed this and made it the best sketch of the night."
Selena Gomez earned her strong comedy chops
It's no wonder that Selena Gomez managed to do so well with her dry-eyed, sarcastic character. As pointed out by multiple fans who commented on the sketch's YouTube upload, her breakout role was on the cast of Disney Channel's "Wizards of Waverly Place" as the dry-eyed, sarcastic potential witch Alex Russo. Alex and her two other siblings all have the potential to carry the Russo magic into the next generation, but only one of them will pass a series of trials that will finally determine which of the kids will become a wizard — and which two will lose their gifts forever. 
The actress honed her comedic timing on the program, eventually taking on projects such as "The Princess Protection Program" and "Ramona and Beezus." She would even bring her ability to sell a flip one-liner to her voice acting role as Mavis Dracula in the "Hotel Transylvania" series of movies. She would eventually age into more adult roles, bringing her talent for comedy with her. 
Currently, Gomez co-stars as Mabel Mora in the Hulu series "Only Murders in the Building," a comedic take on three true-crime obsessed New Yorkers who investigate the murder of a fellow tenant. The program will be returning for a 2nd season on June 28, 2022.