Homelander's Condo In The Boys Season 3 Is More Revealing Than You Realize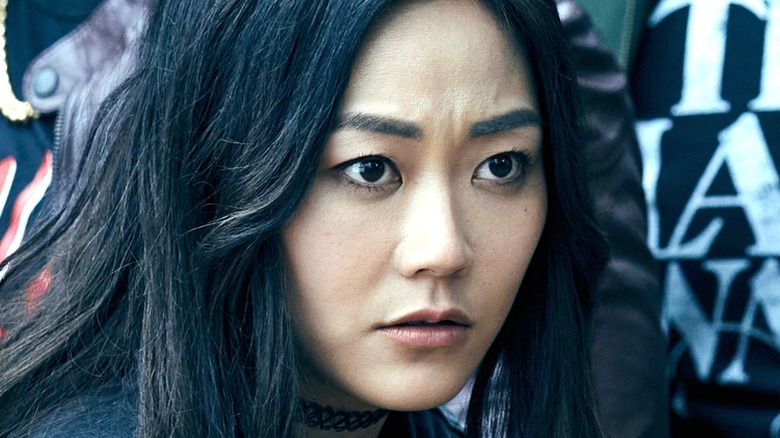 Amazon Studios
The final trailer for "The Boys" Season 3 dropped on Monday, May 16, and it brings with it some key insight into the show's most corrupt superhero. Based on the comic series by Garth Ennis and Darick Robertson, "The Boys" takes the classic superhero genre and turns it on its head. The series follows All-American superhero Homelander (Antony Starr), his team known as "The Seven," and all of the atrocities they commit with their megacorp backers, Vought, pulling the strings to ensure their reprehensible behavior is hidden behind a squeaky-clean façade. Meanwhile, a group of vigilantes led by Billy Butcher (Karl Urban), a man with a superhero-sized ax to grind, work to take Vought and its group of supes down for good.
The latest trailer shows off a few new faces, such as Jensen Ackles' Soldier Boy and Crimson Countess (Laurie Holden). We also see Butcher become a supe (at least, for 24 hours), thanks to a new green version of the Compound V formula. Also, judging by the trailer, Homelander's unheroic tendencies are taken a step further in Season 3. The last time we saw the blonde-haired blue-eyed supe, he seems to have fallen further off the wagon after his son Ryan (Cameron Crovetti) lasers off Stormfront's (Aya Cash) limbs and chooses to leave with Butcher rather than him. It looks like Stormfront's destruction and his son's actions will play a large role in Homelander's declining mental state heading into the new season. 
Aside from Homelander's obvious internal struggles, the new trailer for the upcoming season provides a rare glimpse into Homelander's personal life, with a peek of his home that ends up revealing even more about the hero than you might think.
Homelander's condo reminds viewers he has no real identity
In the new trailer for Season 3 of "The Boys," we get a quick look at Homelander's lavish condo decorated with antique paintings of American historical events. When Antony Starr, who plays Homelander, first walked onto the new set, he was surprised to see the condo showed nothing about his character's personality — until he realized that was actually the point. In a video interview with co-stars Karen Fukuhara and Laz Alonso for Vanity Fair, Starr explained, "Everything in that apartment is just a generic piece of Americana or something reflective of who they believe Homelander should be." He added, "There is no real identity to this character. That's the eternal struggle for the guy. He's a product, basically." 
If you recall, Homelander was literally made in a Vought lab and raised by scientists to become America's best superhero. In 2019, a short was released between Seasons 1 and 2 (via Twitter) that reveals Homelander was forced to watch images of Jesus Christ, baseball games, and the American flag in a sterile white room as a child. In September 2020, Starr contended to TVLine that Homelander never learned to mature and is still a "little boy" at heart. He said, "He is a little boy that is going through emotional puberty, maybe, whereby his emotions got cut off very early on in his life, and now he's reached a point, for whatever reason, where he wants more out of life." With this in mind, it makes sense why Homelander would only have Americana in his home as that's the only thing he's ever really known.