The Big Problem Some Chicago Fire Fans Have With The Female Characters' Stories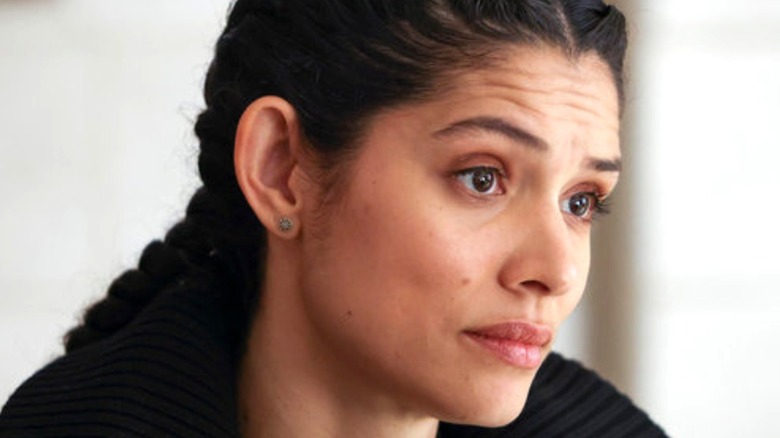 Adrian S. Burrows Sr./NBC
"Chicago Fire" — the first of NBC's "One Chicago" franchise — follows the professional and personal lives of the fictional Firehouse 51 of the Chicago Fire Department, including the firefighters, paramedics, and other rescue personnel. At the start of the series, the plot begins with the death of Andrew Darden (Corey Sorenson), a veteran firefighter and close friend to Lieutenant Matthew Casey (Jesse Spencer) and Lieutenant Kelly Severide (Taylor Kinney), both of whom blame the other for Darden's death. Other major characters in the series include Chief Wallace Boden (Eamonn Walker), and Senior Firefighter Christopher Herrmann (David Eigenberg), amongst others.
The job of a firefighter is largely associated with being a male-centric job — after all, according to a study done by the National Fire Protection Association, only about 11% of firefighters are women. This disparity is reflected in "Chicago Fire," as the bulk of the characters are men, but there are also a number of prominent women at play in various parts of the series. In addition to Paramedic Sylvie Brett (Kara Killmer) and Paramedic-in-Charge Gabriela "Gabby" Dawson (Monica Raymund), there's also Stella Kidd (Miranda Rae Mayo), Emily Foster (Annie Ilonzeh), and Leslie Shay (Lauren German).
While the series may have a handful of female main characters, evidently, not all fans are happy with these characters' stories.
Fans think the women's stories are too tied to the men in their lives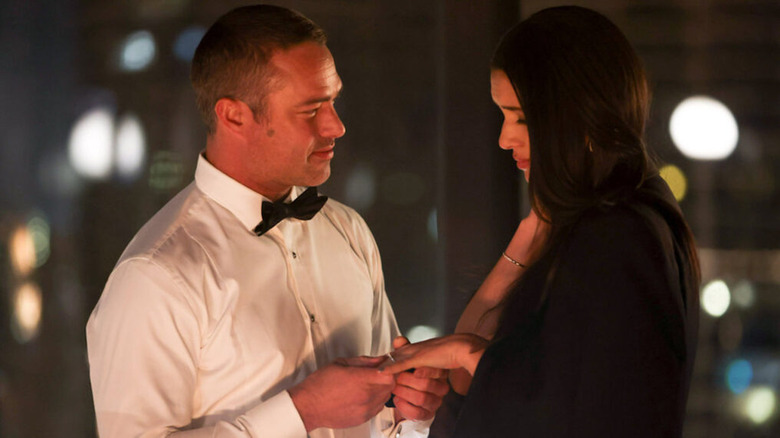 NBC
One frustrated "Chicago Fire" fan, u/_wonder_girl_, recently took to the r/ChicagoFireNBC subreddit to vent about the issues they have with how the writers treat their female characters, who, by Season 10, consist of just Stella, Sylvie, and, the newest regular, Violet Mikami (Hanako Greensmith). In a lengthy post, this user lamented that the male characters "get the fun and adventurous storylines while the women's storylines often get tied to the men of the show or their relationships." 
Going into more detail, this user suggested that they could have had Stella express insecurities about her lieutenant position instead of leaning on her relationship with Severide. They also point out that Sylvie has been involved in a romantic relationship throughout her entire time of the show, instead of giving more focus to her paramedic job. Similarly, this user also noted that nothing is known about Violet outside of her romantic relationships.
Fellow fans in the comments expressed agreement, especially when it came to Violet. One fan, u/MammaBeartoBoys, even suggested that Violet seems to be a replacement for Brett until she (possibly) returns. Another fan, u/BrokenMineCart, added to the conversation, writing, "It feels like they don't know how to make female characters that are [likable] but determined at the same time." 
Meanwhile, u/ShadowOdinGG, brought up what many fans may have been thinking, writing, "Shay was the best – and then they killed her off!" While the writers have not responded to these fans' specific complaints, "Chicago Fire" producers have previously spoken about the decision to kill off Lauren German's character.
The producers say Shay's death had nothing to do with her being a female character
In 2014, "Chicago Fire" Executive Producer Matt Olmstead talked to TVLine about the shocking Season 3 death of Leslie Shay (Lauren German). Writer Vlada Gelman mentioned that some fans were particularly bothered by Shay's death because she was one of the few lead female characters and also one of the few LGBTQ+ characters in the series. Olmstead responded, "All the characters were assessed on equal footing ... As storytellers, you have to be unsentimental sometimes."
To some viewers, the fact that Olmstead admitted that the writers didn't consider that Shay was a queer woman character actually reiterates the point made by fans on Reddit. As the original Reddit poster wrote, "The writers have to do more for [female characters]." 
Further, one commenter on the TVLine post about Shay's death pointed out what the writers took away by killing off the character. "Shay was the third regular/recurring female character out of a cast of mostly men, when zero male regular/recurring characters have been killed off," Shea Mandalay wrote. "And the deep friendship between a straight man [Severide] and a gay woman was actually something new and fresh on TV." 
Interestingly, not everyone has an issue with the representation of women in "Chicago Fire." In 2014, Bustle published an article praising the series as a "great place for women." Writer Meredith Lepore argued that it was satisfying to see women who were good at their (male-dominated) jobs and praised the friendship between Gabby and Shay. Notably, the article was published before Shay's death and Gabby's departure, both of which may have impacted the writer's argument.