First Glimpse Of Predator Prequel Prey Is A Teaser In The Truest Sense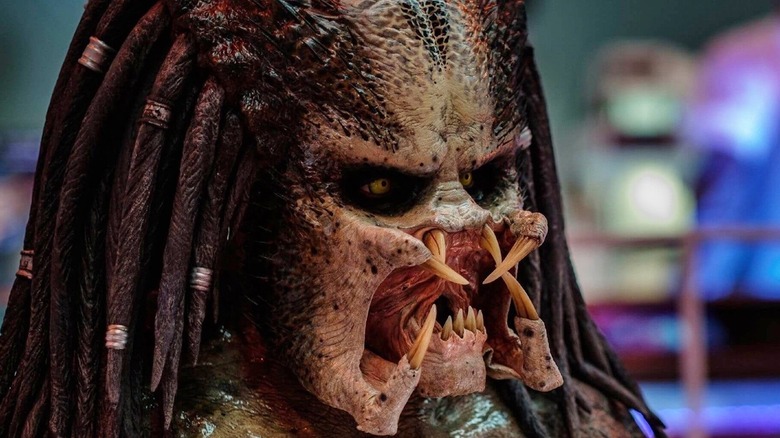 20th Century Studios
As far as sci-fi franchises go, "Predator" is one of the most famous of them all. The most recent entry in the series, Shane Black's "The Predator," didn't do much to get fans excited about the extraterrestrial hunter back in 2018 — only earning itself a poor 33% critics and audience rating on Rotten Tomatoes. So, when news arrived that 20th Century Studios is working on yet another chapter, fans were no doubt worried about the possibility of another underwhelming entry. Thankfully, "Prey" looks set to revitalize the franchise with a unique and intriguing premise. 
"Prey" is set 300 years in the past and follows Amber Midthunder as Naru, a young Comanche fighter who must face a greater challenge than she has ever experienced when she encounters the ultra-advanced, ultra-bloodthirsty hunter, per Variety. It's a simple premise, which suggests the film will take a very different approach from all the machine gun action audiences have seen from the franchise over the years.
What's even more promising is the fact that the "Predator" prequel is directed by Dan Trachtenberg, who's best known for helming the incredibly tense sci-fi thriller "10 Cloverfield Lane." Now, audiences have been gifted the first teaser for "Prey." 
The Prey teaser briefly teases Naru vs. the Predator
Hulu recently surprised fans with a brief first look at "Prey," and it delivers an atmospheric glimpse of the battles to come. The teaser takes a simple route, as the scene shows Naru running out of a forest into a field, before a fellow warrior grabs her and pulls her down to hide in the long grass. Although the trailer doesn't reveal the Predator itself, it has a very foreboding presence because it's obvious what our heroes are running from. The hunter only makes itself known by its iconic triple laser sights, which settle on the other warrior's forehead ... Oh dear.
The brief footage is effective because it perfectly gets across how disadvantaged Naru is against such a technologically superior foe. It'll be interesting to see whether Dan Trachtenberg leans into the unsettling horror atmosphere he brought to "10 Cloverfield Lane," or whether it'll focus heavily on the action. The "Predator" franchise has always walked a fine line between the two, but it looks like the director is taking a different approach with this.
Thankfully, there isn't too long to wait for the "Predator" prequel, because "Prey" arrives on Hulu on August 5.