The Impractical Jokers Guest Star You Might Not Know Passed Away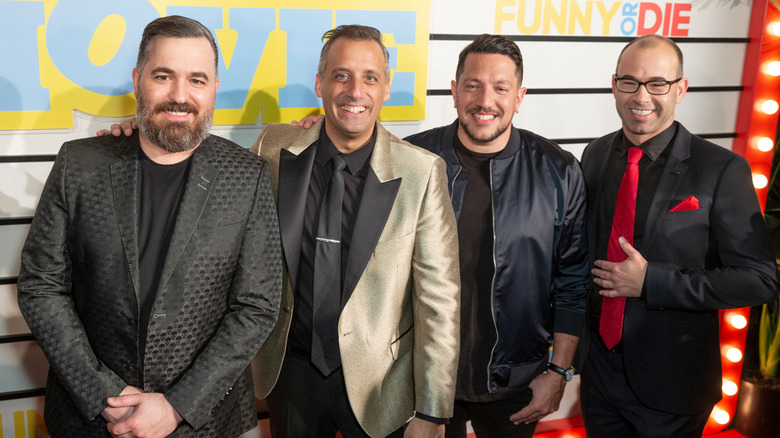 lev radin/Shutterstock
Since 2011, truTV's "Impractical Jokers" has brought plenty of laughs with its countless jokes and pranks. The hidden camera show centers on four life-long friends who dare each other to embarrass themselves publicly. Despite occasionally displaying some of the smoothest jokes on TV, the series is mainly known and celebrated among fans for its barrage of humiliating and outlandish stunts. Scenes can get downright brutal on the show, especially as most pranks involve unsuspecting people. It's enough to make anyone squirm a bit.
Since its second season, celebrities have been a standard feature on "Impractical Jokers." For example, the show has seen big names such as Jeff Daniels, Rosie O'Donnell, and Gary Busey. This is especially the case recently, as longtime core member Joe Gatto is no longer on the show and Season 9 has relied on different celebrities to help with the hijinks to make up for his absence.
Unfortunately, the show's esteemed list of iconic guest stars includes one person that has since tragically passed away.
Sumo champion Byamba passed away in 2020
In the Season 4 Episode, "Pseudo-Sumo" (via truTV YouTube), Joe Gatto receives a cruel punishment from his friends. Hilariously sporting an oversized diaper and light-blue bonnet that was probably pulled from Baby Huey's closet, Gatto believes that he has to perform in a baby commercial. Instead, he walks to a makeshift underground den with a fitting, bloodthirsty crowd. It turns out Gatto isn't shooting a commercial. Instead, he has to battle with champion sumo wrestler Byamba. But the term "battle" is a severe overstatement, as the fight amounts to Gatto immediately running away from Byamba, then getting thrown to the ground like a crumpled piece of paper. Byamba made quite the impression on the show, as he appeared again in an episode for Season 7 to terrorize Gatto, who was acting as a human massage chair, again.
Born as Ulambayar Byambajav, Byamba started competing in Sumo at the age of 15. It began a fruitful career for the competitor in Japanese and International Pro Sumo. From 2007 to 2019, the athlete competed in 13 US Sumo Open Tournaments and managed to win 10 gold medals in the Heavyweight Division and seven gold medals in the Openweight Division (via USA Sumo). Byamba was also one of the sport's strongest international ambassadors. He has an impressive collection of TV appearances in other shows such as "Dude What Would Happen?," "Whose Line Is It Anyway?" and "The Bachelorette," as well as numerous commercials (via IMDb). He died at the age of 35 due to an unspecified protracted illness, according to his own website, where fans can leave tribute messages.