The Smoothest Joke On Impractical Jokers According To Fans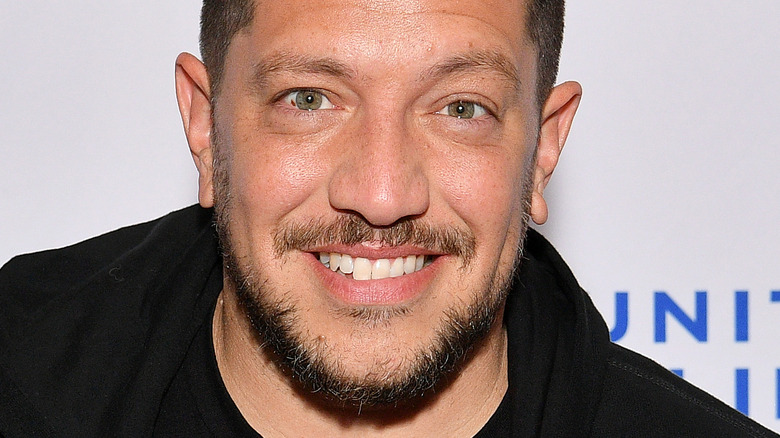 Dia Dipasupil/Getty Images
Since 2011, the gem of TruTV's lineup is its prank show "Impractical Jokers." The hidden camera series follows four life-long friends who challenge one another to engage in pranks that range from embarrassing to downright dangerous. The core four, previously known as the Tenderloins, are Brian "Q" Quinn, Sal Vulcano, Joe Gatto, and James "Murr" Murray. Up until 2021, the four friends created dozens of episodes based on the simple premise of goofing off. However, Gatto left "Impractical Jokers" for personal reasons after 10 years, and it felt like the end of an era. 
There have been literally hundreds of pranks in "Impractical Jokers" history, so it's hard to remember them all. While some stick out for being so humiliating and brutal, others are memorable because of the way the guys sometimes seemed to be able to pull off the impossible. In fact, "Impractical Jokers" fans have narrowed down one successful, yet improbable prank that won't be easily forgotten. 
Sal successfully crashed a dinner party of strangers
"Impractical Jokers" fan u/dr_genomics took to Reddit to shout out a prank called "Stay for Dinner." The top moment comes from Season 3, Episode 11, titled "Takes the Cake." The guys challenge one another to join a table of strangers at a restaurant and successfully eat dinner without being asked to leave. 
Sal joins a table of ladies enjoying a pizza, and seamlessly makes himself a part of the group. He literally eats their food, orders himself a glass of wine, and makes small talk with the women. When two more invited guests join the table, they make room for Sal rather than asking him to leave. He even makes a toast to his new friends. "We don't get out enough, let's do it more often," Sal says. 
Some fans, like u/Beastmode4789, consider Sal a prank master after watching his execution. "Never has anyone owned a challenge like Sal here," they wrote. Others weren't too shocked by Sal's ease of inserting himself into a group of strangers. "Sal always succeeds with the ladies," u/Snoo_6027 wrote, adding, "Can't stop that charm! Or it's all the experience he's had as a bartender." Another fan identified what they felt was the key to Sal's success. "This is confidence to the absolute max," u/Ayeeee007 wrote. 
One fan, however u/arich35, did have a slight issue with the prank: they wanted to see the reaction of the women once they found out they were being filmed for TV.