Why Fans Think The Stranger Things 4 Poster Just Teased A Major Storyline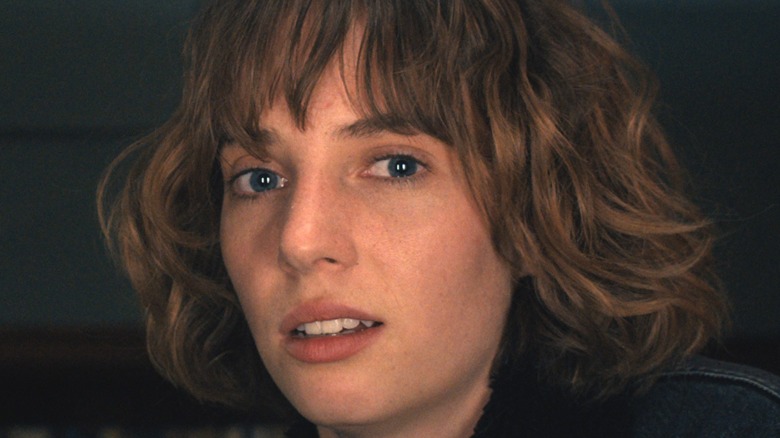 Netflix
As the May 27 release date for "Stranger Things 4" approaches, it feels like an eternity since we last got to spend time with the residents of Hawkins, Indiana, and their paranormally plagued suburbia, and in many ways, it has been. Season 3 of "Stranger Things" debuted in the summer of 2019, mere months before a pandemic would surge across the globe, changing everyone's lives irreparably and derailing the entertainment industry at an unprecedented scale. In the time between Seasons 3 and 4, Millie Bobby Brown, Sadie Sink, Gaten Matarazzo, and Finn Wolfhard grew old enough to vote in elections. The latter of them starred in a "Ghostbusters" movie. David Harbour became a Marvel star. It truly has been a while.
As Netflix revs up its promotional engine for the new season of "Stranger Things," the streaming giant has given us trailers and posters galore. However, the latest poster for "Stranger Things 4" contains a strange detail that has some fans looking twice at it.
The poster follows a familiar style for fans of '80s cinema, with artistic renderings of the characters clustered around the center of the image. It's a poster style that has come back into vogue recently as well, as evidenced by posters like those for "Shang-Chi and the Legend of The Ten Rings" and "Star Wars: The Last Jedi." Foregrounded in the bottom third of the "Stranger Things 4" poster is a haunted-looking house, and in the background of the top third is a demonic-looking visage with glowing blue eyes.
While the poster is beautiful on the surface, fans think it may reveal a major detail about the upcoming 4th season of "Stranger Things."
Due to her outsized presence on the poster, fans think Max has a big plotline this season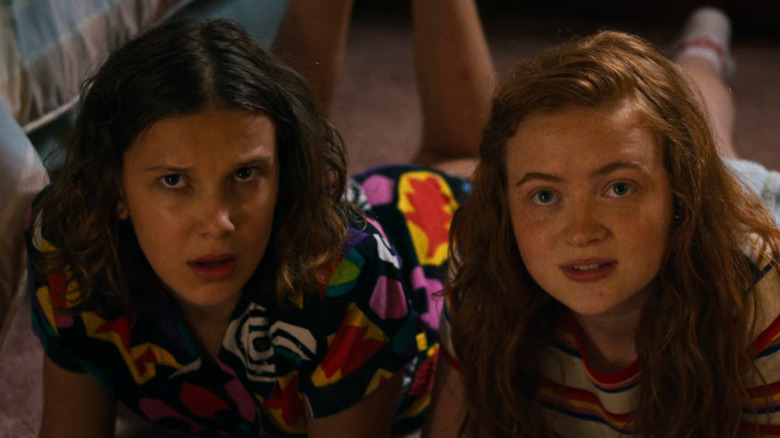 Netflix
The latest poster for "Stranger Things 4" shows off artistic renderings of the main cast. Millie Bobby Brown as Eleven is the largest presence on the poster, but just underneath her is Sadie Sink as Max, who is shown in almost equally large proportions. Even Finn Wolfhard as Mike appears slightly smaller within the image. Max's outsized depiction within the poster has some fans convinced her storyline will play a major role in Season 4.
On the "Stranger Things" subreddit, u/AquaBlueMagic posted a zoomed-in shot of Eleven and Max on the poster, pointing out how big they appear. Fans agreed that the two characters will probably have a lot to do this season, with u/rosewoodlliars succinctly writing, "It's their season." Not everyone was so keen, having not been won over by Max in the past. As u/CaseTheKirby put it, "Not a big fan of max being the main character this season, but i'm open to that changing if they make me really like her character". On the other hand, certain fans seemed excited about the prospect of a female-centric storyline. u/Xx_Nox cheekily referenced a popular internet meme when they wrote, "I WANT TO SEE THE LADIES GIRLBOSS, GASLIGHT, AND GATE KEEP".
The end of Season 3 appeared to show Eleven losing her powers. Meanwhile, Max's brother, Billy (Dacre Montgomery), died in her arms. Both of these plot points are likely to be followed up on in Season 4, which may explain why Max might get a larger storyline. All will be revealed when the first half of the season drops on Netflix in late May.