The Untold Truth Of Hawkeye From MASH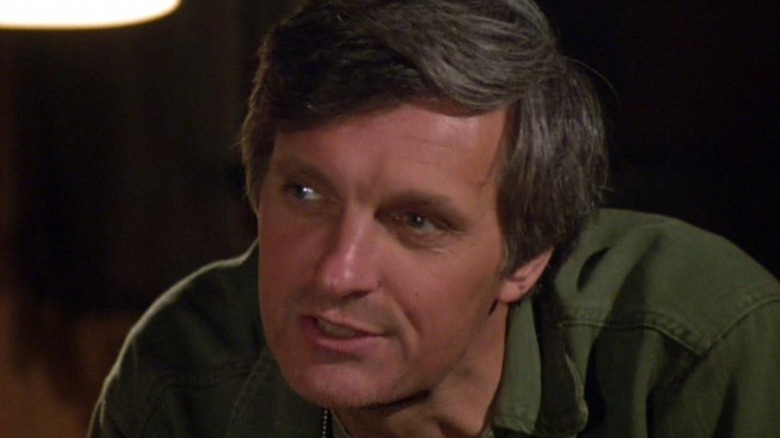 CBS
"M*A*S*H" is one of the most enduring and hilarious sitcoms in television history. Based on Richard Hooker's 1968 book, "MASH: A Novel About Three Army Doctors," the series is actually its second adaptation, having been preceded by the 1970 film. The public fell in love with the show, which ran for a whopping 11 seasons from 1972 to 1983. At the heart of its story is Captain Benjamin Franklin "Hawkeye" Pierce, memorably portrayed by Alan Alda, who won five Emmy Awards for his performance. Given "M*A*S*H" is blessed with a plethora of incredible actors, the fact that he still manages to stand out truly says it all.
This carousing, hard-drinking, wisecracking army doctor with a heart of gold has earned millions of fans worldwide. But for all his fame, many viewers don't know some of the most intriguing details of the character's history. From his real-world origins to the subtle changes made to his personality over the course of the series, this is the untold truth of Hawkeye Pierce, the heart and soul of "M*A*S*H."
Hawkeye's exploits are based off a real person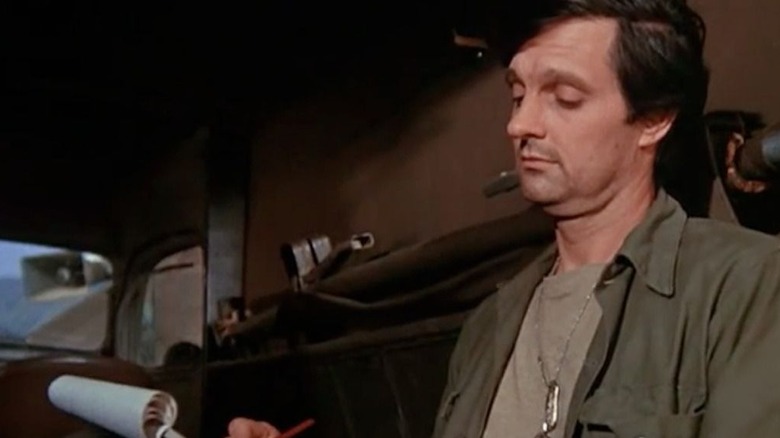 CBS
As outlandish as Hawkeye often is, the surgeon is actually inspired by a real-life individual: Richard Hooker, born H. Richard Hornberger, author of the book "M*A*S*H" is based on. As Melvin Horwitz, a MASH doctor who met Hornberger in Korea, told The Hartford Courant, Hornberger was a talented surgeon with a memorable sense of humor who really did nickname his tent "The Swamp." According to the Milwaukee Journal Sentinel, Hornberger also based characters off his colleagues, including "Hot Lips" Houlihan. 
While the novel, film, and television series take place in the 4077th MASH, Hornberger was part of the 8055th MASH. This isn't the only difference between the real world and fiction. As reported by the BBC, other MASH doctors, one of whom operated as part of the 8055th MASH, didn't recall quite as many jokes, amorous escapades, or boozy benders in their wartime years. However, they did confirm that the unit faced lengthy stretches of relative inactivity, interrupted by massive waves of casualties from nearby battles.
Hawkeye's fluctuating age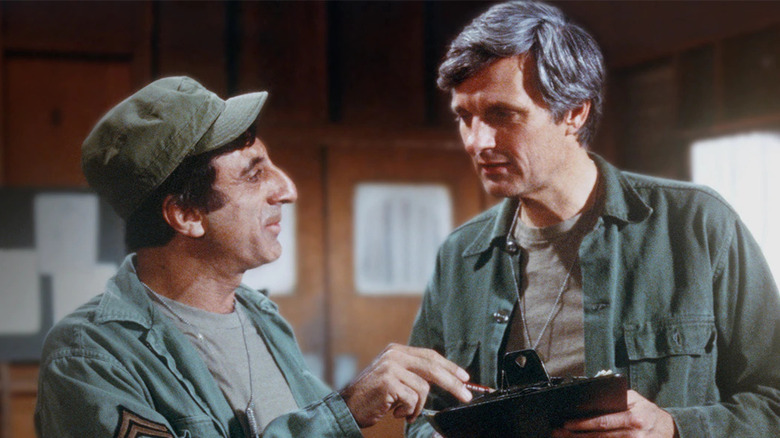 CBS
Hawkeye's age is one of the more nebulous and inconsistent elements of the "M*A*S*H" franchise. In the novel, Hawkeye's age is explicitly described: The young army doctor is 28 at the start of the Korean War, making his birth year 1922. With this in mind, we know that Hawkeye is 31 by 1953, when the Korean War concludes and he returns to his home and family.
Hawkeye's age isn't as clearly stated in either the film or the television series, however. One wonders if this might have been an attempt to account for the actors' real-world ages. When "M*A*S*H" hit theaters in 1970, Donald Sutherland was 35 years old. Seven years makes a big difference at that stage of life. Similarly, Alan Alda was 36 when he began working on "M*A*S*H" in 1972. When he left the role in 1983, he was 47 — almost 20 years older than Hawkeye's literary iteration. If we were making "M*A*S*H," we'd probably want to keep things vague too.
Hawkeye's from Maine, except when he's from Vermont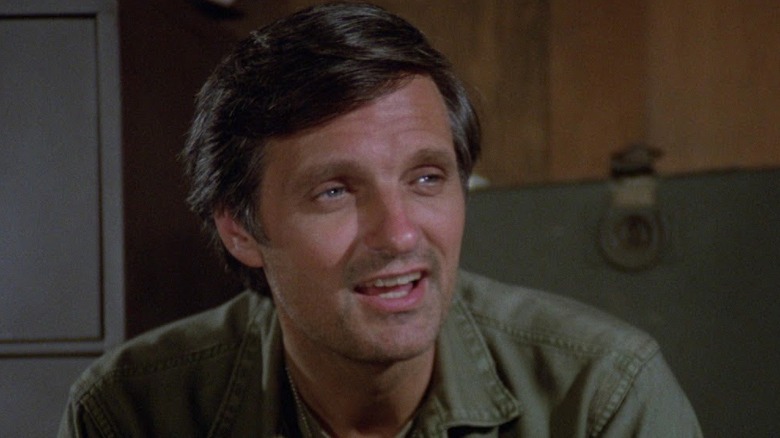 CBS
In the novel, Hawkeye hails from Maine — a state author Hornberger spent a lot of time in, as reported by The New York Times. Though this background is retained in the 1970 film, it's portrayed more inconsistently near the start of the "M*A*S*H" television series. TV Hawkeye's Maine roots are eventually established, but it takes an astonishing four seasons, plus some major retconning, to link him to his literary antecedent's pre-war home.
In the Season 1 episode "Dear Dad," Hawkeye reveals that he grew up in Vermont, where he and his father still live. Across Seasons 1, 2, and 3, Hawkeye continues to make passing references to being from Vermont — but then, the character's background changes without any real explanation. In Season 4's "The Late Captain Pierce," Hawkeye mentions Crabapple Cove, Maine, for the first time. It's just his summer cottage in that installment, but in "Mail Call ... Again," Crabapple Cove is established as his hometown. This altered background remains in place for the remainder of the show.
A name with literary roots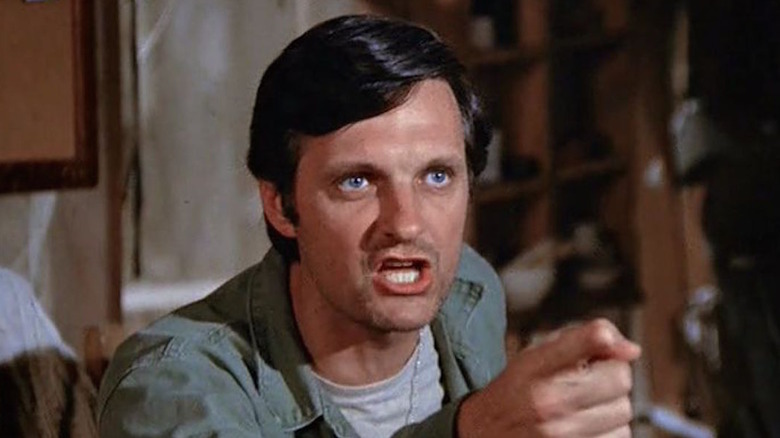 CBS
No, Hawkeye's moniker doesn't come from the popular Marvel Comics superhero: The Korean War ended over a decade before that character made his debut in 1964's "Tales of Suspense" #57. Benjamin Franklin Pierce received his nickname from the protagonist of a classic series of novels written by 19th century author James Fenimore Cooper. Doesn't ring a bell? Let's get more specific: This nickname is derived from Cooper's landmark 1826 historical novel, "The Last of the Mohicans."
This classic novel is, according to Hawkeye, the only book his father ever read. Its hero, Natty Bumppo, is also known as Hawk-eye. This background is retained in both the film and show. Notably, however, there's a small difference between Hawkeye's birth names in the show and novel. In Hornberger's book, Hawkeye's legal name is Benjamin Franklin Pierce, Jr. In the show, his father is named Daniel, which eliminates the suffix from Hawkeye's name.
Hawkeye's relationship status is very complicated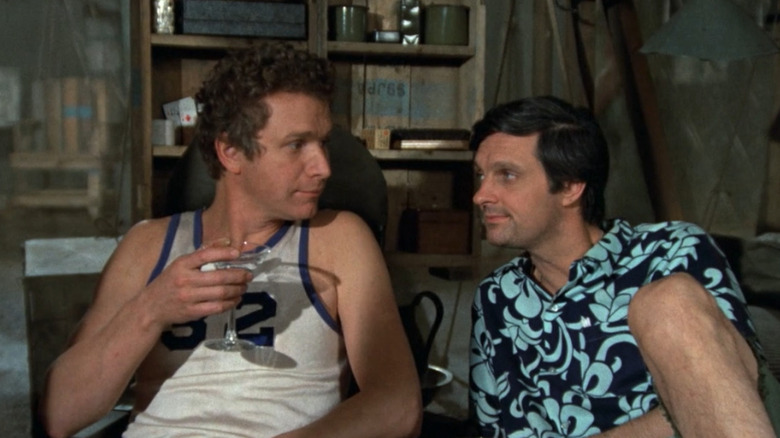 CBS
Hawkeye is a relentless womanizer across the entire run of the "M*A*S*H" TV series, hooking up with any willing personnel who make their way through the 4077. While this is a hallmark of the small screen iteration of the character, Hawkeye's marital status is very different in the novel and movie. In the book, He's a faithfully married man, though he provides romantic advice to his colleagues pursuing extramarital affairs. In the movie, he's also a married man — but he repeatedly cheats on his wife, reasoning that the distance between them and the stress he faces as a combat surgeon justifies his philandering. 
These initially seem like pretty big departures from Hawkeye's TV incarnation. For the most part, they are — but not entirely. In Episode 1 of the TV series, Hawkeye claims to be engaged to a woman back home ... but this background detail is completely dropped from this point on. Season 4's "The More I See You" reveals Hawkeye had a common law wife, but the relationship fell apart due to Hawkeye's dedication to his job. One thing's clear: Hawkeye's love life is always complicated.
Who gets to be chief surgeon?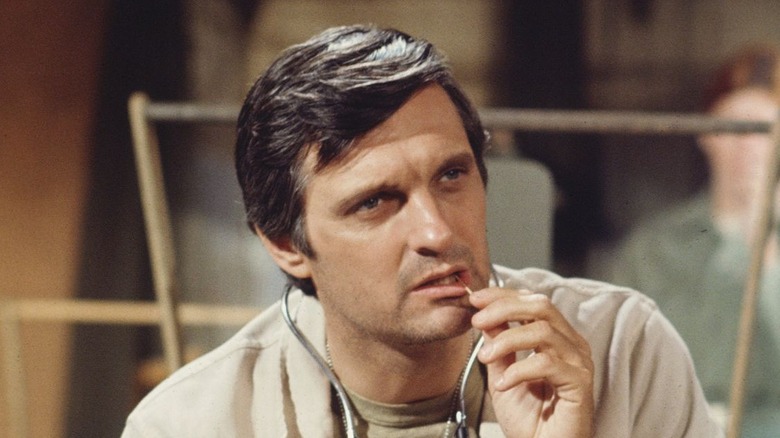 CBS
While the "M*A*S*H" novel and its subsequent adaptations all begin with Lt. Colonel Henry Blake as the 4077's commanding officer, there are differences in who acts as the mobile hospital's chief surgeon. In the novel and movie, Captain "Trapper John" McIntyre holds the position at the start of the story, with Hawkeye serving under him as a combat surgeon. On the TV show, things are a little different. Though Trapper John plays a prominent role in Seasons 1, 2, and 3 and is praised for his surgical skills, Hawkeye holds a commanding position over his best friend.
In Season 1's "Chief Surgeon Who?," Blake (McLean Stevenson) promotes Hawkeye to the chief surgeon position. Trapper John (Wayne Rogers) never claims the role in any subsequent episode. Blake makes this decision based on the widespread respect Hawkeye garners, his surgical skills, and the fact that he holds two medical specialty certifications. This promotion is fiercely contested by Blake's second-in-command, Major Frank Burns (Larry Linville), who outranks Hawkeye. But these protests are soundly squashed by Hawkeye's prodigious service under pressure.
The many lives of Ho-Jon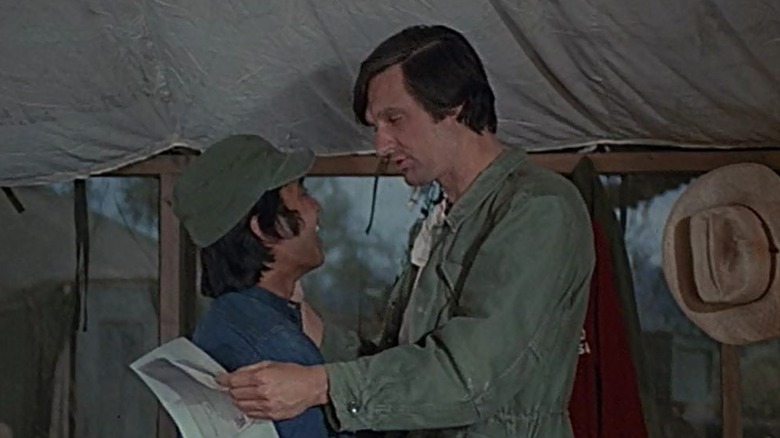 CBS
Season 1 of "M*A*S*H" retains an interesting detail from the novel: Hawkeye and Trapper John have their own personal assistant in a bright Korean teenager named Ho-Jon (Patrick Adiarte). The two surgeons befriended him shortly after arriving in Korea. In Episode 1, Ho-Jon is accepted by Hawkeye's alma mater back in the United States. Our heroes proceed to raise the money to send him there through a raffle. Ho-Jon appears sporadically throughout Season 1 of the TV series, then disappears completely. Presumably, he's been sent off to college, thanks to Hawkeye and Trapper John's financial support.
Ho-Jon appears in the movie as well, though his fate is very different. There, Ho-Jon (Kim Atwood) is drafted into the South Korean army, despite Hawkeye's best efforts to keep him from combat. He is eventually killed in battle. This is a departure from the novel — his literary counterpart is wounded, but survives. Hawkeye and Trapper John successfully raise enough money to send him to attend college in America, just as they do on the TV show.
Hawkeye's time in Boston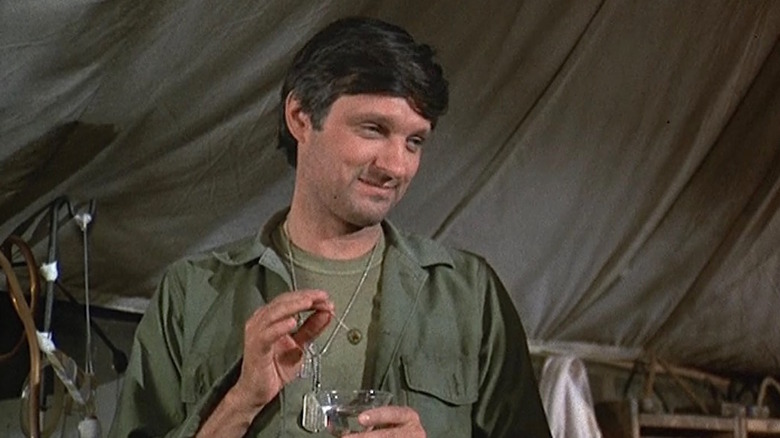 CBS
The "M*A*S*H" TV show reveals little of Hawkeye's life before he was drafted, save his relationship with his father and his childhood home's location. However, a passing reference in the middle of the show's run makes it clear that Hawkeye lived and worked for a time in Boston before he came to Korea. This comes up in Season 4's "Hawkeye," after the titular surgeon suffers a concussion. Desperate to remain conscious, he talks to himself for hours on end — much to the confusion of the Korean family that has taken him in.
As Hawkeye rambles on and on, he notes that he once lived in Boston, some time after completing his medical residency. It's unknown what exactly brought Hawkeye to Boston, though he claims to have had his own medical practice in the Massachusetts city before being drafted. Notably, in the Season 3 episode "Adam's Rib," Hawkeye also demonstrates a keen familiarity with Chicago, though it's unclear if he ever lived in that city.
Hawkeye's post-war life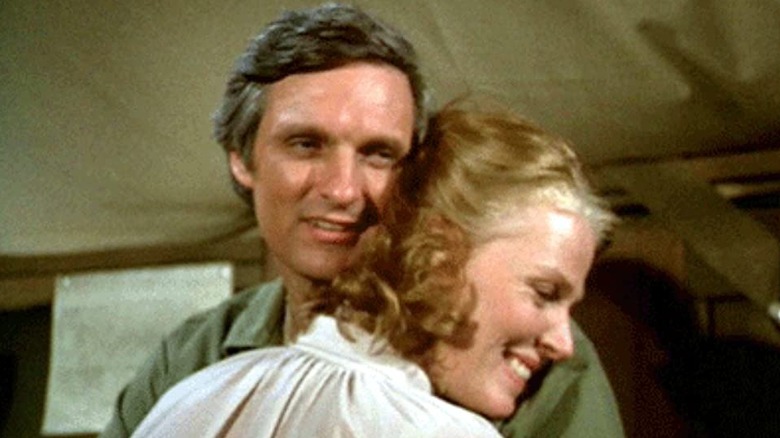 CBS
The last audiences see of Hawkeye in the TV series, he's flying away from the 4077 aboard a military helicopter, following the conclusion of the Korean War. But that isn't truly the end: The character has a full life after his military service, which is explored in two sequel novels written by Hornberger himself. The first is 1972's "M*A*S*H Goes to Maine," while the second is 1977's "M*A*S*H Mania." Though the TV series finale is bittersweet, Hawkeye gets the happy ending he deserves in these tomes.
Following his military service, Hawkeye returns to Crabapple Cove, where he and his wife raise three children together. He works as a doctor with the Veterans Administration before he's laid off in 1954. This prompts a relocation with his family to seek work elsewhere. In Episode 1 of "AfterMASH," the 1983 "M*A*S*H" spin-off series, Father Mulcahy (William Christopher) mentions in passing that Hawkeye contemplated leaving medicine altogether, but went into a career in pediatrics instead.
An elusive reunion with Trapper John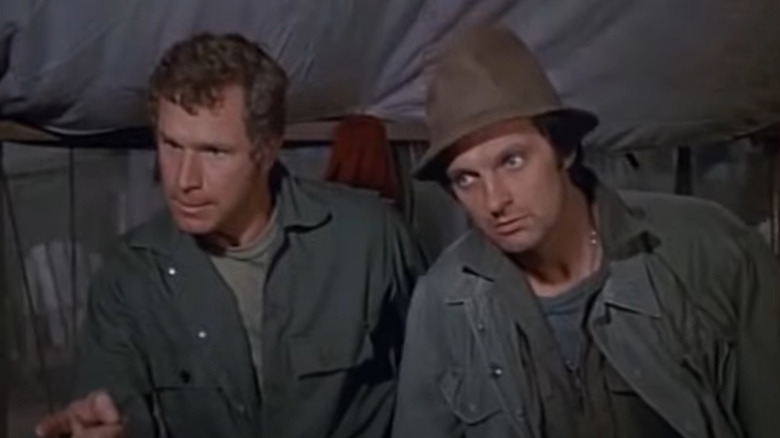 CBS
One of the more abrupt departures from the "M*A*S*H" TV show is that of Wayne Rogers, who left the cast between Season 3 and 4 without an on-screen farewell. According to The Hollywood Reporter, Rogers reportedly left the show and the role of Trapper John due to a contract dispute, and a belief that his character was being sidelined in favor of Hawkeye. Though Trapper John leaves the 4077 to return home without saying goodbye, much to Hawkeye's chagrin, the "M*A*S*H" sequel novels reunite the two old war buddies.
In "M*A*S*H Goes to Maine," Trapper John reaches out to Hawkeye on the day he's laid off by the Veterans Administration. This timely arrival sees him help Hawkeye pivot to a career in thoracic surgery, which turns out to be a great idea: Hawkeye's prodigious medical skills help him earn the necessary certifications easily. The two men proceed to set up a thriving medical center in Spruce Harbor, Maine with plenty of their old friends from their military service. They work together for decades.
Hawkeye's views begin to shift as he grows older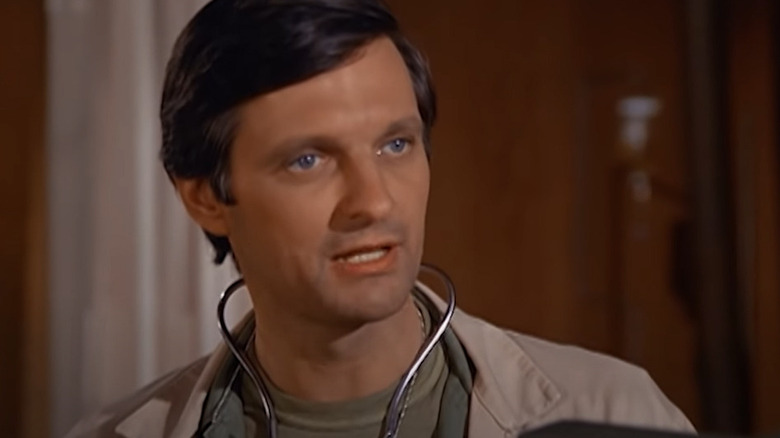 CBS
The "M*A*S*H" film and TV show initially depict Hawkeye as a sardonic figure, constantly looking to subvert authority and indulge in vices when he's not helping the wounded. The character proceeds to evolve over the course of the series, taking a more socially conscious stance in opposing the ongoing war. This is particularly noticeable in later seasons. As his New York Times obituary reveals, however, Hornberger didn't like Alda's performance — especially, his son pointed out, the left-leaning beliefs he injected into the character.
Hornberger's books take Hawkeye to a very different ideological place. After returning to Maine following the conclusion of the Korean War, the surgeon becomes markedly conservative. He supports Republican candidates for state governor, and, most notably, trashes those who publicly oppose President Gerald Ford. It's important to note that these novels are in the same continuity as Hooker's original book and not the TV show, but it's still fascinating to examine how vastly the two Hawkeyes differ.