Biggest Unanswered Questions In Longmire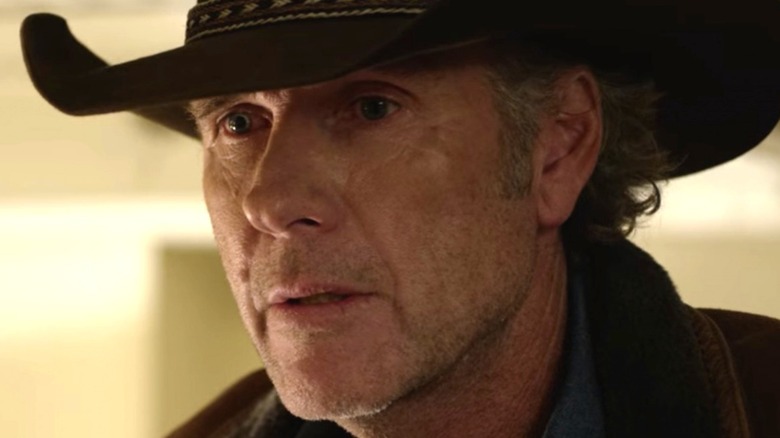 Netflix
Modern Westerns have been all the rage in the past few years. Shows like the Paramount Network's "Yellowstone" (and its spin-offs) and Amazon's "Outer Range" are taking the world by storm, while films like Taylor Sheridan's "Wind River" have struck a chord with audiences everywhere. One such modern Western series — which was a huge ratings hit on A&E even before it moved to Netflix for its fourth season — was "Longmire." While it's been a few years since "Longmire" aired its sixth and final season, we're still pretty invested in the fictional Absaroka County.
The series, which followed the cowboy Sheriff Walt Longmire (Robert Taylor) as he patrolled the open plains of Wyoming, always asked tough questions and wasn't afraid of providing some tough answers. From the mystery surrounding the death of Walt's wife to the politics and social ills of American Indian Reservations, there is a lot to unpack here, but that's part of why we love it. While Walt and company tied up almost every loose end by the series' close, a few characters and plotlines still didn't completely get resolved before the end credits, possibly even leaving the door open for a movie. Here are the biggest unanswered questions from "Longmire."
Sheriff Cady could cause a host of problems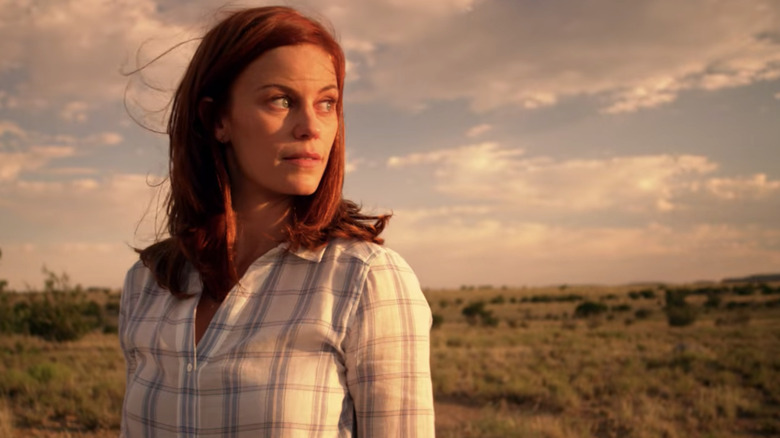 Netflix
For many viewers, ending "Longmire" with the revelation that Walt's daughter Cady (Cassidy Freeman) would become the next Sheriff of Absaroka County was an exciting prospect. However, for some "Longmire" fans it presented far more questions than the last few minutes of the series finale, "Goodbye Is Always Implied," had time to answer. For one, Cady has absolutely zero experience with law enforcement. However, the position of sheriff is actually an elected position, which means it's certainly possible for Cady to hold it (and do the job properly). That said, many felt that this new career change was too drastic of a turn from her Cheyenne Reservation law practice, which she completely abandoned. More than anything, it was sad to see Cady give up on her dream to help the less fortunate on the Reservation.
Beyond Cady's qualifications for the job, her new relationship with Deputy Zach Heflin (Barry Sloane) makes things even trickier. If Cady were elected Sheriff, what would that mean for this new couple? Conflict of interest doesn't even begin to cover it. While similar questions have been asked about Walt and Vic (Katee Sackhoff) in the past — especially since their unspoken bond often got in the way of their police duties — the two were never actually an item until Walt stepped down from his elected position. So while Walt and Vic's "relationship" was never a problem from a workplace standpoint, the same can't be said of Cady and Zach.
What happened to Jacob Nighthorse?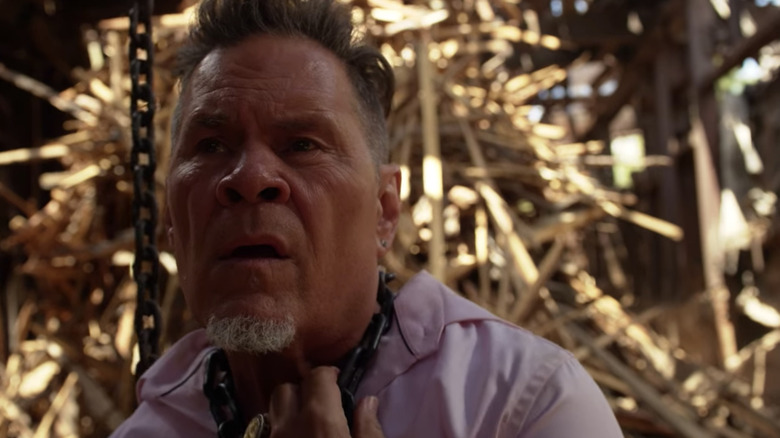 Netflix
The rivalry between Walt and casino owner Jacob Nighthorse (A Martinez) was one of the strongest story beats in "Longmire." As these two went after each other, we always wondered if Walt was actually right about Jacob or if his prejudices about the man were simply clouding his vision. For most of the series, it seemed as if the latter were true, at least until the final batch of episodes premiered on Netflix. Eventually, it's discovered that Nighthorse was sort of working with the Irish mob, which made him an inadvertent collaborator with their illegal drug-running operations. This eventually gets him into trouble with the law before Malachi abducts him.
After Walt saves his life, it's unclear what happens to Nighthorse next. We know that he hands the casino's ownership over to Henry Standing Bear (Lou Diamond Phillips) since he feels he has betrayed their people, but we don't know anything about Nighthorse's whereabouts after the finale. Was he taken back to prison for his previous crimes? Will the charges stick? Will he ever be forgiven by his own people? We'd say that only time will tell, but given that the series has long since ended, there doesn't seem to be any answers coming down the pipeline.
Is Shane Muldoon actually dead?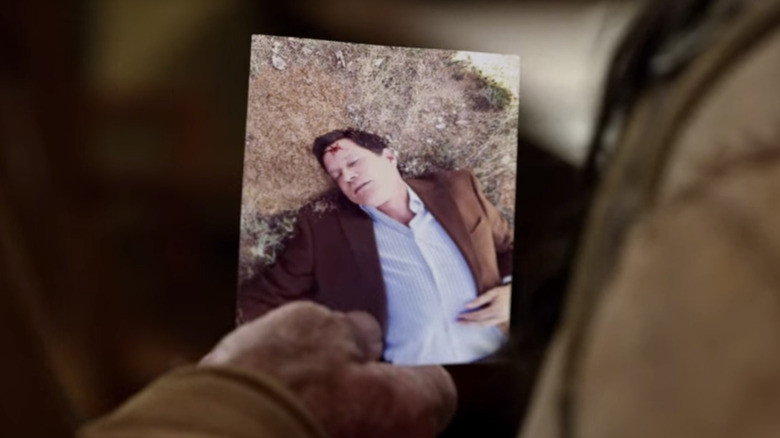 Netflix
Not much on "Longmire" was more shocking than the revelation that an Irish criminal organization from Boston was running drugs through Wyoming's Absaroka County. However, that storyline managed to get even more surprising when Walt traveled to the East Coast to confront mob boss Shane Muldoon (Dylan Walsh) directly. Although Walt initially convinces Muldoon to leave Wyoming alone, his operation ends up collaborating with Malachi Strand (Graham Greene) later on, with Muldoon's top goon Eddie Harp (Dan Donohue) becoming the Cheyenne drug lord's personal assassin. This eventually culminates when Ferg (Adam Bartley) kills Harp before Walt and Vic track down Muldoon to get to Malachi.
According to Walt, a known trick of the Irish mob is faking deaths through false gunshot wounds in photographs. Not long after Walt sends Muldoon to find Malachi, the cowboy sheriff receives a photo of Muldoon with a bullet to the brain, which provides him with a clue to Malachi's whereabouts. Although Walt is convinced that Muldoon sent him the photo (and that he's actually still alive), it's pretty unclear. It's equally as possible that Malachi sent this photo to discourage Walt or as some sort of warning about pursuing him. The truth is, we may never know if Muldoon made it back to Boston, leaving this one of the biggest unanswered questions in all of "Longmire."
Who was the father of Vic's child?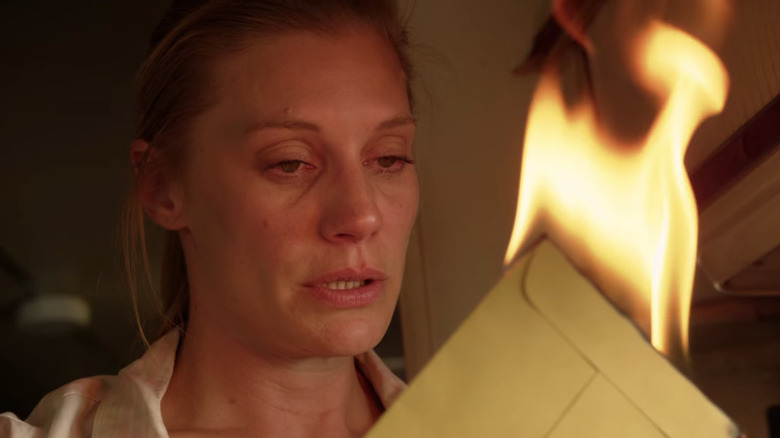 Netflix
Probably the biggest unanswered question in all of "Longmire" has got to be about the father of Vic's child. Between the cool Cumberland County Deputy Eamonn O'Neill (Josh Cooke) and Vic's infamous one-night-stand partner Travis Murphy (Derek Phillips), it was never revealed which of the two was actually the father. Eamonn and Vic seemed to have a nice thing going for a while, but she was never honest with him about the pregnancy in the first place. Travis, on the other hand, found out but was incredibly supportive — to the point of even being overbearing — and worked hard to care for Vic and her unborn child.
Of course, the life-threatening hazards of her job forced Vic into a miscarriage. After treating him like garbage all season, Travis finally skips town, leaving her to deal with her grief all by her lonesome. In the series' penultimate episode, "Running Eagle Challenge," Vic receives the results of the paternity test after learning that Travis has left, which she then proceeds to impulsively burn — nearly catching her mobile home on fire in the process.  At this point, it seems like we'll never know who Vic's baby daddy was, even though it was a question the series continually asked.
Where did Travis go?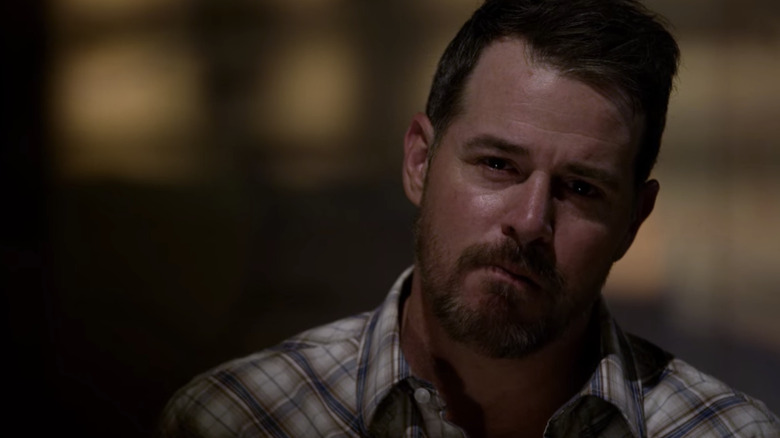 Netflix
Speaking of Travis, his sudden disappearance in the second to the last episode was a strange way to end his tenure on the show, especially after having been so supportive of Vic throughout the entire pregnancy. While some of that can be chalked up to Travis dealing with his own grief of losing a child that may have been his, it seems out-of-character that he would abandon Vic, especially since she begins to turn around to him in the end. What's even more strange is that he leaves without so much as a note or a goodbye, which, again, feels more like something Vic might do more so than Travis.
What's tough about this series of events is that Travis had been a recurring character on "Longmire" since the second season. Originally introduced as a childhood friend of Branch Connally (Bailey Chase), Travis initially aspired to be a deputy himself, hoping to work alongside Walt, Vic, and the team to protect Absaroka County. As the show evolved, so did Travis, eventually setting his sights on Vic, which resulted in their one-night stand and the support he offered her afterward. As such a stand-up guy, it's pretty disappointing that the series just up and dropped him completely, leaving us with more questions about his reasonings and whereabouts than we'll ever have answers.
Will Ferg get his happy ending?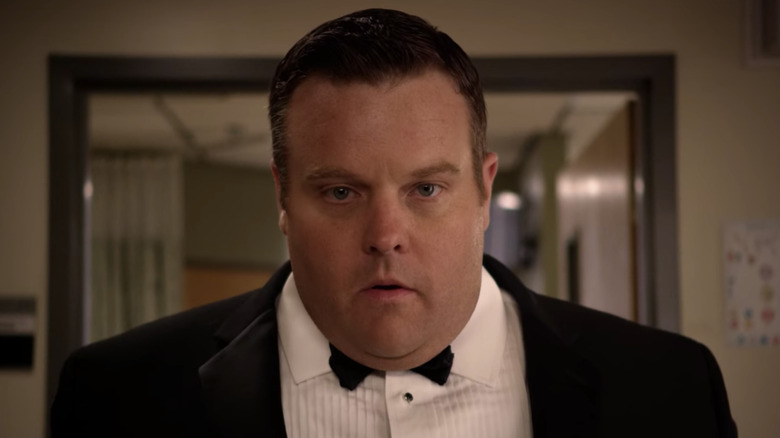 Netflix
The final few seasons of "Longmire" spent a lot of time expanding the roles of recurring characters who, because of Walt's desire to find his wife's killer, had taken a backseat for much of the show's run. Among them was Archie "The Ferg" Ferguson. In the fifth season, Ferg begins dating a local nurse named Meg (Mary Wiseman), and we couldn't be happier for the guy. It seems like everything's going great until he jeopardizes their relationship by becoming a bit obsessive (especially with the "Cowboy Bill" case). This results in Ferg accusing Meg's ex-boyfriend of the bank robberies and arresting him. Naturally, they break up, and Meg is left deeply wounded by Ferg's betrayal.
By the series' end, Ferg decides that he has to win Meg back and actively works to change the bad habits he's developed over the past season or two. The last time we see him, he arrives at the hospital where Meg works in a fancy suit with some flowers, hoping to reconcile their relationship. With a hopeful look on his face, it seems like Ferg has finally become the type of man, and boyfriend, that he wants to be, which is an excellent way to end his arc. Unfortunately, we may never know if Ferg and Meg got back together or not — although Meg's mother Beverly (Marylouise Burke) certainly hopes they will.
Durant still has a corrupt mayor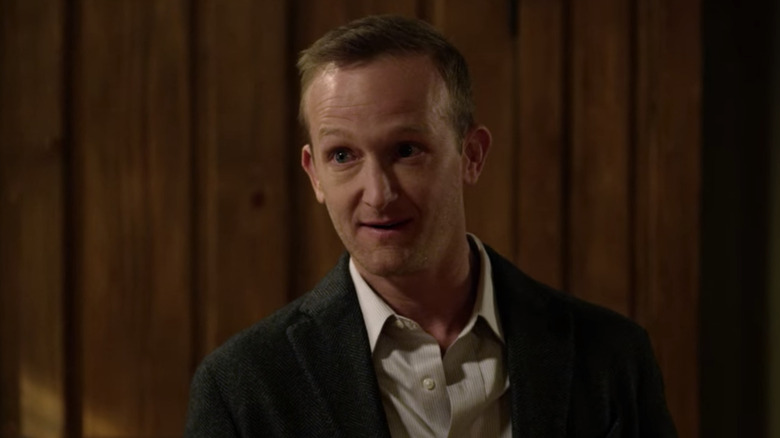 Netflix
Another plotline that "Longmire" seemed to forget in its final batch of episodes is that Durant, Wyoming — the county seat for Absaroka County — had a pretty corrupt mayor at the helm. Sawyer Crane (Eric Ladin) terrorized Walt in the four episodes he bothered to show up in, hoping that his civil suit would run him out of office and out of town. While mayors don't have the power to remove a sheriff from office, Sawyer received "special permission" to try and discredit Walt before former sheriff Lucian Connally (Peter Weller) stepped in to help. When Sawyer's plot failed, he seemed to vanish completely. 
With such a corrupt mayor as Sawyer, there's a lot that still needs to be handled in Durant, though it doesn't seem like we'll ever see that dealt with. With Walt having stepped down as sheriff, it's now up to Vic, Zach, Ferg, and possibly Cady (if she wins that election) to answer the call. Unfortunately, Sawyer isn't the only big loose end, as Cumberland County Sheriff Jim Wilkins (Tom Wopat) proved to be another corrupt official and a regular thorn in Walt's side throughout the show's final few seasons. It seems like Wyoming is still full of lawless lawmen, and with no Longmire out there to bring them to justice, who will?
What will become of the Red Pony?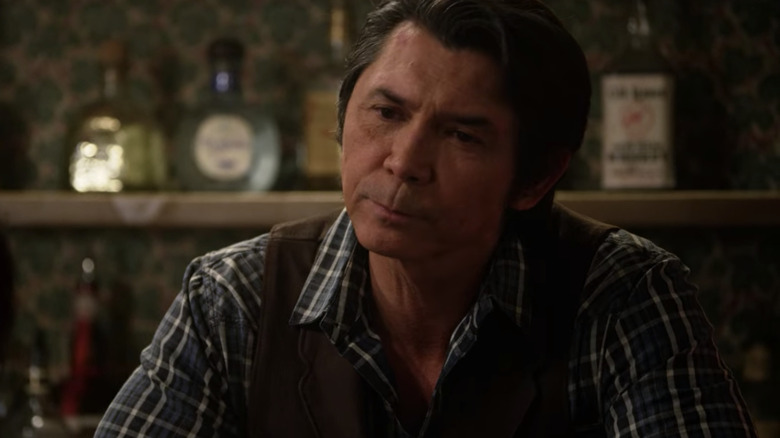 Netflix
No "Longmire" set is more iconic than the Red Pony, which has become a beloved establishment that Henry Standing Bear has put all his hard-working blood, sweat, and tears into. At times, Henry has even fought to retain ownership of the bar, especially from the hands of Malachi Strand, who sought to take it from Henry as revenge for helping Walt put him in prison. Thankfully, Henry gets the Red Pony back and returns the bar to its rightful standing as an upright establishment. Yet, in the series finale, Henry accepts Jacob Nighthorse's offer to run the casino in his place, leaving the fate of the Red Pony in the air.
Now, there's no reason that Henry couldn't run both the casino and the bar, but it seems unlikely given how hands-on his role at the casino will most likely be. While we don't know if Henry will sell the Red Pony or hire a new manager for on-site duties, we do know that he's answered a higher call to represent and support his Native people, and that's certainly something to be commended. Even if the Red Pony closes down, we can be sure that Henry will take the honorable business practices he refined there to Nighthorse's casino to keep any illegal activity out. Whatever Henry does next, we know Walt will stick by him through and through.