The Pieces Of Her Star That Hardcore Yellowstone Fans Will Immediately Recognize
"Pieces of Her" is full of recognizable stars. 
Created by Charlotte Stoudt and based on Karin Slaughter's 2018 novel of the same name, the Netflix drama is led by Toni Collette, who plays Laura Oliver, a breast cancer survivor whose past turns out to be far more complicated than anyone close to her could have ever imagined. In addition to Collette, the "Pieces of Her" cast includes experienced actors like Bella Heathcote, Omari Hardwick, Jessica Barden, David Wenham, Joe Dempsie, and Terry O'Quinn. Heathcote stars in the series as Andy, the daughter of Collette's Laura, while the rest of the show's central stars all play characters with different but important connections to both Andy and Laura.
Outside of the aforementioned stars, "Pieces of Her" also counts an actor among its cast who will be very familiar to fans of Taylor Sheridan's hit Western drama, "Yellowstone." The actor in question is none other than Gil Birmingham, who just so happens to be one of the most prolific character actors of the past few decades. A TV and film veteran, Birmingham plays two very different but important roles in both "Yellowstone" and "Pieces of Her."
Gil Birmingham has roles in both Pieces of Her and Yellowstone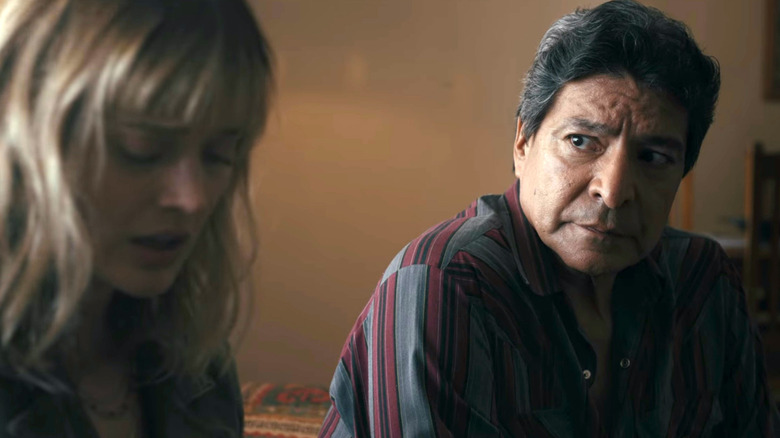 Netflix
Gil Birmingham stars in "Pieces of Her" as Charlie Bass, the Witness Protection Program handler assigned to monitor and watch over Toni Collette's Laura. Charlie is one of the show's more notable supporting characters, and Birmingham brings his usual, magnetic screen presence to the Netflix series whenever he shows up in it. However, "Yellowstone" fans may be a bit distracted by Birmingham's presence in "Pieces of Her."
That's because Birmingham also stars in "Yellowstone" as Chief Thomas Rainwater. Introduced in the show's pilot episode, Rainwater is the chief of the Broken Rock Indian Reservation and he has repeatedly butted heads with John Dutton (Kevin Costner) over the course of the series' first four seasons. Rainwater's desire to take control of the Yellowstone ranch has made him one of John's biggest rivals on "Yellowstone," though, the pair have also teamed up to combat mutual threats on certain occasions.
Outside of his work on "Yellowstone," Birmingham has also appeared on a number of other high-profile TV shows, including "Under the Banner of Heaven," "Unbreakable Kimmy Schmidt," "House of Cards," and "Siren" (via IMDb). He also had notable supporting roles in "Hell or High Water" and "Wind River," both of which were written by "Yellowstone" creator Taylor Sheridan.