The Toxic Avenger Remake's Rating Might Surprise You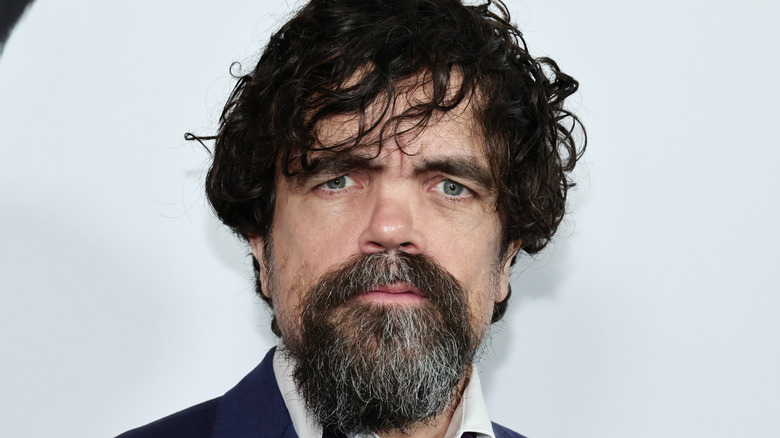 Jamie Mccarthy/Getty Images
The state of New Jersey found an unlikely superhero in 1984's "The Toxic Avenger," a gory horror-comedy made by Troma Entertainment that helped the production company become a prolific independent movie studio. While the original 1984 film — which depicts a janitor in fictional Tromaville, New Jersey, turning into a superstrong mutant after falling into toxic waste — didn't really make a dent at the box office, it slowly turned into a midnight movie favorite the following year (via Den of Geek). Three film sequels, comic runs, an animated cartoon series, and off-Broadway stage productions later, "Toxie" still stands tall as Troma Entertainment's bizarre mascot.
"The Toxic Avenger" is getting a reboot sometime in 2022, with Peter Dinklage stepping into the titular role as Toxie and Macon Blair writing and directing. Dinklage told Empire in December 2021 that between the reboot and his performance in 2021's "Cyrano," he had angled for roles unlike anything found in his past work. "So why not be a monster in an over-the-top, crazy movie, and why not sing in another one?" Dinklage said.
While the new "Toxic Avenger" movie from Troma doesn't appear to have a specific release date yet, the film finally received a rating from the Motion Picture Association that's sure to please hard-core B movie fans.
The new Toxic Avenger movie will be rated R
According to The Hollywood Reporter, the upcoming 2022 reboot of "The Toxic Avenger" received an R rating this week from the MPA. THR reported that the MPA cited "strong violence and gore, language throughout, sexual references and brief graphic nudity" in its reasoning for the film's R rating, which seems sure to please fans eagerly anticipating the Peter Dinklage-starring project.
The original "The Toxic Avenger" film developed a cult following in part due to its gory violence, but when the wheels first started spinning on a remake, there was potential for that hard R rating to change. Deadline initially reported in 2010 that a new "Toxic Avenger" movie would take the shape of a PG-13 action-comedy that sought to turn the character into something of an environmental justice hero.
Of course, much has changed for the upcoming movie in the past dozen years: THR's synopsis describes its main character, Winston (Dinklage), as a weak man diagnosed with a terminal illness whose employer refuses to help pay for his treatment. "After deciding to take matters into his own hands and rob his company, Winston falls into a pit of toxic waste and is transformed into a deformed monster that sets out to do good and get back at all the people who have wronged him," reads the synopsis.
Dinklage assured Empire that the movie would not be a straight remake of the original 1984 film. The reboot's cast includes Kevin Bacon, Elijah Wood, and Jacob Tremblay alongside Dinklage.