The Funniest Episode Of Ordinary Joe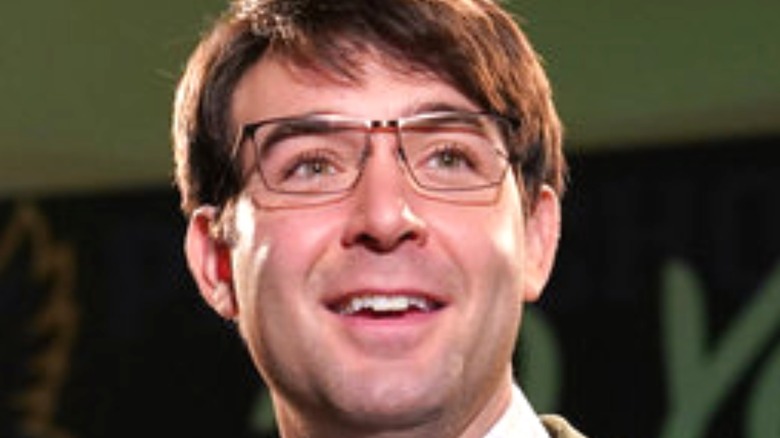 Eliza Morse/NBC
NBC's alternate-reality dramedy "Ordinary Joe" only lasted one season and 13 episodes, despite the intriguing premise and endearing performance from lead James Wolk as Joe Kimbreau in three parallel timelines — each tinted in a different hue to help viewers follow the jumps between them. In the blue timeline, he chooses to have dinner with his family after his graduation from Syracuse University and follows his father and uncle into law enforcement. In the red realm, he follows his dream and his heart, marrying a mysterious woman he met on graduation day and becoming a famous musician. In his green world, Joe marries his best friend Jenny (Elizabeth Lail) and becomes a nurse. 
The timelines exist independently of each other, allowing multiple characters to also follow three different paths and giving the show a depth and complexity that some fans adored. @Lifesashow1313 tweeted, "If you love shows with heart make sure to watch #OrdinaryJoe! I promise you won't regret it! My favorite new show of the season!" Meanwhile, Redditor u/Brumbleby posted that they "love how the three-color scheme makes the show like a really good graphic novel." 
"Ordinary Joe" tended to lean more toward drama than comedy, but one episode — and one storyline in particular — stands out for its funny moments.
The classic trope of a replaced pet gives Ordinary Joe Episode 6 the series' funniest moments
"Ordinary Joe" Episode 6, "Always Do the Right Thing," earned a series-high 7.9/10 from IMDb reviewers, with Maxster133 writing that "Green Joe had great comedy and the hardest I've laughed in the series." The storyline they cited as the reason for their joy surrounded Joe's 9-year-old son Christopher (John Gluck) bringing home his classroom pet, Mr. Squiggles, for the night. Eager to impress his crush, Evie (Annabelle Holloway), Chris is dismayed when Mr. Squiggles escapes minutes before it's time to return him to the school.
Joe scrambles to replace the lost pet, but the frantic father mistakenly replaces Mr. Squiggles — a hamster — with a gerbil, a fact that does not escape Chris' sharp-eyed teacher, Mrs. Fullum (Zele Avrodopoulos). She assures an embarrassed Joe that she won't spill his secret, telling him, "Between you and I, that's the fourth Mr. Squiggles we've had this semester." Joe fears that Mr. Squiggles No. 4 has died in the walls of his house, but the hamster later turns up safe and sound on the living room floor, ensuring the strongest comic thread on "Ordinary Joe" didn't end as a tragedy.