The Real Reason Ordinary Joe Was Canceled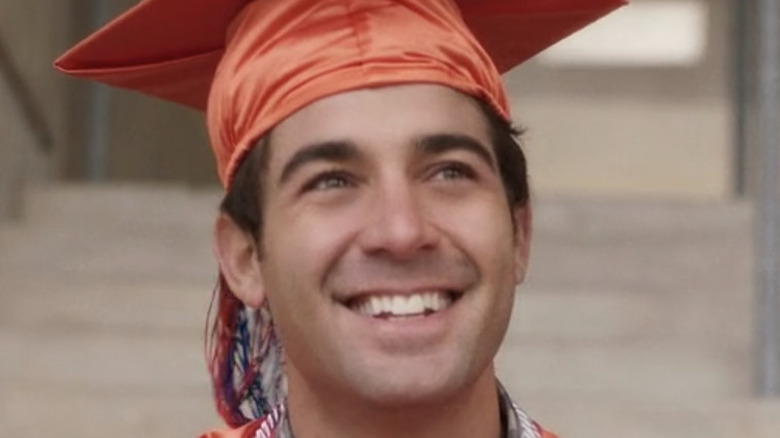 NBC
Prior to its cancellation in March 2022, NBC's "Ordinary Joe" may have been one of the more experimental shows on the air. Originally created by "The Batman" director Matt Reeves way back in 2006, "Ordinary Joe" follows the story of the titular Joe Kimbreau (James Wolk) across three separate timelines following his graduation from Syracuse University (via The Hollywood Reporter). Each of these timelines branches off from a major decision Joe makes on the day of his graduation. In one timeline, he is a police officer who is renowned for his heroism in the line of duty, while in another, he is a famous musician who followed his dreams after college. In the third timeline, he is a nurse who chose to stay with his college girlfriend Jenny Banks (Elizabeth Lail).
Each episode follows a set of unique stories set across these three separate timelines, usually linked through a common theme or idea. As the season went on, these stories eventually became more and more connected, to the point where the famous musician version of Joe actually begins having visions of the two parallel timelines in the Season 1 finale, "Aftermath."There's no doubt that "Ordinary Joe" was one of the most unique and original shows to premiere in 2021 — so why was it canceled?
Ordinary Joe suffered from poor ratings and mediocre reviews
While we may never get a complete answer as to why the series was canceled, we do know that it received unimpressive ratings during its time on air, as well as generally mixed reviews amongst critics. In its reporting of the series' cancelation, Variety noted that the show had middling ratings among the crucial 18-49 demographic, while over on Rotten Tomatoes, the series only has a 50% critic score. Writing for The New York Times, Mike Hale said of the series, "Once you've figured out the plots, though, you see that they're all generic dramedy setups ... and the triple plotting doesn't give the actors time to build real characters."
Fans of "Ordinary Joe" will no doubt wonder whether or not the series' relatively mild reception warranted a full-blown cancellation so soon after its initial release, but it appears that the damage is already done. "Ordinary Joe" will join the hundreds upon hundreds of other shows which were abruptly canceled after just one season on air, and one has to wonder how NBC will feel about this decision when they look back on the show in the years to come.