The Kevin James Comedy You Likely Forgot Starred Blue Bloods' Donnie Wahlberg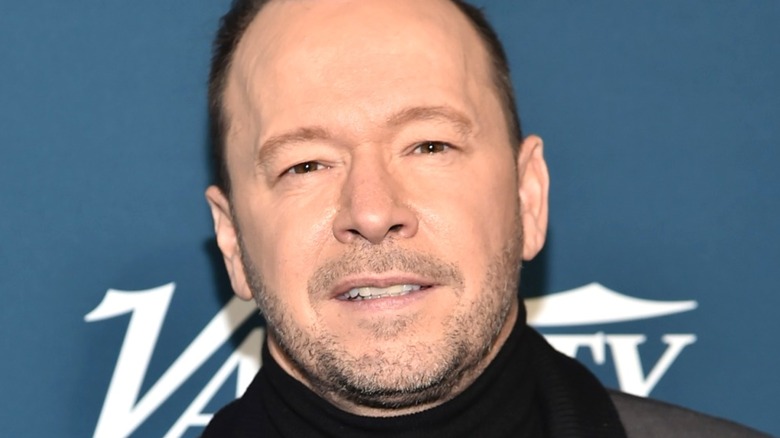 Theo Wargo/Getty
"Blue Bloods" star Donnie Wahlberg has found a nice home for himself playing Detective Danny Reagan in the CBS police procedural drama series. Danny, one of the series' principal characters, is the oldest child of New York City Police Department Commissioner Frank Reagan (Tom Selleck) and works as a hard-nosed detective who frequently draws criticism from the legal system for his risk-taking approach to police work. Danny, Assistant District Attorney Erin Reagan (Bridget Moynahan), Jamie Reagan (Will Estes), Henry Reagan (Len Cariou), and Frank make up a family of law enforcement officers and attorneys who all work within some aspect of the legal system in New York City.
Wahlberg has acted in over 250 episodes of "Blue Bloods," which wrapped its 12th season and hit that 250-episode benchmark in spring 2022. CBS recently renewed the series for a 13th season, and Wahlberg posted a photo of a Reagan family dinner on Instagram to express his excitement to make another season of "Blue Bloods." Wahlberg, who rose to fame as a member of the boy band New Kids on the Block and is otherwise known for his roles as Carwood Lipton in "Band of Brothers" and as Detective Eric Matthews in the "Saw" franchise, has been so busy starring in "Blue Bloods" since 2010 that he has not appeared in a feature-length film since 2011. But what's the Kevin James-starring comedy movie that Walhberg appeared in back then?
Donnie Wahlberg played a bully zookeeper in 2011's Zookeeper
Members of the Wahlberg family can't seem to stay away from acting roles that place them back in and around their hometown of Boston, Massachusetts. That rule proves true for Donnie Wahlberg in his last feature film role as an abusive zookeeper in 2011's "Zookeeper," which stars Kevin James. 
The movie centers around a Franklin Park Zoo zookeeper named Griffin Keyes (James), who finds himself stuck between the job he loves and a second chance at love when his ex-girlfriend Stephanie (Leslie Bibb), who hates that he's a zookeeper, re-emerges. Griffin's brother Dave (Nat Faxon) urges Griffin to leave his zookeeping job, which displeases the animals of the Franklin Park Zoo. The animals Griffin lovingly cares for band together to help Griffin win back Stephanie without leaving the zoo, stunningly revealing that they can speak English along the way.
Wahlberg doesn't really have a huge part in "Zookeeper," but his character, Shane, is a zookeeper who physically abuses a gorilla at the zoo named Bernie (voiced by Nick Nolte). Shane provides a nice foil for Griffin's animal-loving zookeeper. The climax of the film involves Griffin and Bernie the gorilla driving to Shane's house, where Griffin physically attacks Shane for beating Bernie after Griffin warns him to stop.
"Zookeeper" is not a well-liked movie, with just a 14% score from critics and 41% from audiences on Rotten Tomatoes. Still, the Happy Madison Productions movie managed to make over $169 million worldwide against its $80 million budget, according to Box Office Mojo.