How Donnie Wahlberg Felt Filming His First Family Dinner Scene With Tom Selleck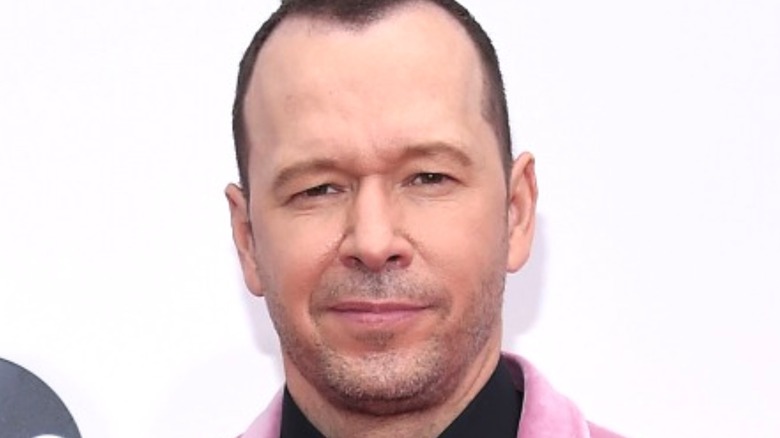 DFree/Shutterstock
Now in its 12th season on CBS, "Blue Bloods" follows the ins and outs of life in law enforcement from the vantage point of an especially blue-blooded family. The Reagans are certainly qualified enough to fit the bill; with a police commissioner, a detective, an assistant district attorney, and a beat cop in their ranks, each week offers a uniquely layered look at police life. In addition to covering various aspects of the legal process, "Blue Bloods" is, at its core, a family drama. Tom Selleck stars as the family patriarch, Frank Reagan, with Donnie Wahlberg, Bridget Moynahan, and Will Estes playing his adult children. Frank's role as police commissioner often creates a complex family dynamic, with his kids all working in his influential shadow.
At the heart of the series are the Reagan's weekly Sunday dinners, which add either laughter-filled levity or contentious debate, depending on the episode. With "Blue Bloods" having just aired its 250th episode, the cast has had plenty of time to perfect these homey scenes. Still, there was a learning curve in establishing the family's specific dynamic. Here's how it felt to begin filming the famed dinner scenes, according to one of the series' biggest stars.
Wahlberg says Selleck reminded him of his own father
In an appearance on "CBS Mornings," Donnie Wahlberg delved into the experience of filming the family dinner scenes on "Blue Bloods." Upon reading the initial scripts ahead of the inaugural 2010 season, the actor noted how the dinner scenes felt familiar. "This reminds me of my childhood," said Wahlberg, "of family fighting around the dinner table." 
That familiarity extended into shooting, with Tom Selleck occupying the same patriarchal position as Wahlberg's own father. Sitting at the head of the table, Selleck projected an intimidating atmosphere into the faux-dining room, Wahlberg recalls. As a result, Wahlberg felt nervous next to Selleck's looming father figure. Or, as the actor put it, "I was like, 'Oh man, he's intimidating like my dad.'"
That initial nervousness eventually dissipated, assures Wahlberg, with the cast ultimately becoming like a real family (all of the fighting strictly scripted). And it does appear that the admiration Wahlberg has for his on-screen father goes both ways. While Wahlberg praises Selleck's leadership, Selleck has, in the past, credited his co-star for bringing a sense of naturalism to the dinner scenes.