The Better Call Saul Season 6 Episode 5 Scene That Had Fans On Edge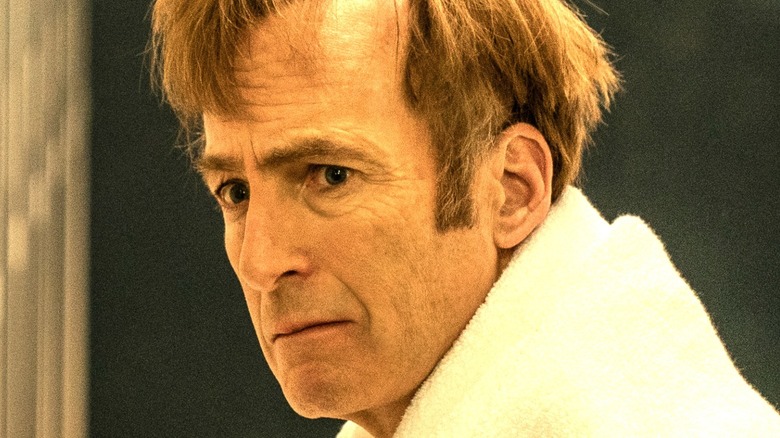 Greg Lewis/AMC/Sony Pictures Television
Contains spoilers for "Better Call Saul" Season 6, Episode 5
"Better Call Saul" — the "Breaking Bad" prequel series showcasing the transformation of well-meaning attorney Jimmy McGill (Bob Odenkirk) into the shady criminal defense lawyer Saul Goodman — is nearing the end of its run. It is currently five episodes into its sixth and final season, and the midseason finale is slated to air on May 23, with the latter half of the season premiering on July 11; the series finale will air on August 15.
So far, this season has seen Jimmy and Kim (Rhea Seehorn) follow through with their plan to tarnish Howard's (Patrick Fabian) reputation in hopes that it will lead to the Sandpiper case — which Jimmy brought into Hamlin, Hamlin & McGill back in Season 1 — concluding and Jimmy and Kim getting a large sum of the payout. Meanwhile, Gus (Giancarlo Esposito) and Mike (Jonathan Banks) are dealing with the fallout of the failed assassination attempt of Lalo Salamanca (Tony Dalton), unsure of where Lalo is and what his plans of retaliation are. After all, Lalo wasn't present when Nacho (Michael Mando) lied and insisted that Gus had nothing to do with the attempt, just before Nacho's tragic (and shocking) death.
In the most recent episode, Season 6, Episode 5, "Black and Blue," Howard confronts Jimmy about his recent ploys, Gus worries about Lalo's whereabouts, and the audience finally gets to see what Lalo has been up to. Here's which scene from "Black and Blue" had fans on edge.
Fans worried about Lalo's plans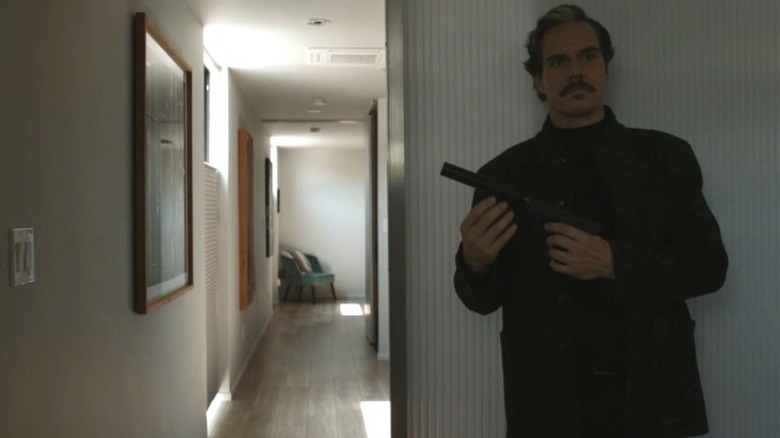 AMC
The final 20 or so minutes of "Black and Blue" focus on Lalo, who we find out has made a trip to Germany to track down Werner Ziegler's (Rainer Bock) widow, Margarethe (Andrea Sooch), in order to find out information about what exactly Gus had Werner and his crew building (since he doesn't believe Gus's false claim that they were building a chilling system for his restaurant business). After finding out as much information from Margarethe as he can by posing as an interested suitor, Lalo then breaks into Margarethe's house the following day. While there, she unexpectedly returns, leading many viewers to expect Lalo to kill her.
Fans took to Twitter to express their thoughts on the worrisome sequence. One user, @TomSupreme_ wrote, "As always, this episode was top notch. The last act had me at the edge of my seat." Another fan, @sIippinkimmy, expressed what all of us were thinking: "The way [I] was more shocked when [L]alo DIDNT [sic] needlessly k!ll [M]argarethe than [I] would've been if he had."
Pointing out the fact that Margarethe was not the only one in the house with Lalo — her dog was also present — @genie_ofthering wrote, "Thank god Margarethe and Baerchen didn't die. I could barely breathe in that last scene." They weren't the only one concerned for the dog's (whose name translates to Little Bear) safety. Another fan, @HIpriestessgaba, jokingly wrote, "Screw the lady. Just don't hurt the dog!! Adopt the dog. Love the dog. Lalo and Little Bear. MaKe [sic] it a spin[-]off."