That Major Nacho Twist On Better Call Saul Has Fans Devastated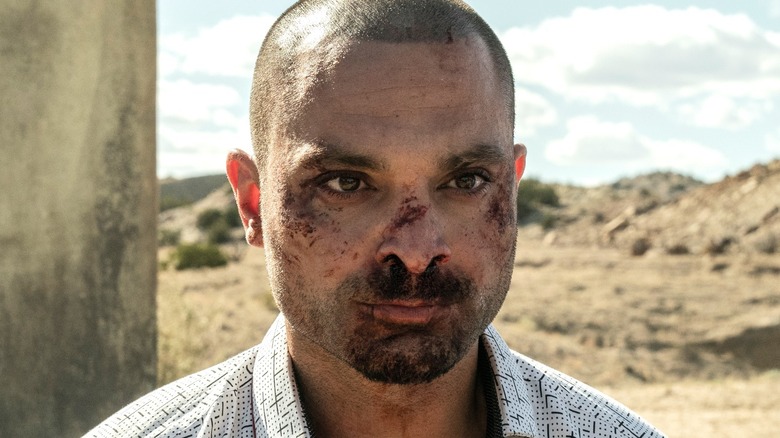 Greg Lewis/AMC/Sony Pictures Television
Contains spoilers for "Better Call Saul" Season 6, Episode 3
"Better Call Saul" is currently in the midst of its sixth and final season. In an interview with Looper, Jimmy McGill actor Bob Odenkirk claimed that the show's ending will connect the prequel series to "Breaking Bad" more directly than has been the case prior to the advent of its latest batch of episodes.
This seems to imply that "Better Call Saul" has plenty of surprises in store for its audience on the road to its series finale. Of course, while the biggest of those surprises are likely still forthcoming, the three episodes of Season 6 that have aired thus far contain their fair share of unexpected moments. For example, rather than open with a flash forward to Jimmy's future in Omaha, Nebraska as has become tradition, the new season begins with footage of the contents of Saul's house being packed up and moved out following the events of "Breaking Bad," pleasing a number of viewers.
Episode 3 of Season 6 features one of the biggest plot twists in "Better Call Saul" yet: the death of Nacho Varga (Michael Mando). Following the episode's airing, many fans shared their thoughts on this major development. Unsurprisingly, viewers were largely saddened by Nacho's final moments.
Fans online memorialize Nacho
Following "Better Call Saul" Season 6, Episode 3's airing, a number of users posted their immediate thoughts about Nacho's death to Twitter. None other than Michael Mando's co-star Bob Odenkirk shared a spoiler-free tribute to Mando's work on the episode to his Twitter account, to which some of his followers replied with their thoughts on the episode's big twist. For instance, @Amuniguns replied, "Im crying. Nacho is my favorite character of the show."
Another Tweet, by user @sidsri2020, reads "#BetterCallSaul me after this week's episode," accompanied by a photo of a person drinking a beer while sitting down in the ocean as a wave approaches. This Tweet's sentiment seems to have resonated with a wide audience, receiving more than 2,500 likes in total.
Similarly, user @swegeroni shared an image from "Breaking Bad" of Jesse Pinkman (Aaron Paul) forced to watch the death of a loved one with the caption, "Actual look at me the whole last minute of tonight's episode #BetterCallSaul," suggesting they were likewise upset by Nacho's death.
For what it's worth, none other than Mando himself characterized Nacho's final moments as heroic, highlighting the fact that Nacho went out on his own terms over the tragic fact that death became his only course of action.