Percy Jackson Creator Rick Riordan Pens A Scathing Response To Disney+ Casting Backlash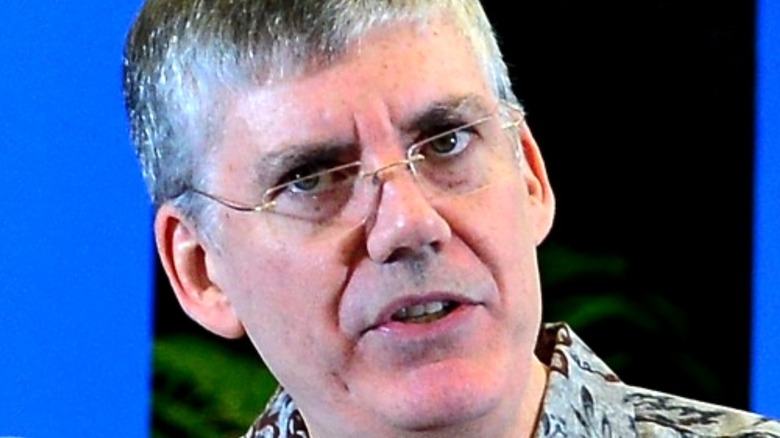 Johnny Louis/Getty
Considering Disney+ has found success with its line-up of Marvel Cinematic Universe TV shows, it was only a matter of time before "Percy Jackson & the Olympians" got a revamp for the streaming world. Author Rick Riordan's beloved YA series of books follows a young teenager named Percy Jackson who discovers he is the child of the Greek god Poseidon. He then joins a summer camp attended by other fellow demigods as they learn to use their abilities. 
The series spawned two feature-length adaptations starring Logan Lerman and Alexandra Daddario. They did not quite stick the landing, as evidenced by the first and second film's respective Rotten Tomatoes scores, although none were more critical than Riordan himself. According to a June 2020 tweet reported by Entertainment Weekly, the author was heartbroken over the way his books were interpreted for the big screen. He stated, "To me, it's my life's work going through a meat grinder when I pleaded with them not to do it." 
Already, the Disney+ series currently in the works seems to be an improvement. Unlike the films, the casting of "The Adam Project" alum Walker Scobell and Leah Sava Jeffries as Percy and Annabeth means the actors' ages are closer to their book counterparts. Unfortunately, though, not every fan has been supportive of the casting news. In a recent Instagram post, Jeffries spoke to racist online comments who took issue that she does not look like how Annabeth is described in the book. It's devastating to see a young Black girl bullied online, but thankfully, she wasn't left to defend herself. In fact, Riordan had some things to say about the online hate.
Rick Riordan fiercely defends Leah Sava Jeffries' casting as Annabeth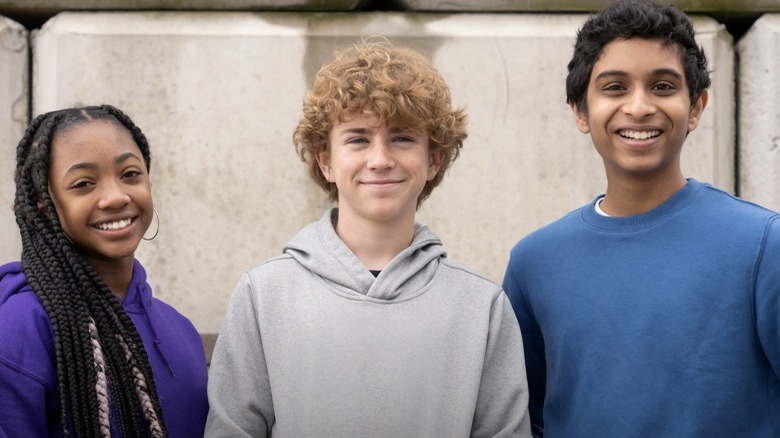 Disney
If anyone's opinion on the casting of Annabeth matters, it is Rick Riordan's. The "Percy Jackson" author seems to have learned from his experience with the films. This time, Riordan is so involved that he is even co-writing the first episode (via Polygon). After learning about the harsh treatment of Leah Sava Jeffries, Riordan took to his official website and vehemently defended the casting choice.
"Leah brings so much energy and enthusiasm to this role, so much of Annabeth's strength. She will be a role model for new generations of girls who will see in her the kind of hero they want to be," Riordan posted. "If you have a problem with this casting, however, take it up with me. You have no one else to blame. Whatever else you take from this post, we should be able to agree that bullying and harassing a child online is inexcusably wrong." Riordan went on to say that Jeffries personifies the role of Annabeth and is the perfect choice for the role. In his involved capacity with the show, he backs her completely. 
Not only is bullying wrong, but it goes against what Riordan intended his books to be. In the series, the author takes a seemingly ordinary boy and makes him part of something greater. Anyone can be special — that is the thematic crux of the novels. "Percy Jackson" has always been about inclusivity and will continue to be so if Riordan has anything to say about it.