Percy Jackson Disney+ Series Release Date, Cast, Plot, Trailer And More Details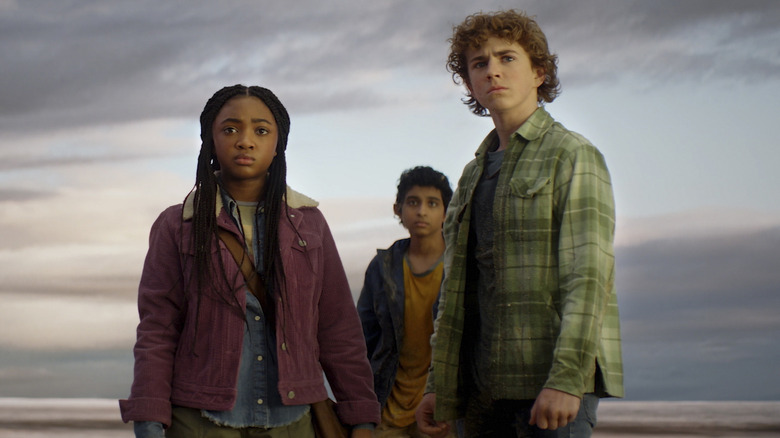 Disney+
We may receive a commission on purchases made from links.
Rejoice, fans of Rick Riordan's "Percy Jackson" novels — Disney is officially working on a new adaptation of the popular young adult book series, and we have every reason to think the company intends to get it right.
In May 2020, Riordan took to Twitter to announce a TV adaptation of his book series was in development for Disney. This seemed to be a positive sign, since the author famously distanced himself from the prior feature film series based on his work, which kicked off with 2010's "Percy Jackson and the Lightning Thief." Then, in January 2022, the House of Mouse confirmed it had greenlit the series. But when will the long-awaited show hit Disney+? Who will star in the project? Who's working behind the scenes? Read on to learn everything we know so far about Disney+'s "Percy Jackson and the Olympians."
When will Percy Jackson and the Olympians be released?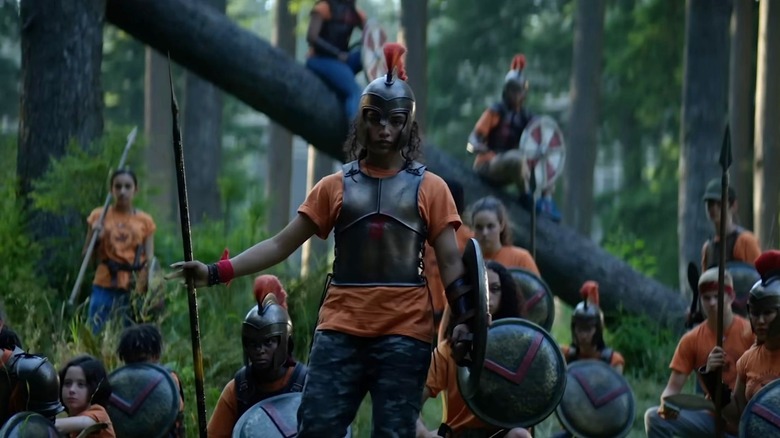 Disney+
Excited to return to Percy Jackson's world of monsters, myth, and mayhem? Then we have good news: You won't be waiting long. The first two episodes of "Percy Jackson and the Olympians" will hit Disney+ on December 20, 2023. Following this debut, one episode will land on the platform per week, on Wednesdays.
This debut date might come as a surprise; Rick Riordan himself estimated that the series wasn't going to hit Disney+ until early 2024. Percy Jackson's actor, Walker Scobell, was a bit more optimistic back in December 2022, however. Speaking with GoErie (via Screen Rant), Scobell said the show could arrive in early 2024, but that it might also land in 2023. As it turns out, his optimism was justified. Fans are also grateful for the fact that the dual Hollywood strikes didn't delay the scheduled release.
What is the plot of Percy Jackson and the Olympians?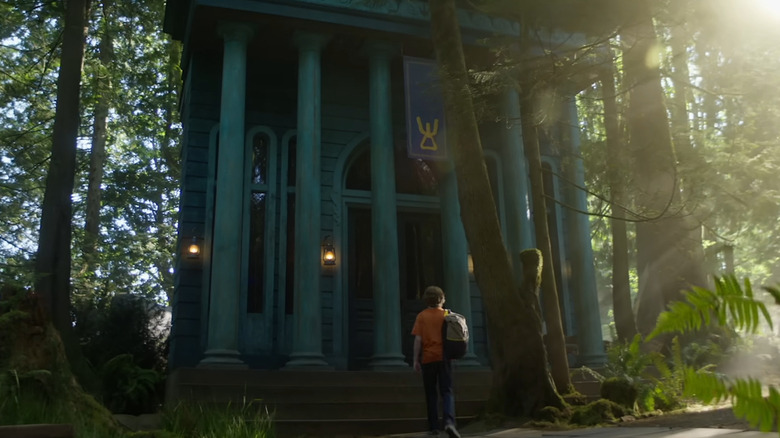 Disney+
Fans of Rick Riordan's novels know that the books follow Perseus "Percy" Jackson, a young demigod sired by the Greek sea god Poseidon. Percy is raised by a human mother, but when he discovers his divine parentage, everything changes. Season 1 of the series will lean hard on the original novel, "Percy Jackson and the Olympians: The Lightning Thief." Per the official plot synopsis (via Variety), "'Percy Jackson and the Olympians' tells the fantastical story of a 12-year-old modern demigod, Percy Jackson, who's just coming to terms with his newfound divine powers when the sky god Zeus accuses him of stealing his master lightning bolt. With help from his friends Grover and Annabeth, Percy must embark on an adventure of a lifetime to find it and restore order to Olympus." 
Footage screened at 2023's New York Comic-Con confirmed the show's book-centric approach: According to reports, all scenes shown were bursting with obvious love for the source material. The first screened clip stuck especially closely to the inaugural book's opening, right down to Percy's narration. Fans got an even closer look at what's coming when Season 1's episode titles were released on Instagram. They include "I Accidentally Vaporize my Pre-algebra Teacher," "I Plunge to My Death," "We Take a Zebra to Vegas," and the ominously-named finale, "The Prophecy Comes True."
Notably, many elements of the series that were cut from 20th Century Fox's adaptation of the saga are present in the Disney+ series. Once the SAG-AFTRA strike was concluded, Ares actor Adam Copeland gleefully shared a shot of himself in character on his motorcycle. As his storyline was entirely excised from the movies, fans are delighted to see him present and accounted for. Similarly, shippers are happy to learn that Percy and Annabeth's cruise through the tunnel of love is also part of the series.
Who is starring in Percy Jackson and the Olympians?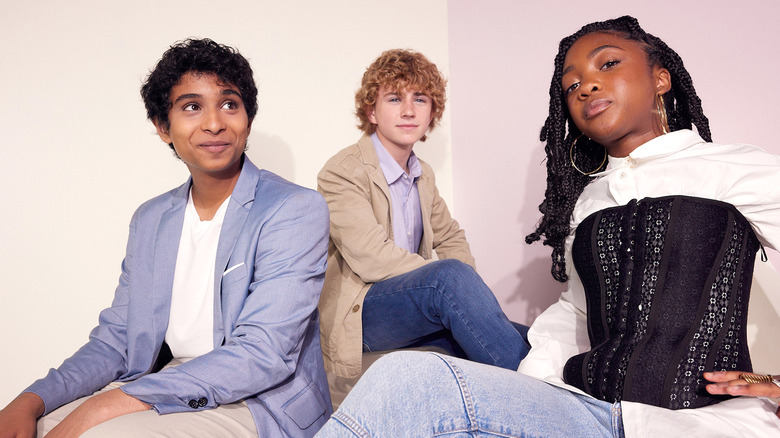 Corey Nickols/Getty Images
In 2022, Rick Riordan shared on his personal blog that the show's titular character will be portrayed by Walker Scobell. Then, in May 2022, Disney announced that it had rounded out the show's central trio with Aryan Simhadri and Leah Sava Jeffries, who will portray Grover Underwood and Annabeth Chase, respectively.
Further names emerged in the ensuing months, including Virginia Kull, Glynn Turman, Jason Mantzoukas, Megan Mullally and Timm Sharp. Kull will portray Percy's mother Sally, Turman will be the centaur Chiron, Mantzoukas will play camp director Dionysus, Mullally will be the fury Alecto, and Sharp will portray Percy's stepdad Gabe. Later, fans learned Adam Copeland (aka WWE's Edge) will play the war god Ares, while Broadway superstar Lin-Manuel Miranda will portray Hermes.
You can't tell the story of "Percy Jackson and the Olympians" without two of the biggest gods in the Greek pantheon: Zeus and Poseidon. The former will be played by Lance Reddick, best known as the stoic, shotgun-toting concierge Charon in the "John Wick" series. As he passed away in March 2023, the role will be played by someone else in further seasons. Poseidon, Percy's absent father, will be played by Toby Stephens, who has appeared in projects like "Die Another Day," "Black Sails," and Netflix's "Lost in Space."
Who is directing, producing, and writing Percy Jackson and the Olympians?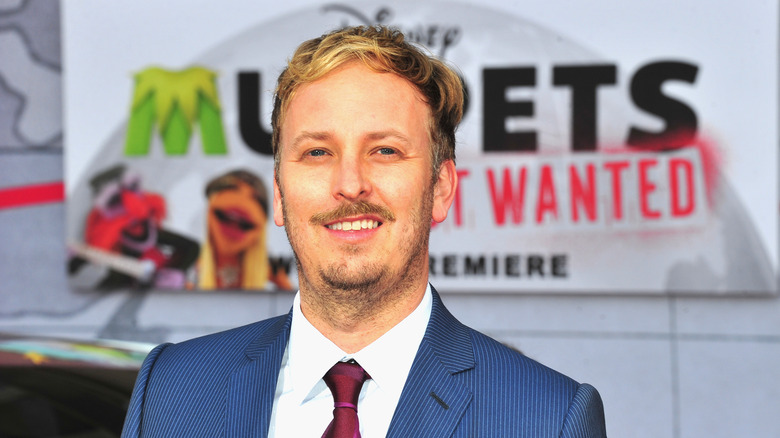 Frazer Harrison/Getty Images
"Percy Jackson and the Olympians" boasts an impressive cast, but they aren't the only talented people bringing this series to Disney+. The pilot episode will be written by none other than "Percy Jackson" author Rick Riordan (who's also serving as an executive producer) and Jon Steinberg, who's best known for developing FX's "The Old Man" and Starz's "Black Sails."
In addition to writing, Steinberg is serving as showrunner alongside Dan Shotz, who previously collaborated with Steinberg on his aforementioned series. As for who's directing this thing, the pilot episode will be helmed by James Bobin, a man known for his quirky humor. After working with Sacha Baron Cohen on "Da Ali G Show," Bobbin co-created HBO's "Flight of the Conchords" before directing "The Muppets" and "Muppets Most Wanted." Respected TV directors Anders Engström ("See," "Taboo") and Jet Wilkinson ("The Old Man," "The Chi") will work on follow-up episodes.
Is there a trailer for the Disney+ Percy Jackson series?
The "Percy Jackson and the Olympians" trailer is bursting with adventure, myth, and a heaping helping of mayhem. It begins with Percy's mom pointing out a statue of the legendary Perseus, his namesake. She chose the moniker, she explains, because Perseus eventually enjoyed a happy ending — a fate she implicitly hopes her son will share. But getting there won't be easy, as this trailer lays out. Percy will face bullies, monsters, and diabolical gods on his path to glory.
Fans should be more than pleased with this vivid glimpse of what's to come; pretty much everything looks great. Annabeth and Grover nearly glow with camaraderie and heroism. Camp Half-Blood is as colorful and fascinating as readers have always pictured it as being. The larger-than-life figures of Greek myth make a major impression, from the wily Hermes to the terrifying Medusa. It's not all portentous omens and calls to action, though — there's also a whole lot of charm to be found in this trailer. Consider the moment towards the end of the trailer when Percy wonders if he really needs a sword. A gargantuan monster promptly appears, making the answer clear: "I'm gonna need a sword," Percy quips. If this trailer is any indication, "Percy Jackson and the Olympians" is going to be a rollicking adventure.
Will there be a Percy Jackson Season 2?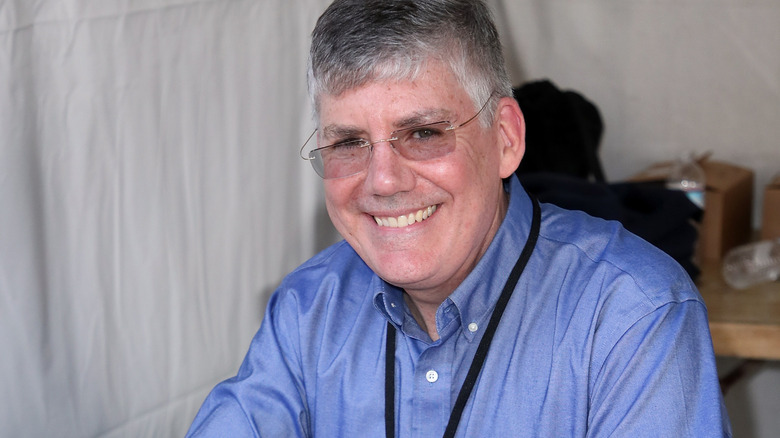 David Livingston/Getty Images
With Season 1 of "Percy Jackson" exploring the events of "The Lightning Thief," we can't help but wonder — will there be a Season 2 based on "The Sea of Monsters?" Well, we're not 100% sure yet, but things are looking positive. For one thing, it's estimated that Disney has invested somewhere between $12 million and $15 million into each episode. For another, in March 2023, author Rick Riordan took to his blog and gave fans an upbeat update, writing, "We have started work on the writers' room for Season 2. This does NOT mean the second season has been green-lit yet ... But we have been approved to start developing scripts, and I think everyone's expectation is that a second season will happen if all goes as planned. ... We've broken down the action of the second 'Percy Jackson' book, 'The Seas of Monsters,' into a series of episodes, and have begun outlining what the first episodes would look like." 
While the 2023 Hollywood strikes halted momentum, the people behind "Percy Jackson" have kept their eyes on the future. At 2023's New York Comic-Con, Jon Steinberg told ComicBook.com, "I think part of the job was being aware of setting the table. Making sure that everything was in the right place and that the right actors were in the right places for this to live a long life." Dan Shotz added, "We have the luxury of having now six books to tap into. We were able to look at things of what we could seed early in the first season."
Excitement for a second season grew even more intense in November 2023, when the official "Percy Jackson" Instagram account posted a cryptic video of a compass spinning to a string of different numbers. Eagle-eyed fans quickly pointed out that some of them are coordinates to the Sea of Monsters, a key location in the second book of the series. That sounds like Season 2 material to us.
What will Percy Jackson and the Olympians be rated?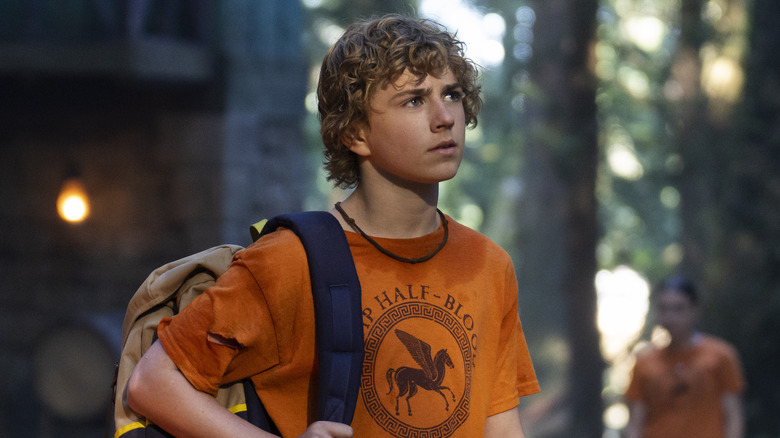 Disney/David Bukach
"Percy Jackson and the Olympians" will be a family-friendly affair, and is currently listed as TV-PG. This denotes a show that contains some genuinely nail-biting moments, but remains okay for all but the littlest kids. Creating such a series requires impeccable balance, as VFX supervisor Jeff White detailed at New York Comic-Con (via The Direct). Regarding the series' visuals, he remarked that the crew aimed "to be, like, scary, but not run out of the room scary for kids." Erik Henry, another VFX supervisor, went into further detail: "So you, I think really importantly, take away some of the scariness of it, and yet you still have something that, for an older audience, they get the humor of it. That's kind of one of the ways in which we balance things kind of differently and handle it, I think, in a good way."
Some fans might balk at this and assume the show will strip Percy's story of its best thrills and chills. But given the devotion to source material the series has shown at every other turn, there's almost certainly nothing to worry about. The powers that be just want to make sure this show falls into the good-for-all-ages bracket. As producer Becky Riordan explained, "Family friendly TV is supposed to be watched together. The bar is going to be does it satisfy everyone especially when it is on repeat because kids learn by watching shows over and over again. Our hope is it will work for your family or found family."
Where to watch the previous Percy Jackson films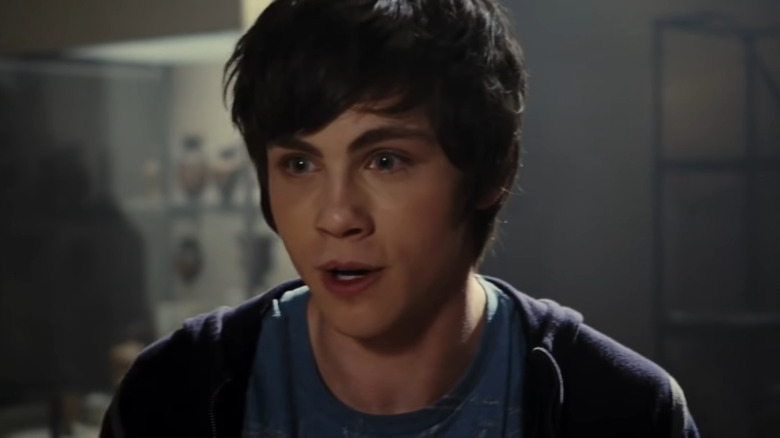 20th Century Fox
"Percy Jackson and the Olympians" is the beginning of a new series, so there aren't any previous seasons you need to check out. However, if you want to pass the time, you can check out the "Percy Jackson" films that were released by 20th Century Fox.
Of course, it should be pointed out that author Rick Riordan — who's heavily involved in the Disney+ series — doesn't care for these films. In 2020, the author took to Twitter and said (via Teen Vogue), "I still have not seen the movies, and don't plan on ever doing so. I judge them from having read the scripts because I care most about the story. I certainly have nothing against the very talented actors. Not their fault. I'm just sorry they got dragged into that mess."
Most fans aren't wild about the movies either. But if you happen to enjoy them, want to see what they're all about, or just need to scratch that Camp Half-Blood itch, then you can find "The Lightning Thief" streaming on Disney+, or you can rent it for $3.99 on sites like Apple iTunes, Amazon Video, YouTube, and Google Play. As for "Percy Jackson: Sea of Monsters," you can stream that on Disney+, or you can rent it for $3.99 on sites like Apple iTunes, Amazon Video, YouTube, and Google Play.