The Disney+ Percy Jackson Series Found The Perfect Young Stars For Two Big Roles
Following the two film adaptations of entries in Rick Riordan's "Percy Jackson & the Olympians" book series released in the 2010s, the "Percy Jackson" franchise is currently set to receive something of a live action reboot as a Disney+ TV show in the near future. Riordan himself first announced that Disney was working on a new version of "Percy Jackson" back in May of 2020. Whereas Riordan was publicly unhappy with the two existing "Percy Jackson" movies, he will now be personally involved in the production of the upcoming Disney+ show, hence his advanced knowledge of its development.
In spite of the fact this project has been in the works for at least two years now, relatively little information about its making has surfaced within that period of time. Most recently, in April of 2022, the series' producers announced that young actor Walker Scobell will star in its titular role.
Now, a little under a month later, two more cast members have officially joined the series' ranks.
Aryan Simhadri and Leah Sava Jeffries will star alongside Walker Scobell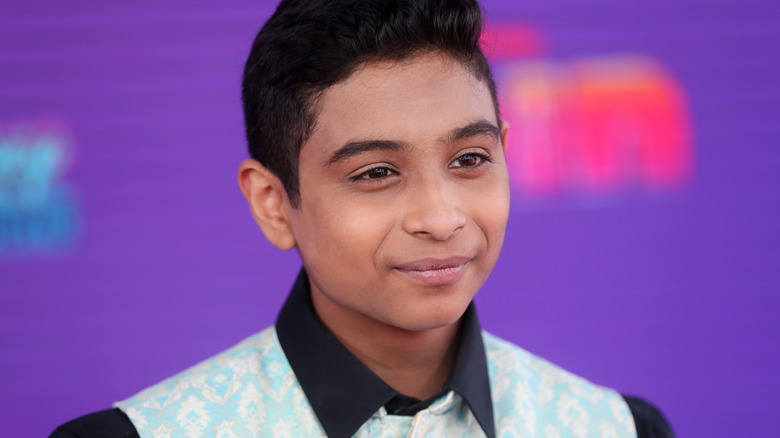 Phillip Faraone/Getty Images
On May 5, Variety published an exclusive report announcing that Aryan Simhadri will portray Grover Underwood and Leah Sava Jeffries will appear as Annabeth Chase in the upcoming Disney+ "Percy Jackson" TV series. In Rick Riordan's books and the first two film adaptations alike, Percy, Grover, and Annabeth work together as a trio at the center of the main story, meaning that these are effectively the two most significant cast members after Walker Scobell as Percy Jackson.
Simhadri is a relatively experienced actor, predominately in projects aimed at children. His past credits include "The Spongebob Movie: Sponge On The Run," an episode of "Adventure Time: Distant Lands," the Disney movie "Spin," and the recent Disney+ remake of "Cheaper by the Dozen."
Jeffries, meanwhile, has appeared in recurring TV roles on both "Empire" and "Rel." She's also slated to star opposite Idris Elba in the upcoming action-adventure film "Beast."
Given that its core trio was only just announced, the "Percy Jackson" Disney+ series still seems to be relatively early in production. A release date is still forthcoming.