How Outer Range's Josh Brolin Really Feels About His Daughter Starring On Yellowstone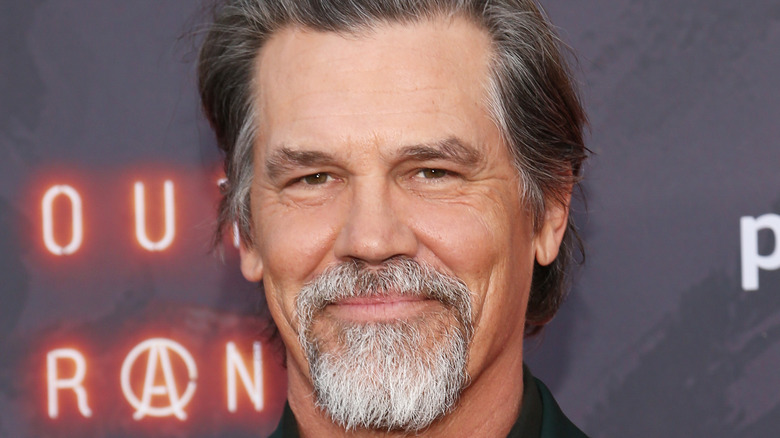 Tommaso Boddi/Getty Images
Josh Brolin is one of the biggest stars in Hollywood. While the Academy Awards haven't come knocking yet (his only nomination came in 2009 with a best supporting actor nod for "Milk"), he has made a name for himself as an accomplished actor with roles in "No Country for Old Men" and "Sicario." That's not even going into the worldwide renown he has earned for his dual Marvel appearances: he helped turn the purple world-conqueror known as Thanos into one of the most iconic film villains of recent decades in "Avengers: Infinity War," and also brought an engaging nineties antihero to life when he played Cable in "Deadpool 2." 
Recently, Brolin sat down with Brian Davids of The Hollywood Reporter to discuss his new projects, including a "Dune" sequel and a newly released series for Amazon. During the interview, Davids asked Brolin to talk about whether there could be some fun competition building in his home life, now that his own daughter is finding success starring in "Yellowstone."  Here is how Brolin really feels about the matter.
They appear in competing westerns
Eden Brolin's most recent role is in the hit western series by Taylor Sheridan, "Yellowstone." She first appears in the series on Season 3, Episode 3, "An Acceptable Surrender," as Mia, a ranch hand and barrel racer in the rodeo circuit. Her character arc over her 14 episodes is mainly as a love interest for Jimmy Hurdstrom.
Meanwhile, Josh Brolin is in a new western of his own. While he is no stranger to the western genre or its parallels — his resume contains roles in "True Grit," "No Country for Old Men," and "Jonah Hex" — his newest dive into westerns is in the form of a science-fiction parallel, "Outer Range," first released by Amazon Prime on April 15. The series follows Royal Abbott (Brolin) as the ranch owner who hesitates when a drifter named Autumn (Imogen Poots) comes calling, needing a place to stay. They discover she is there for specific reasons and the group discovers a mysterious hole at the edge of his property in the Wyoming wilderness, something sparking more questions than answers. Outer Range also stars Lili Taylor ("The Haunting" and "Six Feet Under") and Will Patton ("Armageddon" and "Yellowstone").
While the shows don't have much to do with each other, the western genre is virtually run by "Yellowstone" these days, and Brolin's newest project is now in direct competition with his daughter's series.
Have battle lines been drawn?
When asked if the two shows have drawn battle lines between the father and daughter duo, Brolin responded with a laugh, signifying that there is no bad blood in the competition. He says (per The Hollywood Reporter), "I would like to! Just to make it more fun. I mean, look, she did grow up on a ranch, and I grew up on a ranch." 
He then went on to tell a sweet story about her getting married and giving him a picture that he calls his favorite, of the two of them on a ranch. He continued by saying, "[She's] so good on that show. I was really blown away by her, and if there's any rivalry, it's a fun, self-created rivalry."
So no, there's no competition here, other than a fun one. This is a wholesome moment of a doting father relishing in his daughter's success. Who knows, maybe next time Brolin has to answer this question, it will be because they are on-screen together? After all, with all that acting talent in one family, nobody would be upset to see either her or him cross over to one another's shows.