The Best American Pickers Episode From Season 3 According To IMDb
Rustling through antiques and old-school items is the bread and butter of History's "American Pickers." Originally following the likes of Mike Wolfe and Frank Fritz, "American Pickers" is a long-running reality television show that scours the four corners of the United States in a never-ending pursuit of valuable and often overlooked objects. Season 3 of "American Pickers" really sees Wolfe and Fritz hit their stride, and the season is full of interesting antiques and fulfilled wishes.
Season 3 features some truly great episodes, many of which include some notable guest stars and events. In one episode, the crew visits the NASCAR Hall of Fame, and, in another, they are recruited to help legendary "Star Trek" actor William Shatner fill out a newly purchased home. In another episode, Danielle Colby ventures out into the field for the very first time. Amusingly, the season also features a number of unique hijinks, including a memorable encounter with a particularly aggressive emu.
So, which episode from Season 3 is the best, according to the most dedicated users of the Internet Movie Database?
IMDb users love the first episode of Season 3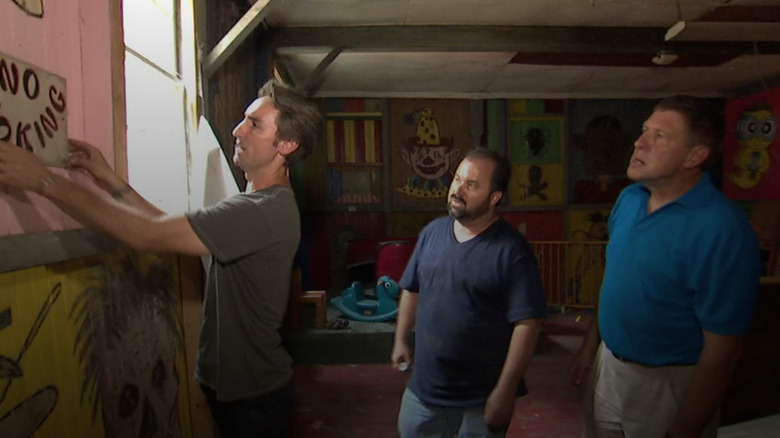 History
It doesn't take a long review of the "American Pickers" IMDb profile to figure out that there are many fine episodes contained within Season 3 of the reality series. However, like with any other series on television, there is usually one particular episode in the season that rises to the top in the minds of fans. According to IMDb users, the highest-rated episode of "American Pickers" Season 3 is none other than the premier episode, an entry in the series titled "A Banner Pick." IMDb users blessed this particular chapter with an average score of 7.6 out of 10. Notably, a whole 27.3% of voters granted the episode a score of 8, while 31.8% of respondents gave it a score of 9.0 or higher.
"A Banner Pick" is an entertaining episode, assuming one doesn't have coulrophobia (fear of clowns), because it has a special focus on carnivals, sideshow banners, and other circus-related antiques. The episode kicks off with Mike Wolfe and Frank Fritz visiting Bushkill Park in Pennsylvania. According to Bushkill Park's website, the amusement park has been in operation since 1902. Of course, this means the location is a veritable smorgasbord of vintage fun for the pickers. 
Unsurprisingly, Wolfe and Fritz have little trouble locating a plethora of treasures. Throughout the episode, the two purchase a variety of posters and similar carnival-related items. For one reason or another, this unique focus on carnivals and circuses must have resonated with fans of "American Pickers."