The Major Frozen Character You Likely Forgot Mindhunter's Jonathan Groff Voiced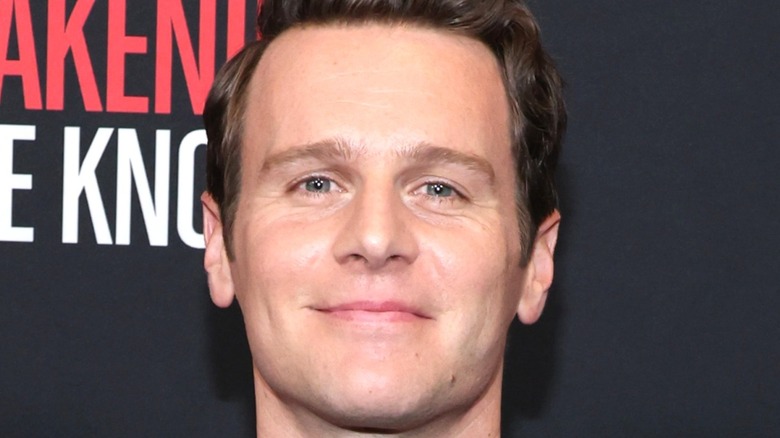 Cindy Ord/Getty
Since breaking out in the 2006 stage musical "Spring Awakening," Jonathan Groff has proven to be a truly versatile and daring actor in multiple mediums. Groff continues to star in Broadway productions, including his acclaimed performance as King George III in "Hamilton," while also appearing on television and in film.
Groff's intense stare often means he's been cast as villainous characters or at least morally ambiguous ones. His lead character on Netflix's dearly departed "Mindhunter," FBI Agent Holden Ford, extensively profiles serial killers but arguably gets far too close to their mindset in the process. More recently, he played a younger, more liberated version of the evil Agent Smith in the long-awaited "The Matrix Resurrections."
However, Groff has also gotten to do roles on the lighter side as well over the years. In fact, considering his prolific 36 credits racked up in more than 15 years of acting (via IMDb), many Groff fans could forget that he lent his speaking and singing voice to a certain character from the massive Disney film franchise "Frozen."
He voiced Kristoff in Frozen
Jonathan Groff played a kind of dual role in the "Frozen" films. He voiced the solitary young ice harvester, Kristoff, but he also provided the goofy voice of his reindeer, the loyal Sven, in "Frozen II." The actor himself pointed out that because he's not on-screen, children don't easily identify him with the character. He told NPR that he noticed this while making voice memos for his young fans. "They kind of — they freak out about that where I talk as Kristoff and then break into the Sven voice," he admitted.
Asked to help Princess Anna (Kristen Bell) reach her sister Elsa (Idina Menzel), Kristoff at first clashes with Anna over her demands and her rapid engagement to Hans (Santino Fontana). However, Kristoff falls in love with her over the course of the film. After Hans' scheme is foiled, Kristoff and Anna kiss, and he later proposes to the princess in "Frozen 2."
Unbelievably, Broadway veteran Groff was only asked to sing one very short song in the first film. "Frozen II" co-songwriter Kristen Anderson-Lopez later joked that "We are ashamed, and will be for the rest of our lives, that he didn't sing in 'Frozen'" (via Vanity Fair). That's why for the sequel, Groff got to sing the big number "Lost in the Woods" as Kristoff, complete with double-tracked voices. "So not only is this a solo for Jonathan Groff, but it's actually 18 Jonathan Groffs. We gave you 18 Groffs," Anderson-Lopez added.